Hands-on, Practical Guidance for Educators
From math, literacy, equity, multilingual learners, and SEL, to assessment, school counseling, and education leadership, our books are research-based and authored by experts on topics most relevant to what educators are facing today.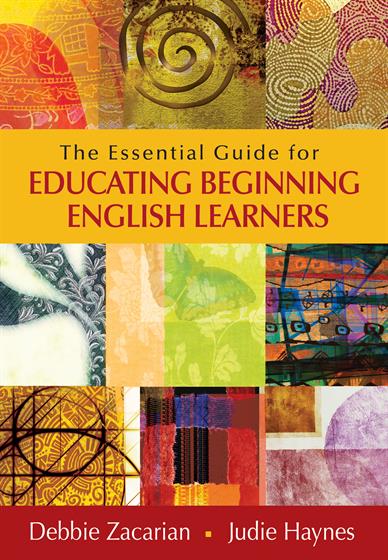 Look Inside
The Essential Guide for Educating Beginning English Learners
This book addresses the varied needs of beginning ELs, including students from non-literacy-oriented homes, students with limited or interrupted formal education (SLIFE), and students who have experienced trauma.
Product Details
Grade Level: PreK-12
ISBN:

9781452226156

Published By: Corwin
Year:

2012



Page Count: 152

Publication date:

September 04, 2012
Price: $31.95
Description
Put all English learners on the path to success—right from the start!
Beginning English learners are at risk of being lost in a system that doesn't know how to reach them. With more and more ELs entering U.S. schools every year, educators need to act quickly to create school- and classroom-based programs that work. Veteran educators Debbie Zacarian and Judie Haynes provide templates and tools—along with vignettes illustrating real-world challenges—to help teachers and administrators:
Create a welcoming environment for English learners and their families who are unfamiliar with the American education system
Reach out to students from literacy and non-literacy-oriented homes
Engage parents to become a part of the school community
Learn strategies for teaching beginning level ELs across the curriculum
Develop instructional models for students with limited or interrupted formal education (SLIFE)
Build sensitive practices for students who have experienced trauma
The Essential Guide for Educating Beginning English Learners provides a realistic and comprehensive framework for effectively reaching and teaching this growing population.



"This book provides a wonderful look at the complexities of providing newcomers with a welcoming school environment and appropriate instruction."
—Michelle DaCosta, Bilingual Resource Teacher
Framingham Public Schools, MA
"This book gets at the heart of working with beginning ELs and helps educators gain a complete understanding of these students' needs and the factors that influence them."
—Yvonne S. Freeman, Professor of Bilingual Education
The University of Texas at Brownsville
Key features
The first book dedicated to helping schools prepare for English language learners who are at the entry and beginning stages of English language acquisition, including students from literacy and school-experiences that are similar to American public schools as well as students from non-literacy oriented and limited or interrupted school experiences.
Full chapter coverage of the critical first month (chapter 5) and first year (chapter 6) to establish foundations for continued academic success of ELLs.
Provides in-depth treatment of how cultural dissonance can affect EL learning and the importance of establishing high levels of parental engagement. (chapter 4)
Unique chapters on SIFE (Students with Interrupted Formal Education -- chapter 7) and students who have experienced trauma.
Moving case vignettes introduce each chapter.

Forms, protocols, and resources will be included to support schools to successfully execute each element.
Table of Contents
Acknowledgments
---
About the Authors
---
Introduction
---
1. Seeing the Big Picture
2. Taking a Closer Look
3. Effective Programming for English Learners
4. Selecting Models of Instruction
5. Strengthening Family - School Engagement
6. Teaching Beginners
7. Working With English Learners Who Have Experienced Trauma
8. Teaching English Learners With Limited or Interrupted Formal Education
9. Providing Effective Professional Development
References
---
Index
---