Hands-on, Practical Guidance for Educators
From math, literacy, equity, multilingual learners, and SEL, to assessment, school counseling, and education leadership, our books are research-based and authored by experts on topics most relevant to what educators are facing today.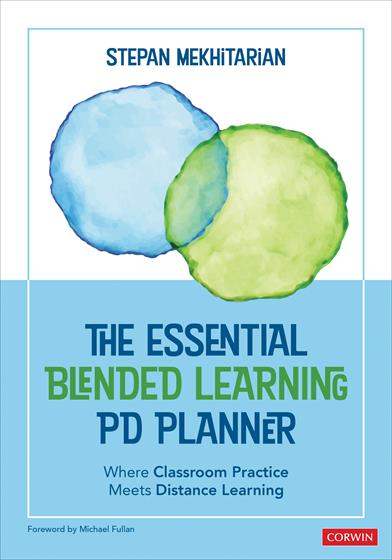 The Essential Blended Learning PD Planner
Where Classroom Practice Meets Distance Learning
First Edition
Foreword by Michael Fullan

More urgent than ever, this framework combines the best of distance learning and classroom instruction, offering a new vision for learning and professional development that capitalizes on the distance learning experience.
Product Details
Grade Level: PreK-12
ISBN:

9781071843727

Published By: Corwin
Series: Corwin Teaching Essentials
Year:

2021



Page Count: 160

Publication date:

March 25, 2021
Price: $32.95
Description
Foreword by Michael Fullan.

"One of the best new Professional Development books." 

-BookAuthority


Drive student learning with the best of both worlds!

Transition back to school with a comprehensive PD plan that leverages the best of distance learning and classroom instruction. Distance learning, despite its myriad challenges, has spotlighted innovative instructional practices and created an opportunity to fundamentally rethink how the traditional classroom works. 
In this timely, crucial book, Dr. Stepan Mekhitarian constructs a framework for a task force of teachers and leaders to establish an effective blended learning program that capitalizes on the capacity and skills teachers have built while teaching remotely. An innovative blended learning model effectively implemented across school systems will positively impact equity and access for all students. In addition to Blended Learning for Social Justice sections, readers will find   
•
Ideas for Professional Development sessions for sharing strategies and topics with teams
•
Distance Learning vs. Blended Learning sections to help transition various strategies between environments
•
Figures, templates, and tech tips to aid in implementation
Learn how to create a powerful learning experience for students that fosters collaboration, engagement, and rigorous learning experiences by combining instructional technology and the best of traditional classroom practice.
Table of Contents
Foreword
---
Preface
---
Acknowledgments
---
About the Author
---
INTRODUCTION
---
PART I: A NEW VISION FOR LEARNING AND PROFESSIONAL DEVELOPMENT
---
Chapter 1: HOW WILL SCHOOLS TRANSITION BACK TO THE CLASSROOM?
LEVERAGING BEST PRACTICES FROM THE DISTANCE LEARNING EXPERIENCE
WHAT IS BLENDED LEARNING?
BLENDED VS. DISTANCE LEARNING
FOUR BLENDED LEARNING MODELS
ENHANCING CONCEPTUAL UNDERSTANDING AND CONSTRUCTIVIST LEARNING THROUGH BLENDED LEARNING
LEVERAGING BLENDED LEARNING TO CLOSE THE ACHIEVEMENT GAP
BRINGING IT ALL TOGETHER
KEY TAKEAWAYS
CHAPTER 2: RETHINKING PROFESSIONAL DEVELOPMENT IN BLENDED LEARNING
A WORD ON PROFESSIONAL DEVELOPMENT LEADERSHIP
SHIFTING PROFESSIONAL DEVELOPMENT METHODOLOGY
GATHERING THE DATA
DEVELOPING A PROFESSIONAL DEVELOPMENT PLAN WITH A SUSTAINED FOCUS ON INSTRUCTION
TEACHER-LED PROFESSIONAL DEVELOPMENT THAT OFFERS LEADERSHIP OPPORTUNITIES AND INCREASED BUY-IN
CONSIDERATIONS BEYOND PROFESSIONAL DEVELOPMENT
KEY TAKEAWAYS
PART II: APPLYING PROFESSIONAL DEVELOPMENT STRATEGIES TO INSTRUCTIONAL PRACTICE
---
CHAPTER 3: SUPPORTING RIGOROUS LEARNING FOR ALL
DIFFERENTIATED SUPPORTS FOR EQUITABLE ACCESS
RIGOROUS, CONSTRUCTIVIST LEARNING OPPORTUNITIES
EFFECTIVE QUESTIONING TO FACILITATE CONSTRUCTIVIST LEARNING
STUDENT COLLABORATION
KEY TAKEAWAYS
CHAPTER 4: EMBRACING PERSONALIZED ASSESSMENT AND FEEDBACK
ASSESSMENTS TO GATHER ACTIONABLE DATA
ACTIONABLE FEEDBACK FOR ALL STUDENTS
FACILITATING SELF-MONITORING
PEER FEEDBACK
KEY TAKEAWAYS
CHAPTER 5: CREATING A BLENDED LEARNING CULTURE
THE RISE OF DIGITAL CITIZENSHIP TRAINING
LEARNING ENVIRONMENTS IN A BLENDED LEARNING MODEL
ESTABLISHING A COLLABORATIVE LEARNING CULTURE IN CLASSROOMS
TECHNOLOGY INTEGRATION AND MANAGEMENT
KEY TAKEAWAYS
PART III: BRINGING TOGETHER TRAINING AND APPLICATION INTO ONE COHESIVE PROGRAM
---
CONCLUSION: BRINGING IT ALL TOGETHER
CREATING A VISION BASED ON THE KEY TAKEAWAYS
FOCUSED LEADERSHIP DURING THE TRANSITION
BUILDING YOUR PROFESSIONAL DEVELOPMENT TEAM
COLLABORATING WITH STUDENTS AND PARENTS AS STAKEHOLDERS
PREPARING STUDENTS FOR A NEW WORLD
References
---
Index
---