Hands-on, Practical Guidance for Educators
From math, literacy, equity, multilingual learners, and SEL, to assessment, school counseling, and education leadership, our books are research-based and authored by experts on topics most relevant to what educators are facing today.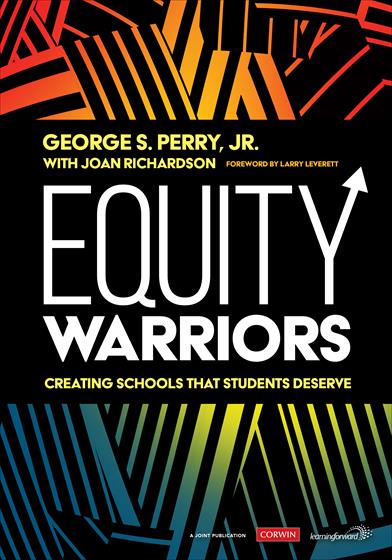 Look Inside
Bestseller!
Equity Warriors
Creating Schools That Students Deserve
Foreword by Larry Leverett
A Joint Publication with Learning Forward

Written by equity leadership expert George S. Perry Jr. Equity Warriors is the guide to enacting equity-focused, deep systemic transformation for education leaders.
Product Details
Grade Level: PreK-12
ISBN:

9781071851371

Published By: Corwin
Year:

2022



Page Count: 360

Publication date:

February 17, 2022
Price: $39.95
Description
Advance equity by learning to crack the system's codes
We must act now, using what we already know, to advance equity and raise the achievement of every student. With three decades of leading equity work across the country, George S. Perry Jr. issues a call to action for educational leaders who are willing to fight the fight for equity for all students.
School and district leaders will encounter roadblocks as they enact systemic change, but Equity Warriors introduces practical, realistic, and strategic approaches for navigating those barriers. Equity Warriors equips education leaders with the moves they can make today to achieve the vision that every student becomes a high achiever by
Providing real school and district examples of systemic equity efforts
Demonstrating the parallel work that school and district teams must do to achieve and sustain systemic change
Cracking the codes in the domains of politics, diplomacy, and warfare to achieve the equity agenda.
Equity Warriors is a must read for leaders at all levels of the system who have chosen to be in this fight and are ready to do what it takes to make the system work for all students.
Table of Contents
Foreword by Larry Leverett
---
Introduction
---
Preface: Begin with Students
---
Part I: Build an Equity Agenda: Student Data
---
Chapter 1: District leaders define equity by knowing students and finding allies
---
Politics: Balance conflicts to build an equity agenda
Diplomacy: Build a critical mass of support for advancing equity
Warfare: Use student data to convince, question, and teach
Chapter 2: School leaders center the equity agenda on student experiences
---
Politics: Engage the school community in shaping and telling the school's story
Diplomacy: Rally stakeholders to your school's equity agenda
Warfare: Know your students
Part II: Lead with Purpose: Values-Enhanced Leadership
---
Chapter 3: District leaders identify and engage with shared values
---
Politics: Surface and articulate values
Diplomacy: Lead change focusing on values
Warfare: Act with purpose, understanding, and resolve
Chapter 4: School leaders communicate and live their values, and expect the same from others
---
Politics: Help others stand with you
Diplomacy: Link values to intended outcomes
Warfare: Act deliberately
Part III: Educate Each and Every Student Well: Teaching & Learning
---
Chapter 5: District leaders focus and maintain attention on teaching and learning
Politics: Bring coherence to systems, structures, resources, stakeholders, and culture
Diplomacy: Build expertise and capacity around teaching and learning
Warfare: Act with a laser-like focus on teaching and learning
Chapter 6: School leaders ensure each and every student succeeds
---
Politics: Bring coherence to provide access to rigorous learning for all students
Diplomacy: Use protocols and processes to build capacity
Warfare: Hold everyone in the school accountable for student learning
Epilogue
---