Hands-on, Practical Guidance for Educators
From math, literacy, equity, multilingual learners, and SEL, to assessment, school counseling, and education leadership, our books are research-based and authored by experts on topics most relevant to what educators are facing today.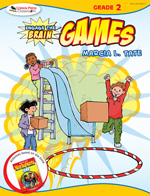 Look Inside
Engage the Brain: Games, Grade Two
These exciting new resources offer fun, innovative games covering all the content areas. Based on the most recent brain research, the games engage students in becoming active, motivated learners.
Product Details
Grade Level: PreK-12
ISBN:

9781412959315

Published By: Corwin
Year:

2008



Page Count: 96

Publication date:

February 28, 2008
Price: $19.95
Description
Real learning can be fun with games for the brain!
The Engage the Brain: Games series offers practical activities that energize students, increase brain connections to content, and reinforce learning in a nonthreatening atmosphere.
Derived from tested, research-based strategies found in the bestseller Worksheets Don't Grow Dendrites, this book provides activities that incorporate games aligned with national academic standards for language arts, math, science, social studies, physical education, art, and music.
You will find brain-friendly activities that can be integrated easily into your lesson plans to inspire enthusiasm and help students achieve. Each game provides learning objectives, a comprehensive materials list, step-by-step guidelines for playing the game, activities for extended learning, and required reproducibles such as game cards, game boards, and scorecards. Discover favorites such as pin the tail on the donkey, tag, charades, and tic-tac-toe applied to second-grade content in games like Cause and Effect Charades, Liquid Tag, and Tic-Tac-Toe Bingo. All games include a focus activity, modeling, guided practice, independent practice, and a closing. Students actively process content as they play existing games, and construct and design a variety of new ones.
Use these engaging activities to supplement your curriculum goals in

Cause and effect
Antonyms, synonyms, and language
Patterns, classification, and symmetry
Physical, earth, and life sciences
Art, music, physical education, and more!
Watch your students thrive and grow with creative experiences that incorporate movement, teamwork, healthy competition, and interpersonal skills!
Table of Contents
Introduction
---
Put It Into Practice
---
Language Arts
Mathematics
Science
Social Studies
Physical Education, Art, and Music
References
---