Hands-on, Practical Guidance for Educators
From math, literacy, equity, multilingual learners, and SEL, to assessment, school counseling, and education leadership, our books are research-based and authored by experts on topics most relevant to what educators are facing today.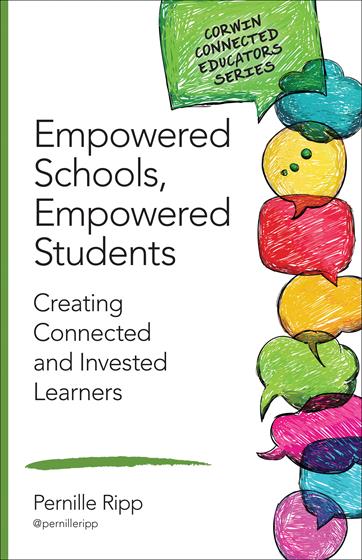 Look Inside
Empowered Schools, Empowered Students
Creating Connected and Invested Learners
This book provides ready-to-use ideas and real-life stories to help educators empower students and teachers to discover their own learning journeys.
Product Details
Grade Level: PreK-12
ISBN:

9781483371832

Published By: Corwin
Series: Corwin Connected Educators Series
Year:

2014



Page Count: 80

Publication date:

September 12, 2014
Price: $13.95
Description
Open up a new world of learning and engage students with these powerful ideas!
This book helps you empower teachers and students to regain control of their own teaching and learning journey. With this helpful guide, cultivate enthusiasm for learning by changing the power dynamic and putting the reins back into the hands of students. Administrators and teachers learn to:
Cultivate the experts at your school

Create an environment of trust and collaboration

Give students and staff a voice
Includes real-life stories from other connected educators! Transform the learning experience and create lasting change with this breakthrough volume of the Connected Educators Series!
The Corwin Connected Educators series is your key to unlocking the greatest resource available to all educators: other educators. Being a Connected Educator is more than a set of actions: it's a belief in the potential of technology to fuel lifelong learning. To explore the other books in this series, visit the Corwin Connected Educators website.

Check out the Connected Educator Series matrix to find out which book is right for you.
"Pernille has shared what it takes to create an environment that nurtures growth for students and staff."

—Nicholas Provenzano, The Nerdy Teacher
TheNerdyTeacher.com
@TheNerdyTeacher
"Pernille makes a case for the need to change from a traditional hierarchical approach of control to a shared, empowering approach. This book outlines steps that administrators can take to share leadership in their schools and teachers can take to share the responsibility of learning with the students."
—William Chamberlain, Teacher
Noel Elementary School
Key features
This book is for both administrators and teachers. The first half examines the obstacles administrators face in leading an empowered school where teachers have agency and voice. Each chapter tackles an obstacle, lays out the benefits of changing the system, and gives leaders a plan to do so. Following the same structure, the second half of the book addresses the challenges teachers face in leading empowered students. Again, each chapter addresses the obstacles and the benefits of change, and gives teachers a plan for action. Throughout the book are stories from educators who have put these principles into practice to change their schools. The book discusses several ways to empower teachers and students, including:
Cultivating the experts at your school

Revitalizing the staff meeting

Changing classroom setup

Giving students a voice
There is also the Connected Educators Series website where readers can connect with all of the authors of the series, find more resources, and find real support for putting flipped leadership into practice.
Table of Contents
Preface by Peter DeWitt
---
Introduction
---
I. The Need to Empower Our Schools
---
1. The Empowered Principal as Role Model
Obstacles
Benefits of Change
Plan of Action
2. Revitalizing the Staff Meeting
Obstacles
Benefits of Change
Plan of Action
3. Cultivating the Expert Within
Obstacles
Benefits of Change
Plan of Action
4. Small Moment Professional Development
Obstacles
Benefits of Change
Plan of Action
II. The Need to Empower Our Teachers and Our Students
---
5. The Empowered Classroom
Obstacles
Benefits of Change
Plan of Action
6. Classroom Set Up to Signal Change
Obstacles
Benefits of Change
Plan of Action
7. Empowered Self - Empowered Learning
Obstacles
Benefits of Change
Plan of Action
Conclusion
---