Hands-on, Practical Guidance for Educators
From math, literacy, equity, multilingual learners, and SEL, to assessment, school counseling, and education leadership, our books are research-based and authored by experts on topics most relevant to what educators are facing today.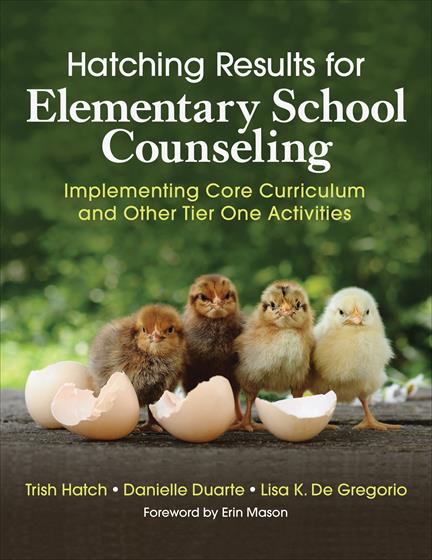 Look Inside
Bestseller!
Hatching Results for Elementary School Counseling
Implementing Core Curriculum and Other Tier One Activities
With case studies, examples, templates, charts, graphs, and images, you'll create and implement high-quality Tier 1 systems of support, including core curriculum classroom lessons and schoolwide activities.
Product Details
Grade Level: PreK-12
ISBN:

9781506389646

Published By: Corwin
Year:

2018



Page Count: 296

Publication date:

February 01, 2018
Price: $42.95
Description
School counseling that makes a difference—for all students!

As an elementary school counselor, you're implementing a comprehensive program to promote academic and social-emotional development for all students. You're planting seeds of college and career readiness, which means creating core curriculum classroom lessons, delivering engaging content to students and parents, managing classroom behaviors, providing assessments, and sharing the results.

The good news is that you don't have to do it alone. In this guide, three experienced school counselors take you step by step through the creation and implementation of high-quality Tier 1 systems of universal supports. With a focus on proactive and prevention education through core curriculum classroom lessons and schoolwide activities, this practical text includes:


The school counselor's role in Multi-tiered, Multi-Domain System of Supports
Examples to help with design, implementation, and evaluation
Guidance for selecting curriculum and developing lesson and action plans
Alignment with ASCA National Model and ASCA Mindsets and Behaviors
Vignettes from practicing elementary school counselors
Recommendations for including families in prevention activities
Management tools, reproducible templates, and reflective activities and processing questions
You teach the academic, college and career, and social-emotional competencies students need to be successful learners. With this book's expert guidance, you're prepared to help them get there.

"This book accomplishes what so many school counseling graduates are often left to learn 'on the job': translation of theory and ideas into meaningful, evidence-based practice within a multi-tiered system of supports."
—Paul C. Harris, Assistant Professor, Counselor Education
University of Virginia

"This is the book all elementary school counselors have been waiting for! Not only can it deepen our skills as educators and collaborators, it also provides a sounding board for effective school counseling practices that are standards-based, measurable, and focused on closing the achievement gap."
—Kirsten Perry, ASCA 2018 School Counselor of the Year
Lawndale Community Academy, Chicago, IL

Key features
Includes specific information and examples to directly support elementary school counselors as they implement preventative tier one activities.
Utilizes vignettes and case studies from elementary counselors across the country.
Designed as a practical text that counselors can use in their day-to-day practice, with numerous charts, graphs, and images.
Table of Contents
Foreword
---
Acknowledgments
---
About the Authors
---
Introduction
---
1. Multi-Tiered, Multi-Domain System of Supports: A Framework for Tier 1
Introduction
An Introduction to MTSS in Education
Connecting MTSS to School Counseling: MTMDSS
Multi-Tiered, Multi-Domain System of Supports (MTMDSS)
MTMDSS Alignment to Text
Aligning MTMDSS With the ASCA National Model
Aligning MTMDSS With the ASCA Position Statements
Aligning MTMDSS With the ASCA Ethical Standards
Multi-Tiered, Multi-Domain System of Supports (MTMDSS) Assessment
2. Franchising Core Curriculum
Trish's Story
What Is Franchising?
What Can Students, Parents, and Teachers Expect (Count On) From School Counseling Programs?
The 80/20 Approach
Schoolwide Core Curriculum Action Plans
Guidelines for Creating Schoolwide Core Curriculum Action Plans
Instructions for Completing an Action Plan
Ways to Deliver Core Curriculum
Core Curriculum: Ensuring Value Added
Best Practices for Successful Parent Education Programs
3. Determining Core Curriculum
Lisa's Story
Introducing the Art and Science of School Counseling
Evidence-Based Practice and Core Curriculum
Resources
Factors to Consider in Selecting and Developing Core Curriculum
Selecting an Evidence-Based Curriculum
4. Lesson Plans
Danielle's Story
Lesson Plan Development Components
Cultural Responsiveness and Considerations When Lesson Planning
5. Student Engagement
Engaging Student Learners
Cognitive Engagement Through Overt and Covert Engagement Strategies
Student Engagement Strategies
6. Classroom Management
Managing Classrooms
Proactive Classroom Management
How to Handle Students Who Are Off Task or Misbehaving
7. Schoolwide Programs and Activities
What Are Schoolwide Activities?
Districtwide/Schoolwide Programs and Activities
Academic Domain Programs and Activities
College/Career Domain Programs and Activities
Social/Emotional Domain Programs and Activities
National Awareness Campaigns
Activity: Selecting and Aligning Your Schoolwide Programs and Activities
8. Pre- and Post-Tests and Assessments
Revisiting the Art, Science, and Wonder of School Counseling
Conceptual Diagram for Elementary School Counseling Curriculum
Creating Pre- and Post-Assessments
9. Sharing School Counseling Program Results
ASCA Results Reports
Flashlight Results Presentations
Flashlight Presentation "One-Pager"
Other "One-Pagers"
Using National School Counseling Week and Other Opportunities to Share School Counseling Program Results
Additional Ideas for Sharing Results
10. Management Systems and Putting It All Together
Trish's Story
Scheduling Core Curriculum
Calendars
Monthly Planning Guides
Systematic Referral Process
Marketing the School Counseling Program and Tier 1 Services
Collaboration With Staff
Collaboration With Administrators
Recommendations for New School Counselors Related to Delivery of Tier 1 Services
Closing
References
---
Index
---