Hands-on, Practical Guidance for Educators
From math, literacy, equity, multilingual learners, and SEL, to assessment, school counseling, and education leadership, our books are research-based and authored by experts on topics most relevant to what educators are facing today.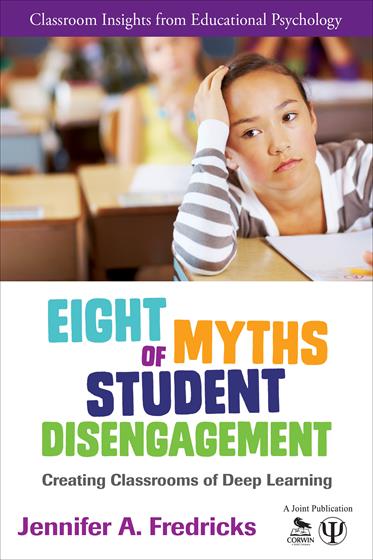 Look Inside
Eight Myths of Student Disengagement
Creating Classrooms of Deep Learning
Transform educational outcomes, build positive peer cultures, and high-quality student-teacher relationships with this must-have resource. Includes vignettes and straightforward implementation strategies from practicing classroom teachers.
Product Details
Grade Level: PreK-12
ISBN:

9781452271880

Published By: Corwin
Series: Classroom Insights from Educational Psychology
Year:

2014



Page Count: 272

Publication date:

March 18, 2014
Price: $33.95
Description
Your expert resource to activate, manage, and maintain lasting student success!
Student disengagement is a huge challenge for teachers everywhere. Leading education expert Jennifer Fredricks empowers teachers to reengage students at all levels with powerful examples and clear-eyed implementation strategies that build essential 21st century learning skills. Teachers get the core facts about the causes, consequences, and solutions to disengagement and learn to confidently:
Identify students most at risk for disengagement
Implement student-centered, project-based learning practices for maximum educational outcomes
Work effectively with diverse groups of disengaged youth
Build positive peer cultures and high-quality student-teacher relationships
Straightforward how-to's from practicing classroom teachers, extensively researched online and print resources, and assessment and observation tips help educators make real-world applications. Cultivate lasting student engagement and transform educational outcomes with this must-have resource!
Key features
Provides a framework for identifying students who are most at risk for disengagement, understanding the relationship between engagement and educational outcomes, and assessing levels of student engagement
Describes eight common misconceptions about student engagement and uses myth-busting research evidence to illuminate the individual and contextual reasons behind disengagement
Threads hypothetical cases of engagement and disengagement throughout the text to illustrate the causes and consequences of disengagement and the ways to improve engagement in the classroom
Provides strategies for working with disengaged youth, creating engaging tasks, developing a peer culture that supports learning and engagement, and developing positive student-teacher relationships
Includes teacher-created how-to sections with practical advice for increasing behavioral, emotional, and cognitive engagement
Provides extensive opportunities for self reflection, through "Stop and Reflect Questions" and "Text-to-Practice Exercises" designed to help educators connect the concepts to real life examples.
Includes ready-to-use templates of surveys and observational tools for assessing student engagement
Table of Contents
Preface
---
Acknowledgments
---
About the Author
---
About the Contributors
---
Introduction
---
Myth 1. It's Easy to Tell Who Who Is Engaged: What Is Engagement and How Can I Assess It in My Classroom?
Portraits of Engagement
What Is Engagement?
Why Assess Engagement?
Consistency, Duration, and Variation in Engagement
Methods for Assessing Engagement
Chapter Summary
Text-to-Practice Exercises
Key Terms and Concepts
Research-Based Resources
Myth 2. Some Students Just Don't Care: How Disengagement Is More Than Just a Lack of Student Motivation
School Versus Out-of-School Tasks
Teacher-Student Relations and Disengagement
Peer Relations and Disengagement
Chapter Summary
Text-to-Practice Exercises
Key Terms and Concepts
Research-Based Resources
Myth 3. What Happens Outside of School Competes With Academics: How Out-of-School Time and Families Affect Engagement in School
Extracurricular Activity Participation and Academic Outcomes
Variation in Engagement Across Contexts
Self-Determination Theory and Engagement
Families and Engagement
Barriers to Parent Involvement
Chapter Summary
Text-to-Practice Exercises
Key Terms and Concepts
Research-Based Resources
Myth 4. Hands-On Is Minds-On: How to Create More Engaging Classroom Tasks That Result in Deep Learning
Designing Classroom Tasks for Engagement
Cognitive Components of the Task
Authentic Tasks
Authentic Instructional Models
Motivational and Cognitive Challenges With Authentic Instruction
Strategies for Implementing Cognitively Complex Tasks
Chapter Summary
Text-to-Practice Examples
Key Terms and Concepts
Research-Based Resources
Myth 5. Focus on Content: Don't Make It Personal: How Relationships Matter for Student Engagement
Teacher Support and Student Engagement and Achievement
Essential Characteristics of Meaningful Teacher-Student Relations
Building Relatedness in the Classroom
Being an Autonomy-Supportive Teacher
Supporting Students' Need for Competence
How Teachers Support Cognitive Engagement
Barriers to Developing High-Quality Relationships
Building Relationships With Difficult Students
Connecting With Diverse Students
Chapter Summary
Text-to-Practice Exercises
Key Terms and Concepts
Research-Based Resources
Myth 6. Socializing With Peers Detracts From Student Engagement: How to Create a Peer Context That Supports Engagement
Why Are Peer Relationships Important?
Friendships
Teachers' Beliefs and Instructional Practices
How Do Peers Socialize Engagement?
Cooperative Learning and Collaborative Instruction
Key Strategies for Supporting Cooperation and Collaboration
Creating Classroom Communities
Chapter Summary
Text-to-Practice Exercises
Key Terms and Concepts
Research-Based Resources
Myth 7. There's Only So Much a Teacher Can Do: How to Help Those Students Still Struggling to Succeed
Why Is It Important to Resist Disengagement?
Risk Factors for Disengagement
Why Is a Student Disengaged?
Boys and Disengagement
Academic Problems and Disengagement
Students With a History of Behavioral Problems
African American, Hispanic, and Low-Income Students and Disengagement
Interventions to Increase Engagement
Chapter Summary
Text-to-Practice Exercises
Key Terms and Concepts
Research-Based Resources
Myth 8. Student Engagement Is a Student Choice: Choosing to Make the Effort and Not Waiting for Engagement to Happen
References
---
Index
---
Reviews
This is a carousel with review cards. Use the previous and next buttons to navigate.
"A must have book for all classroom teachers. A relevant, eye-opening approach to classroom problems and student attitudes that we didn't think we could solve."
Patricia Baker, NBCT, Teacher Gifted Education
Fauquier County Public Schools, Bealeton, VA
"This was an excellent read that would be very applicable in most classrooms. Engagement is key to student learning and the author gives us practical ways to implement real practices aimed at increasing this engagement of students at all learning levels."
Patti Grammens, Teacher
Lakeside Middle School, Cumming, GA
"In the era of Common Core Standards, this book is a must read for every educational professional!"
Ellen E. Coulson, 7th Grade U.S. History Teacher
Sig Rogich Middle School, Las Vegas, Nevada