Hands-on, Practical Guidance for Educators
From math, literacy, equity, multilingual learners, and SEL, to assessment, school counseling, and education leadership, our books are research-based and authored by experts on topics most relevant to what educators are facing today.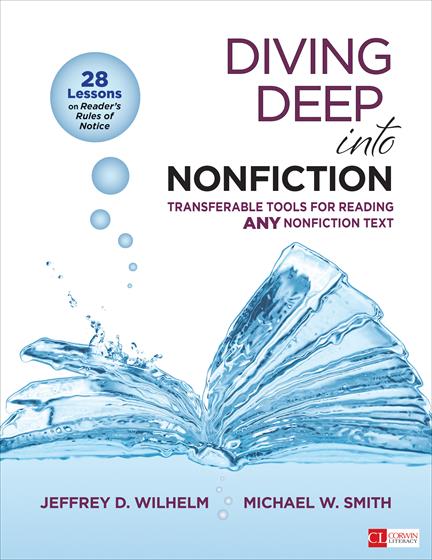 Look Inside
Bestseller!
Diving Deep Into Nonfiction, Grades 6-12
Transferable Tools for Reading ANY Nonfiction Text
Through classroom-tested lessons and compelling short excerpts, Diving Deep Into Nonfiction helps students read well by noticing the rules and conventions of nonfiction texts.
Product Details
Grade Level: PreK-12
ISBN:

9781483386058

Published By: Corwin
Series: Corwin Literacy
Year:

2016



Page Count: 264

Publication date:

October 28, 2016
Price: $39.95
Description
"General reading strategies and teacher-developed questions will only take our students so far—with our approach, students gain astounding independence because they engage directly with the nonfiction author, and with how that author used specific details (moves) and structures to communicate meanings and effects."
—Wilhelm and Smith

All nonfiction is a conversation between the writer and the reader, an invitation to agree or disagree with compelling and often provocative ideas about some aspect of the world we live in. At the end of the day, it's our responsibility to decide if the argument is sound. With Diving Deep Into Nonfiction, Jeffrey D. Wilhelm and Michael W. Smith deliver a revolutionary teaching framework that helps students read well by noticing the rules and conventions of this dynamic exchange.

The classroom-tested lessons include engaging short excerpts and teach students to be powerful readers who know both how authors signal what's worth noticing in a text and how readers connect and make meaning of what they have noticed.

No matter what they are reading, students learn to be on high alert, and highly curious about how texts work and what they mean, as they learn to notice direct statements of principle, calls to attention, ruptures, and readers' rules of notice:
Notice the topics and the textual conversation: Who is speaking and how might he or she be responding to another's ideas? What is the idea that gives "heat" to this text?
Notice key details: What attracts my attention? How does the author signal both direct and implicit statements of meaning? How does the author use the unexpected? How can I interpret patterns of key details to see overall meanings?
Notice varied nonfiction genres: What are the essential features of this kind of text? How does the author employ them? What effects are they designed to have on the reader?
Notice text structure: How does the author structure the text to connect details and ideas? What patterns of thought does the author use along the way?
With Diving Deep Into Nonfiction, Wilhelm and Smith upend current practices, and it's high time. Once your students engage with these lessons, you'll never go back to the same old tired approach— and reading across content areas enters a whole new era.


Table of Contents
LIST OF VIDEOS
---
ACKNOWLEDGMENTS
---
1. Reader's Rules of Notice
What Skilled Readers Do
What This Noticing Means for Us as Teachers
Principles of Effective Instruction
The Current Educational Climate
How This Book Works
How to Use This Book
2. Noticing the Conversation
Lesson 1. Noticing the Conversation: Reading Visual Texts
Handout 2.1. Beer Street and Gin Lane
Handout 2.2. Two Views of Children's Play
Lesson 2. Noticing the Conversation: Thinking Aloud
Handout 2.3. Intelligence: A Brief History (Excerpt) by Anna T. Cianciolo and Robert J. Sternberg
Lesson 3. Noticing the Conversation: Practice in Miniature
Handout 2.4. Noticing the Conversation
Handout 2.5. More Practice Noticing the Conversation
Lesson 4. Noticing the Conversation: Questioning
Handout 2.6. Narrative of the Life of Frederick Douglass, an American Slave, Written by Himself (Excerpt)
Lesson 5. Noticing the Conversation: Writing and Responding
Lesson 6. Noticing the Conversation: Search and Find
Lesson 7. Noticing the Conversation: Putting It All Together
Handout 2.7. The Gettysburg Address by Abraham Lincoln
3. Noticing Key Details
Lesson 1. Noticing Key Details: Reading Visual Texts
Lesson 2. Noticing Key Details: Thinking Aloud
Handout 3.1. The Great Fire (Excerpt) by Jim Murphy
Lesson 3. Noticing Key Details: Practice in Miniature
Handout 3.2. Movie Review: Avengers: Age of Ultron (Excerpt) by Cary Darling
Handout 3.3. Harriet Tubman: Conductor on the Underground Railroad and Narrative of the Life of Frederick Douglass, an American Slave, Written by Himself (Excerpts)
Lesson 4. Noticing Key Details: Questioning
Lesson 5. Noticing Key Details: Writing and Responding
Handout 3.4. Mentor Sentences Based on The Great Fire (Excerpt) by Jim Murphy
Lesson 6. Noticing Key Details: Search and Find
Lesson 7. Noticing Key Details: Putting It All Together
4. Noticing Varied Nonfiction Genres
Lesson 1. Noticing Varied Nonfiction Genres: Reading Visual Texts
Handout 4.1. Thinking About Photographic Portrait Genres
Lesson 2. Noticing Varied Nonfiction Genres: Thinking Aloud
Handout 4.2. Sample Abstract: "Which AA Battery Maintains Its Voltage for the Longest Period of Time?" by Student Author
Lesson 3. Noticing Varied Nonfiction Genres: Practice in Miniature
Lesson 4. Noticing Varied Nonfiction Genres: Questioning
Handout 4.3. Letters to the Editor
Handout 4.4. Letters of Recommendation
Handout 4.5. Using Genre Knowledge to Evaluate a Text
Lesson 5. Noticing Varied Nonfiction Genres: Writing and Responding
Lesson 6. Noticing Varied Nonfiction Genres: Search and Find
Lesson 7. Noticing Varied Nonfiction Genres: Putting It All Together
Handout 4.6. Lincoln's Second Inaugural Address
Handout 4.7. Kennedy's Inaugural Address
5. Noticing the Text Structures in Nonfiction Texts
Lesson 1. Noticing the Text Structures in Nonfiction Texts: Reading Visual Texts
Lesson 2. Noticing the Text Structures in Nonfiction Texts: Thinking Aloud
Handout 5.1. Noticing Comparisons: Camping
Handout 5.2. Noticing Comparisons: Class Election
Handout 5.3. Noticing Comparisons: Spring Dance
Lesson 3. Noticing the Text Structures in Nonfiction Texts: Practice in Miniature
Handout 5.4. Noticing Comparisons: More Practice
Lesson 4. Noticing the Text Structures in Nonfiction Texts: Questioning
Lesson 5. Noticing the Text Structures in Nonfiction Texts: Writing and Responding
Handout 5.5. Cuing Comparisons
Lesson 6. Noticing the Text Structures in Nonfiction Texts: Search and Find
Lesson 7. Noticing the Text Structures in Nonfiction Texts: Putting It All Together
Handout 5.6. "Troposphere" (Excerpt) by Bill Bryson
Handout 5.7. Hillocks Hierarchy Questions
6. Why This Method Works
Motivating Deep Learning
Developing Cultural, Critical, and Identity Literacies
A Final Word
APPENDIX: GENERAL READER'S RULES OF NOTICE FOR NONFICTION
---
WORKS CITED
---
INDEX
---