Hands-on, Practical Guidance for Educators
From math, literacy, equity, multilingual learners, and SEL, to assessment, school counseling, and education leadership, our books are research-based and authored by experts on topics most relevant to what educators are facing today.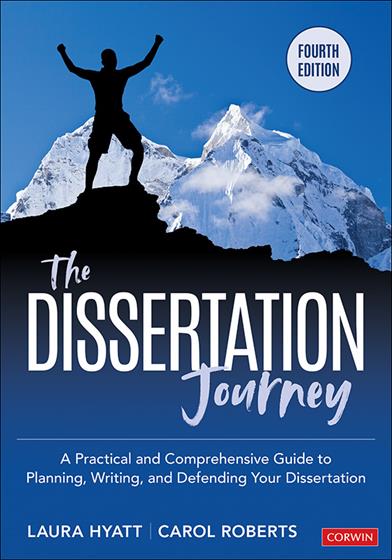 Updated Edition of Bestseller
The Dissertation Journey
A Practical and Comprehensive Guide to Planning, Writing, and Defending Your Dissertation
Fourth Edition

Dr. Hyatt and Dr. Roberts offer an essential guide to successfully researching and writing a quality dissertation.
Product Details
Grade Level: PreK-12
ISBN:

9781071891285

Published By: Corwin
Year:

2023



Page Count: 264

Publication date:

August 30, 2023
Price: $38.95
Description
Reach the summit of the dissertation mountain.
In many ways, the journey of completing a dissertation is like climbing a mountain. It requires planning, research, teamwork, and perseverance. In this fourth edition of their best-selling book, authors Laura Hyatt and Carol Roberts address the challenges that students will face as they journey to the peak of their academic career and complete their dissertation.
Completing a dissertation is a transformative and fulfilling life experience. It requires knowledge, tenacity, and preparation for the inevitable uncertainties that will arise along the way. It also necessitates strategies and techniques for dealing with the unanticipated events that many dissertation writers face, such as procrastination, writer's block, and the uncertainty of how to conduct a literature review or approach a methods section. This newly revised edition addresses those elements and also includes:
Indispensable information for organizing and writing a dissertation
Recommendations for identifying and writing research methods
Expanded coverage of research ethics
Insightful reflections from students who have effectively written and defended their dissertations
From preparing for the climb to enjoying the view from the summit, this book will assist you to successfully complete The Dissertation Journey.


Table of Contents
New to This Edition
---
Preface
---
Note to Doctoral Students
---
Acknowledgments
---
About the Authors
---
Part I: Preparing for the Journey
---
Chapter 1: Personal Considerations
Chapter 2: The Dissertation Terrain
Chapter 3: Ethical Considerations in Research
Part II: Starting the Climb
---
Chapter 4: Selecting a Dissertation Research Topic
Chapter 5: Assembling Your Dissertation Team
Chapter 6: Organizing and Planning for Success
Chapter 7: Mastering the Academic Style
Part III: Next Objective: Base Camp
---
Chapter 8: Writing the Introduction
Chapter 9: The Literature Review
Chapter 10: Writing the Research Methods
Chapter 11: The Proposal Meeting
Part IV: Final Preparations for the Peak
---
Chapter 12: Presenting the Findings
Chapter 13: Conclusions and Recommendations
Part V: View from the Summit and Beyond
---
Chapter 14: The Final Defense
Chapter 15: Future Peaks
Parting Thoughts
---
Appendix
---
References
---