Hands-on, Practical Guidance for Educators
From math, literacy, equity, multilingual learners, and SEL, to assessment, school counseling, and education leadership, our books are research-based and authored by experts on topics most relevant to what educators are facing today.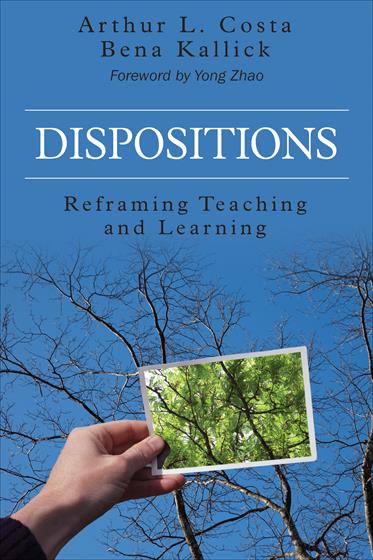 Look Inside
Dispositions
Reframing Teaching and Learning
Two leading consultants draw on new cognitive science to show why influencing students' dispositional thinking habits is the key to their finding meaning in classroom content.
Product Details
Grade Level: PreK-12
ISBN:

9781483339108

Published By: Corwin
Year:

2013



Page Count: 176

Publication date:

October 21, 2013
Price: $26.95
Description
From the authors of the best-selling Habits of Mind…
A costly gap exists between what we claim to value as educational essentials and how we evaluate results. In Dispositions, Arthur L. Costa and Bena Kallick present a game-changing look at why and how to "mind the gap".
The authors' Habits of Mind writings have influenced educational policy worldwide. Dispositions incorporates new cognitive science that shows how influencing students' mental habits is their key to finding meaning in classroom content. Topics include:
Making dispositions come alive in the minds of students
Shifting the thinking of educational leaders, parents, politicians and the public
How to align day-to-day classroom practices with larger dispositional outcomes
Featuring techniques for integrating dispositional learning into the Common Core, Dispositions is Costa and Kallick's most indispensable work on 21st Century learning.
"Education must include the development of the human elements in our children. Costa and Kallick present a reasonable, practical and positive alternative—the cultivation of dispositional thinking, the very core of being human."
Foreword by Yong Zhao
Key features
(1) Provides a clear roadmap for achieving the college and career readiness goals of the Common Core State Standards and 21st century learning in general.
(2) Grounded in Costa and Kallick's groundbreaking habits of mind work and informed by current research in cognitive psychology and neuroscience.
(3) Addresses how dispositions are to be addressed in curriculum design, instruction, and assessment.
(4) Guides readers through of an understanding of how to create and sustain school cultures that value dispositional learning.
(5) Ideally suited for use with Common Core implementation initiatives at the school and district level.
Table of Contents
Foreword by Yong Zhao
---
Acknowledgments
---
About the Authors
---
1. Introduction: Challenging the Mindset
2. Why Dispositions?
3. What are Dispositions?
4. Deciding On Dispositions
5. Dispositions: Hard-Wired or Learned?
6. Dispositions by Intention: Mapping the Curriculum
7. Observing and Assessing Growth in Dispositional Learning
8. School Cultures that Support Dispositional Learning
9. Afterthoughts and Actions
Appendices
---
Declaration
---
Index
---