Hands-on, Practical Guidance for Educators
From math, literacy, equity, multilingual learners, and SEL, to assessment, school counseling, and education leadership, our books are research-based and authored by experts on topics most relevant to what educators are facing today.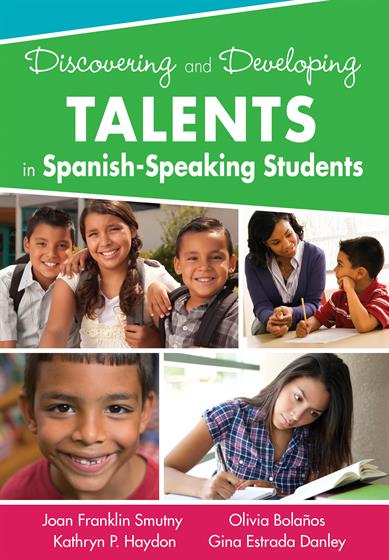 Look Inside
Discovering and Developing Talents in Spanish-Speaking Students
This book provides teachers and leaders with the skills needed to uncover each child's talents and ultimately boost achievement for gifted Hispanic students.
Product Details
Grade Level: PreK-12
ISBN:

9781412996365

Published By: Corwin
Year:

2012



Page Count: 216

Publication date:

August 02, 2012
Price: $41.95
Description
¡Atención! Recognize the strengths of Spanish-speaking students!
With the growing population of Hispanic students, it's more important than ever to persevere beyond the language barrier and nurture their gifts and talents. This book provides teachers and leaders with the skills needed to uncover each child's abilities and ultimately boost achievement for gifted Spanish-speaking students. Packed with strategies, suggestions, and materials teachers can use immediately to enhance instruction and assessment, this book shows how to:
Recognize students' unique strengths
Identify and develop the gifts of bilingualism and different cultures
Create challenging learning experiences for every student in the class
Adapt tools and strategies to meet each learner's unique needs
Connect with parents and the greater Spanish-speaking community
Included are testimonials from teachers and students; examples of communications with and from parents; selected poems from gifted students; and inspirational stories from adults who overcame language challenges to earn college degrees and achieve successful careers. Too often, Spanish-speaking students are overlooked, miscast into special education, or not recognized for their abilities. This book shows you how to uncover the creativity in each one of your students.
Table of Contents
Acknowledgments
---
About the Authors
---
Introduction
---
1. Changing Landscape of U.S. Schools: A Call to Action
2. Bilingualism: A Cognitive Strength
3. A Cultural Primer
4. Recognizing Talents, Abilities, and Creativity in Your Spanish-Speaking Students
5. Identifying Gifted Hispanic Students
6. Effective Ways for Teachers to Connect Wth Spanish-Speaking Parents
7. Developing the Strengths and Talents of Hispanic ELLs: Strategies for Getting Started
8. Program Options for Advanced Hispanic ELLs: Putting Your Strategies to Work
Conclusion
---
Appendix
---
Bibliography
---
Index
---