Hands-on, Practical Guidance for Educators
From math, literacy, equity, multilingual learners, and SEL, to assessment, school counseling, and education leadership, our books are research-based and authored by experts on topics most relevant to what educators are facing today.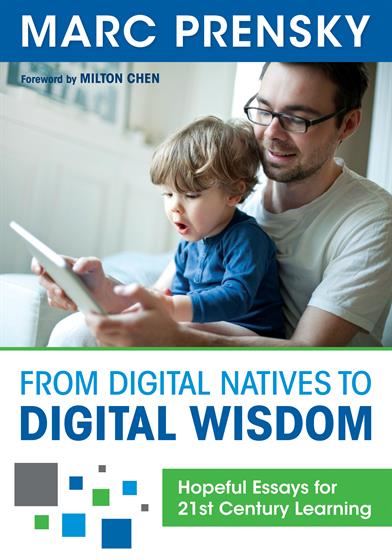 Look Inside
From Digital Natives to Digital Wisdom
Hopeful Essays for 21st Century Learning
Best-selling author and futurist Marc Prensky's book of essays challenges educators to "reboot" and make the changes necessary to prepare students for 21st century careers.
Product Details
Grade Level: PreK-12, Elementary, Secondary
ISBN:

9781452230092

Published By: Corwin
Year:

2012



Page Count: 240

Publication date:

January 18, 2012
Price: $41.95
Description
An expert perspective on 21st century education
What can you learn on a cell phone? Almost anything! How does that concept fit with our traditional system of education? It doesn't. Best-selling author and futurist Marc Prensky's
book of essays challenges educators to "reboot" and make the changes necessary to prepare students for 21st century careers. His "bottom-up" vision is based on interviews with young people and includes their ideas about what they need from teachers, schools, and education. Also featured are easy-to-do, high-impact classroom strategies that help what he calls "digital natives" acquire "digital wisdom." This thought-provoking text is organized into two sections that address:
• Rethinking education
• 21st century learning and technology in the classroom (including games, YouTube, and more)
In addition to valuable knowledge, this compelling collection offers inspiration, new perspectives, and ideas that work. Our educational context has changed, and a new context demands new thinking. This book will broaden your mind, spark new insights regarding how and what you teach, and reshape your vision of 21st century education.

Key features
Represents the best of bestselling author Marc Prensky's most inspiring and thoughtful essays over the past decade written specifically for educators;
Contains two sections: 1. Rethinking Education and 2. 21st Century Learning and Technology in the Classroom that explore the full range of instructional methods, curriculum, strategies, and use of technology tools such as YouTube, etc. in a personable and easy-to-follow way;
Includes book study questions at the end of each section/chapter for both personal and group discussion;
Chapters vary from long, in-depth, research-based essays to short, thought-provoking pieces intended to promote critical discussion, reflection, and change among educators.
Table of Contents
Foreword by Milton Chen
---
About the Author
---
Introduction
---
I. Rethinking Education
---
1. The Reformers Are Leaving Our Schools in the 20th Century
2. On Learning
3. Educaiton as Rocket Science
4. Turning On the Lights
5. Digital Natives, Digital Immigrants
6. The Emerging Online Life of the Digital Native
7. Young Minds, Fast Times
8. Blame Our Young? Or Use Their Passion!
9. To Educate, We Must Listen
10. Bringing the Future to School: The Prensky Challenge
11. An Open Letter to the Bill and Melinda Gates Foundation
Questions for Reflection
---
II. 21st Century Learning, and Technology in the Classroom
---
12. The Role of Technology in Teaching and the Classroom
13. Backup Education?
14. Simple Changes in Current Practices May Save Our Schools
15. The Longer View: Why YouTube Matters
16. Beyond the Lemonade Stand
17. Types of Learning and Possible Game Styles
18. On Being Disrespected
19. Let's Be "Digital Multipliers"
20. Search Versus Research
21. Simulation Nation
22. What Can You Learn From a Cell Phone? Almost Anything!
23. The True 21st Century Literacy Is Programming
Epilogue: From Digital Natives to Digital Wisdom
---
Questions for Reflection
---
Final Note
---
Index
---