Hands-on, Practical Guidance for Educators
From math, literacy, equity, multilingual learners, and SEL, to assessment, school counseling, and education leadership, our books are research-based and authored by experts on topics most relevant to what educators are facing today.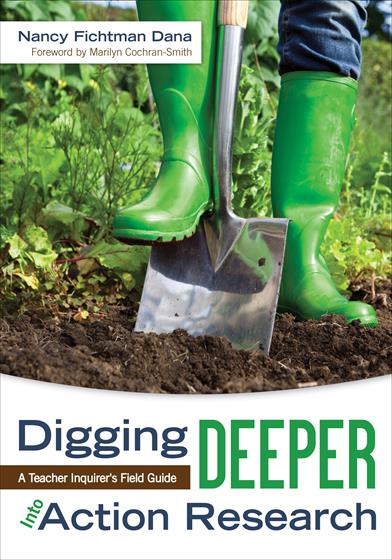 Look Inside
Bestseller!
Digging Deeper Into Action Research
A Teacher Inquirer's Field Guide
Foreword by Marilyn Cochran-Smith

From framing your question to presenting your research, this is your go-to guide each time you embark on a new inquiry. Includes real-life vignettes, self-guided worksheets, and a DVD.
Product Details
Grade Level: PreK-12
ISBN:

9781452241951

Published By: Corwin
Year:

2013



Page Count: 120

Publication date:

February 05, 2013
Price: $31.95
Description
Take your great idea to the next level with action research
How—and when—can we find time to conduct meaningful action research? Great ideas and thought-provoking questions can only blossom through methodical inquiry. Nancy Fichtman Dana steps in as your action-research coach and leads you on a journey through wonderings to real change in your classroom.
From framing your question to presenting your research, this guide will encourage, challenge, and ultimately lead you through the action research process. Teachers, students, and action-research coaches alike will learn how to:
• Reframe initial wonderings into pointed inquiries
• Creatively analyze both qualitative and quantitative data
• Draw action-research topics out of ordinary discussions with colleagues
• Share findings with others to help them improve as well
With real-life vignettes, self-guided worksheets, and an included DVD, Digging Deeper into Action Research is your go-to guide each time you embark on a new journey toward professional growth.
"This field guide will undoubtedly make a valuable contribution to the larger project of practitioners engaged in the work of reflecting on, studying, and interrogating their own practice in order ultimately to improve the social life of classrooms and the learning opportunities and life chances of children."
—Marilyn Cochran-Smith, Cawthorne Professor of Teacher Education
Boston College
"This is THE book to read for any educator who ever found themselves asking, 'What just happened?!?' If you like finding your own solutions to your teaching problems, this is the key to your freedom and to satisfaction in your teaching career!"
—Mary K. Culver, Associate Clinical Professor
Northern Arizona University
Key features
Simple and succinct review of each component of the action research process.
Exercises and vignettes to guide teachers conducting classroom research.
The "5 Es" (engage, enable, expand, express, and embrace) - A mnemonic device to inspire teachers to engage in their own research and energize them throughout each step of the process, particularly in these trying education times.
Tips for fine-tuning a "wondering" (or research question), developing a research plan, analyzing data, and presenting research to colleagues.
Table of Contents
List of Figures
---
Foreword by Marilyn Cochran-Smith
---
Preface
---
Acknowledgments
---
Introduction to the Inspire to Inquire DVD
---
About the Author
---
How to Use the Inquiry Books
---
1. Why Do Teacher Research Anyway?
Teacher Research Defined
How to Define Your Research
Why It's Important: The 5 Es
2. Developing and Fine-Tuning Your Wondering
Wondering Defined
How to Define Your Wondering
The Wondering Litmus Test
3. Developing and Fine-Tuning Your Research Plan
Research Plan Defined
How to Define Your Research Plan
The Inquiry Plan Litmus Test
4. Analyzing Your Data
Data Analysis Defined
How to Avoid Data Analysis Paralysis
The Data Analysis Litmus Test
5. Presenting Your Research
Presentation Defined
How to Define Your Presentation
The Presentation Litmus Test
6. On Your Way: Teacher Research as a Way of Being in the World
Inquiry Stance Defined
How to Define Your Stance
Living the Life of an Inquirer
References
---
Index
---