Hands-on, Practical Guidance for Educators
From math, literacy, equity, multilingual learners, and SEL, to assessment, school counseling, and education leadership, our books are research-based and authored by experts on topics most relevant to what educators are facing today.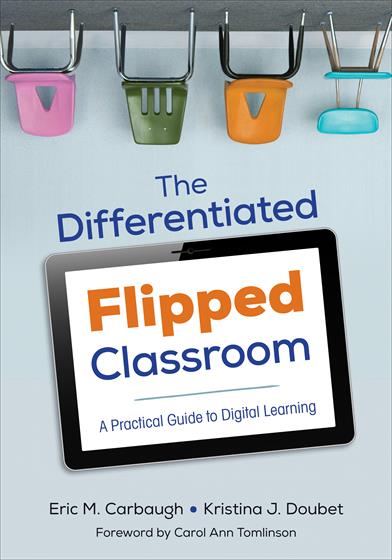 Look Inside
Bestseller!
The Differentiated Flipped Classroom
A Practical Guide to Digital Learning
First Edition
Foreword by Carol Ann Tomlinson

This groundbreaking guide helps you identify and address diverse student needs within the flipped classroom using practical, research-based, standards-aligned tools and examples.
Product Details
Grade Level: PreK-12
ISBN:

9781506302966

Published By: Corwin
Series: Corwin Teaching Essentials
Year:

2015



Page Count: 216

Publication date:

November 20, 2015
Price: $39.95
Description
Ensure personalized student learning with this breakthrough approach to the Flipped Classroom!

In the flipped classroom, students need to do more than simply re-watch a video to learn effectively. This groundbreaking guide helps you identify and address diverse student needs within the flipped classroom environment. You will find practical, standards-aligned solutions to help you design and implement carefully planned at-home and at-school learning experiences, all while checking for individual student understanding.

Learn to differentiate learning for all students with structured, research-based best practices to help you:
Integrate Flipped Learning and Differentiated Instruction

Use technology as a meaningful learning tool
Implement flexible planning and grouping
Proactively use ongoing formative assessments
Adjust instruction to support, challenge, and motivate diverse learners
Manage the Differentiated Flipped classroom
Includes practical examples and a resource-rich appendix. Make your flipped classroom a true place of learning with this go-to guide!

"The expectations for teaching in today's world are steadily increasing. Students expect their teachers to use technology in instruction. Parents and administrators expect teachers to differentiate instruction to reach every student. In this book you will learn how both models can work in concert. Even more importantly you will learn many practical strategies that will allow you to meaningfully differentiate your instruction while flipping your classroom, allowing you the greatest potential to reach all of your students."
—David A. Slykhuis, PhD, President of SITE (The Society for Information Technology and Teacher Education)


Table of Contents
Foreword by Carol Ann Tomlinson
---
Preface
---
Chapter 1. Flipping and Differentiating: Finding Common Ground
Chapter 2. Crafting and Maintaining a Positive Learning Environment: Community and Mindset
Chapter 3. Using Formative Assessment to Check for Understanding
Chapter 4. Differentiating According to Student Readiness
Chapter 5. Differentiating According to Student Interest and
Chapter 6. Managing the Differentiated Flipped Classroom
Chapter 7. Closing Thoughts
Appendices
---
Appendix A. Resources for Implementing a Flipped Classroom
Appendix B. Sample Student Technology Survey and School District BYOD Policy
Appendix C. Interest and Learning Profile Task Examples
Appendix D. Extended Management Example
Appendix E. Differentiated Flipped Lesson Plan (FLP) Template and Sample Lessons