Hands-on, Practical Guidance for Educators
From math, literacy, equity, multilingual learners, and SEL, to assessment, school counseling, and education leadership, our books are research-based and authored by experts on topics most relevant to what educators are facing today.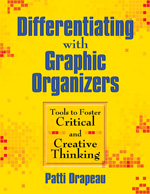 Look Inside
Differentiating With Graphic Organizers
Tools to Foster Critical and Creative Thinking
The author demonstrates how to use, create, and modify graphic organizers to promote critical and creative thinking processes to raise achievement for students of all ability levels.
Product Details
Grade Level: PreK-12, Elementary, Secondary
ISBN:

9781412959766

Published By: Corwin
Year:

2008



Page Count: 200

Publication date:

September 26, 2008
Price: $41.95
Description
"Drapeau is a teacher's teacher. This book is guaranteed to elevate student thinking while addressing the needs of individual learners at all skill levels. It's all here and ready to go, along with sound research for support."
—Pamela Lester, Enrichment Teacher
Clinton Township School District, Lebanon, NJ
"Graphic organizers, differentiated instruction, and creative and critical thinking—three topics on the frontline of teaching today, all together in one well-crafted text. This exciting book will not stay on the bookshelf; teachers will try the sample lessons and use and modify the graphic organizers to improve their practice and the achievement of their students."
—Karen Shible, Reading Specialist
Meachem Elementary School, Syracuse, NY
Use graphic organizers to challenge students, make learning exciting, and raise academic achievement!
Graphic organizers have proven to be successful tools for helping students develop their critical and creative thinking skills. This research-based resource shows how graphic organizers can improve teaching practices, help differentiate instruction in the classroom, and raise learning outcomes for all students, including English language learners and students with learning disabilities.
The author presents graphic organizers for nine types of thinking processes based on Bloom's taxonomy and offers examples of how to apply the graphic organizers in different subject areas and grade levels. This hands-on guide demonstrates how teachers can:
Promote the critical thinking processes of assuming, inferring, analyzing, prioritizing, and judging
Encourage the creative thinking processes of brainstorming, connecting, creating, and elaborating
Modify graphic organizers or create their own to meet individual learning needs
With assessment rubrics for providing quality feedback included, Differentiating With Graphic Organizers addresses ways to promote and build students' creative reasoning, communication, and problem-solving skills and make the learning process a success.
Key features
· Shows teachers how to improve their instructional practices in order to increase student achievement.
· Increases students' abilities to use critical and creative thinking.
· Helps teachers utilize high level graphic organizers in their classrooms to challenge students at all ability levels.
· Addresses ways for students to become more effective critical thinkers, problem-solvers and builds students creative reasoning and communication skills.
· Includes 18 graphic organizer that are templates and 18 filled in graphic organizers with student responses.
Table of Contents
Acknowledgments
---
About the Author
---
Introduction: The Search
---
Part I. Graphic Organizers, Critical Thinking, and Differentiation
---
1. Graphic Organizers: Tools to Promote Critical and Creative Thinking
2. Graphic Organizers: Tools to Promote Differentiation
Part II. 5 Critical Thinking Verbs and Graphic Organizers to Use With Them
---
3. "Assume": Exploring What We Take for Granted
4. "Infer": Drawing Conclusions
5. "Analyze": Unpacking the Big Idea
6. "Prioritize": Putting First Things First
7. "Judge": Making Accurate Evaluations
Part III. 4 Creative Thinking Verbs and Graphic Organizers to Use With Them
---
8. "Brainstorm": Generating Multiple Ideas
9. "Connect": Making Unlikely Associations
10. "Create": Making Something New
11. "Elaborate": Getting the Details Down
12. Putting It All Together: Curriculum Designs and Units of Study
13. Conclusion: Essential FAQs
References
---
Index
---