Hands-on, Practical Guidance for Educators
From math, literacy, equity, multilingual learners, and SEL, to assessment, school counseling, and education leadership, our books are research-based and authored by experts on topics most relevant to what educators are facing today.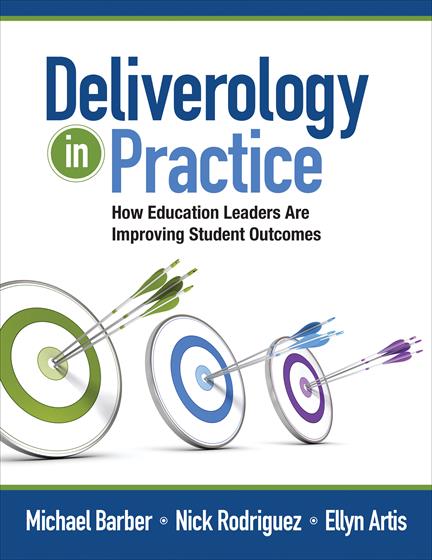 Look Inside
Deliverology in Practice
How Education Leaders Are Improving Student Outcomes
Develop a delivery "skillset" with expert Michael Barber's proven insights into the essential elements of results-driven policy implementations. Includes practical solutions for reviving stalled efforts.
Product Details
Grade Level: PreK-12
ISBN:

9781452257358

Published By: Corwin
Year:

2015



Page Count: 384

Publication date:

August 27, 2015
Price: $52.95
Description
Everything you need to implement school change that gets results!

If you've been wondering how to effectively lead and manage results-driven, system-wide implementations, look no further. Internationally recognized education expert Michael Barber explores exactly how to translate policy into practice for long-term, measurable results.

Building on his groundbreaking book, Deliverology 101, Barber provides proven methods and clear steps to achieve successful policy implementation and offer practical solutions for reviving stalled reform efforts. New cases studies and embedded links help you develop a delivery "skillset" for building capacity, effective coalitions, and a coherent, flexible plan for implementation.

Leaders and staff at both national and local levels will learn to:
Establish a Delivery Unit to set clear, measureable goals and build a reform coalition
Understand delivery through data analysis and strategic progress monitoring
Plan for delivery with explicit, day-to-day implementation planning updated with proven methods from years of practice
Drive delivery with progress monitoring, momentum building, and course corrections

Create an irreversible delivery culture by identifying and addressing challenges as they occur
Don't leave your education policy implementation to chance. Use this new field guide to get your implementation on the right track today!
Key features
Tony Blair had set up the PMDU to help his government achieve 20 high-priority public service goals, ranging from improved educational outcomes to drops in street crime. Michael and his colleagues took on this challenge by focusing relentlessly on four disarmingly simple questions:
a.What are you trying to do?
b.How are you planning to do it?
c.At any given moment, how will you know whether you're on track to succeed?
d.If you're not on track, what are you going to do about it?
The questions define the approach: delivery is nothing more and nothing less than a set of tools, techniques, and systems for asking and answering these questions consistently and rigorously.
Deliverology in Practice will essentially be a catalogue of action research, organized according to the elements of the delivery framework. In this sense, its treatment of how education leaders deliver results is meant to be comprehensive and detailed. A practitioner who reads the book as a whole should be able to see how the elements of the delivery framework fit together to form a coherent method for managing the implementation challenges they face. A practitioner who focuses on a particular chapter should receive practical, detailed, experience-based guidance on how to implement a particular element in the framework for themselves. By laying out the core principles and showing how multiple systems put each into practice, each chapter should provide at least some "hooks" on which a reader can hang their own experiences to adapt the work to their own local contexts.

The book will feature:
Numerous cases and examples

Discussion of steps to take and avoid

Very practical organizational strategies

Numerous charts and dialog boxes to illustrate the various principles and cases
Table of Contents
Preface
---
Acknowledgments
---
About the Authors
---
Introduction: The American Implementation Problem
---
Part 1. Develop a Foundation for Delivery
---
Chapter 1A. Define Your Aspiration
Chapter 1B. Review the Current State of Delivery
Chapter 1C. Build the Delivery Unit
Chapter 1D. Establish a Guiding Coalition
Part 2. Understand the Delivery Challenge
---
Chapter 2A. Evaluate Past and Present Performance
Chapter 2B. Understand Root Causes of Performance
Part 3. Plan for Delivery
---
Chapter 3A. Determine Your Reform Strategy
Chapter 3B. Draw the Delivery Chain
Chapter 3C. Set Targets and Establish Trajectories
Part 4. Drive Delivery
---
Chapter 4A. Establish Routines to Drive and Monitor Performance
Chapter 4B. Solve Problems Early and Rigorously
Chapter 4C. Sustain and Continually Build Momentum
Part 5. Create an Irreversible Delivery Culture
---
Chapter 5A. Build System Capacity All the Time
Chapter 5B. Communicate the Delivery Message
Chapter 5C. Unleash the "Alchemy of Relationships"
Conclusion: Over to You
---
Index
---