Hands-on, Practical Guidance for Educators
From math, literacy, equity, multilingual learners, and SEL, to assessment, school counseling, and education leadership, our books are research-based and authored by experts on topics most relevant to what educators are facing today.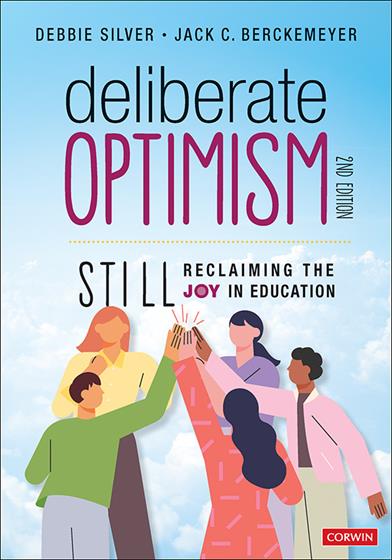 Bestseller!
Deliberate Optimism
Still Reclaiming the Joy in Education
Second Edition

The second edition of this humor-filled guide features revised Principles of Optimism, expanded focus on leadership, updated strategies and thought-provoking scenarios, and interactive action steps.
Product Details
Grade Level: PreK-12
ISBN:

9781071889053

Published By: Corwin
Year:

2023



Page Count: 224

Publication date:

May 16, 2023
Price: $39.95
Description
Even more ways for educators to flourish
A lot has changed in schools since Deliberate Optimism was first published, but one thing hasn't: Attitude can make all the difference. When educators choose optimism—even in the face of the toughest challenges—they foster a school culture where students and staff feel safe, engaged, and productive, able to enjoy the healthy interactions that lead to real change.
Updated to address major changes in education since 2015, the second edition of this much-loved book features new doses of the same cathartic humor, plus
Revised, more succinct Principles of Optimism
Expanded focus on leadership
Updated strategies and thought-provoking scenarios
Interactive "Action Step" exercises
A new chapter on mental health
QR codes leading to additional resources such as self-assessments and videos
Optimism is the salve for overworked leaders and teachers, and this book delivers on outlining its indisputable benefits. Brimming with wit and honesty, the updated Deliberate Optimism demonstrates how changing your mindset can help you rediscover your motivation—and create a school environment bound for success.
Key features
Through research-based strategies, practical examples, and thought-provoking scenarios, the authors provide food for thought along with enough humor to make the journey fun. Discussion questions and action steps follow each chapter, and an appendix of further activities is provided at the end of the book.
Visual elements: graphs, charts, forms, graphics
written by authors with extensive experience as classroom teachers and school leaders
practical, realistic take on what it's like to be an educator
offers practical, useful, implementable advice
filled with cathartic humor
authentic vignettes from teachers in the field
Researched-based; Comprehensive bibliography
Comprehensive appendix including additional activities
The Second edition includes:
•
Additional focus on leadership for both teachers and
administrators.
•
Updated information and suggestions addressing the major
changes in
education since 2015
•
Revised, more succinct Principles of Optimism.
•
Chapters revised to include a designated chapter for each
Principle of Optimism.
•
Interactive "Action Step" exercises for the reader in each
chapter.
•
Updated research and examples.
•
QR codes in every chapter for addition resources.
•
Added chapter on mental health.
•
More General Discussion Questions and
Action Steps for
school leaders at the end of each chapter.
Table of Contents
Preface to the second edition
---
Introduction: Choosing to Enter Education Is a Telling Vote for Optimism
---
Chapter 1: Principle #1: Gather Information
Chapter 2: Principle #2: Control What You Can
Chapter 3: Principle #3: Do Something Positive
Chapter 4: Principle #4: Own Your Part
Chapter 5: Mental Health Is Health
Chapter 6: "But We Have This One Teacher Who keeps Ruining Everything!"
Chapter 7: Building a Positive Shared School Community
Chapter 8: Joyful School Communities – The Sum of Their Parts
Appendix I.1 Life Orientation Test
Appendix I.2 Happiness and Optimism Tests
Appendix I.3 Life on a Roll
Appendix 1.1 Four Principles of Deliberate Optimism
Appendix 1.2 The 4 Principles of Deliberate Optimism Worksheet
Appendix 1.3 Realistic Awareness
Appendix 1.4 Recognizing and Celebrating Staff
Appendix 3.1 Tips for Writing Letters to Students
Appendix 5.1 Twelve Ways to Reduce Stress
Appendix 6.1 Ten Tips for Improving Interpersonal Relationships
Appendix 6.2 Life Is a Theatre
Appendix 7.1 Effective Team-Building Activities
Appendix 7.2 Student Accountability
Appendix 7.3 Loyalty
Appendix 8.1 Student-Led Conferences
References