Hands-on, Practical Guidance for Educators
From math, literacy, equity, multilingual learners, and SEL, to assessment, school counseling, and education leadership, our books are research-based and authored by experts on topics most relevant to what educators are facing today.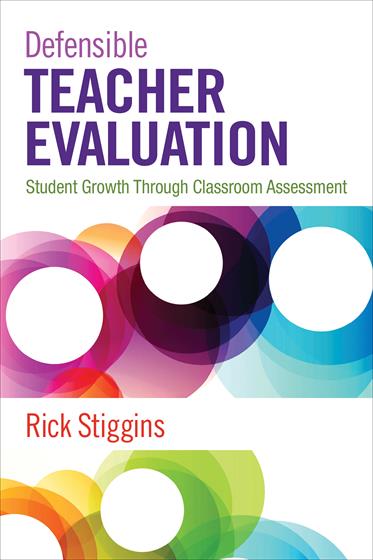 Look Inside
Defensible Teacher Evaluation
Student Growth Through Classroom Assessment
Teacher evaluation must start where learning happens—in the classroom. In this revolutionary book, Rick Stiggins offers a plan for teacher evaluation based on classroom assessment of student growth.
Product Details
Grade Level: PreK-12
ISBN:

9781483344690

Published By: Corwin
Year:

2014



Page Count: 160

Publication date:

March 20, 2014
Price: $33.95
Description
Meaningful teacher evaluation starts with visible student growth
Annual standardized test scores cannot provide evidence of student growth needed to evaluate teacher performance. But consider student growth in the form of evidence derived from classroom assessment and you're on to something. For assessment expert Rick Stiggins, this can form the basis for a truly productive teacher evaluation strategy.
This revolutionary book helps you bring classroom assessment to bear for real school improvement, with
A plan for teacher evaluation based, in part, on dependable evidence of student growth
Strategies for improving the assessment literacy of teachers and school leaders
Five steps for developing and implementing productive local district assessment systems
Practical tools that teachers and their evaluators can put to use immediately
In this era of aggressive teacher evaluation reform, where teachers are charged with preparing ALL students to master 21st century proficiencies, the measurement of teacher success must start where learning happens—in the classroom.
"Developing a fair, practical, and effective teacher evaluation system is like climbing a high mountain: it's impossible until someone finds a route. That's what Rick does in this book. He identifies the immense challenges associated with using evidence on student learning as the principal criteria in teacher evaluation and then offers practical guidance for overcoming those challenges. He hasn't made the climb easy, but he shows us the way."
—Thomas R. Guskey, Professor of Educational Psychology
University of Kentucky
"Rick Stiggins builds a compelling case for the development of a solid foundation of assessment competence throughout our educational system."
—Linda Darling-Hammond, Charles E. Ducommun Professor of Education
Stanford University
Key features
Offers a compromise plan between using standardized test scores and classroom assessment evidence in teacher evaluations
Offers strategies for implementing universal assessment literacy (teacher evaluation process)
Seven steps to the development and implementation of productive local assessment systems
Table of Contents
1. Keys to Productive Teacher Evaluation in the New Era
2. Annual Accountability Test Score? Unacceptable in This Case
3. Classroom Assessment to the Rescue
4. Similar to Student Learning Objectives, But Much Better
5. Tapping the Power of Universal Assessment Literacy
6. Required: Local School Leadership and Assessment Action
Appendix A: Classroom Assessment Quality Rating Scales
---
Appendix B: Sample Affective Questionnaires
---
Appendix C: Rating Scales for Evaluating Completion of Five Essential Local Assessment Actions
---