Hands-on, Practical Guidance for Educators
From math, literacy, equity, multilingual learners, and SEL, to assessment, school counseling, and education leadership, our books are research-based and authored by experts on topics most relevant to what educators are facing today.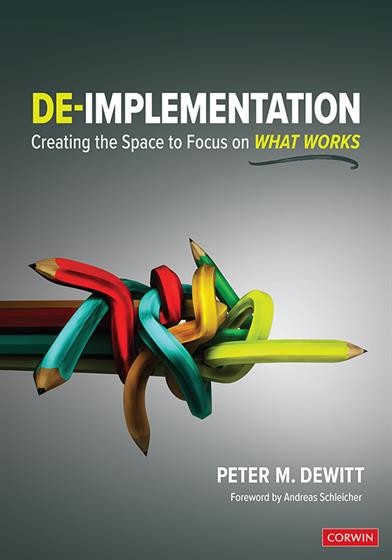 Look Inside
Bestseller!
De-implementation
Creating the Space to Focus on What Works
First Edition
Foreword by Andreas Schleicher

Follow this evidence-based framework to determine the efficacy of current practices, take practical steps to replace ineffective ones, and chart your school's path to de-implementation.
Product Details
Grade Level: PreK-12
ISBN:

9781071885215

Published By: Corwin
Year:

2022



Page Count: 160

Publication date:

June 06, 2022
Price: $32.95
Description
When it comes to school initiatives, more isn't always better.
Today's educators are buried under old practices, new ideas, and recommended initiatives. The problem? With such an abundance of strategies, it's hard to recognize what, if anything, is working.
Before you're tempted to add just one more idea to the pile, take a step back—and an objective look—so that you, central office leaders, building leaders, and teachers can decide which practices to keep, which to modify, and which to eliminate altogether. This guide provides
A research- and evidence-based framework for determining efficacy
Practical steps for removing, reducing, or replacing ineffective practices
Action steps, examples, and tips for beginning the work—and getting teacher buy-in
Templates for charting your school's individual path to de-implementation
Ineffective practices don't just waste teacher time; they can have a catastrophic impact on student progress. Use de-implementation to shine a light on the path forward—one where teachers can focus on what works, and students can focus on learning.
Table of Contents
Foreword
---
Acknowledgments
---
About the Author
---
Introduction
---
What Are Educators Interested in De-implementing?
---
Chapter 1: The Trouble With Implementation (and how to make it better)
Educational Trends Over the Past Thirty Years
Five Reasons We Over-Implement
Improving Implementation
A Quick Guide for Good Implementation
Addressing Our Assumptions
Anticipating Roadblocks
Monitoring Our Minds—Mindset
In the End
Discussion Questions
Chapter 2: The De-implementation Research (with practical adaptations)
Defining De-implementation
Two Types of De-implementation
Formal and Informal De-implementation
Anticipating Roadblocks
Monitoring Our Minds: Unlearning and Relearning
In the End
Discussion Questions
Chapter 3: What Gets De-implemented (based on reflection and evidence)
Partial Reduction
Replacement Actions
The Foundations of Your De-implementation Plan
Criteria for What Gets De-implemented
Gathering Evidence
Gathering Questions
Anticipating Roadblocks
Monitoring Our Minds: Locus of Control
In the End
Discussion Questions
Chapter 4: The Cycle of De-implementation (for big ideas around school change)
The Cycle of De-implementation
Sometimes Slow Is Fast
Anticipating Roadblocks
Monitoring Our Minds: Filling the Void
In the End
Discussion Questions
Chapter 5: Your Team's De-implementation Process (considering who you need and how fast to go)
This Chapter
Part I: Your Team
Pacing and Agendas
Part II: Your Official Cycle of De-implementation
Anticipating Roadblocks
Monitoring Our Minds: Well-Being
In the End
Discussion Questions
One Final Activity
References
---