Hands-on, Practical Guidance for Educators
From math, literacy, equity, multilingual learners, and SEL, to assessment, school counseling, and education leadership, our books are research-based and authored by experts on topics most relevant to what educators are facing today.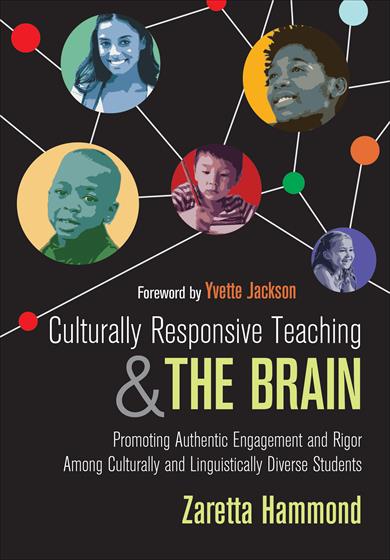 Look Inside
Bestseller!
Culturally Responsive Teaching and The Brain
Promoting Authentic Engagement and Rigor Among Culturally and Linguistically Diverse Students
Foreword by Yvette Jackson

In this book, Zaretta Hammond draws on cutting-edge neuroscience research to offer an innovative approach for designing and implementing brain-compatible culturally responsive instruction.
Product Details
Grade Level: PreK-12
ISBN:

9781483308012

Published By: Corwin
Year:

2014



Page Count: 192

Publication date:

December 01, 2014
Price: $39.95
Description
A bold, brain-based teaching approach to culturally responsive instruction
The achievement gap remains a stubborn problem for educators of culturally and linguistically diverse students. With the introduction of the rigorous Common Core State Standards, diverse classrooms need a proven framework for optimizing student engagement and facilitating deeper learning
Culturally responsive pedagogy has shown great promise in meeting this need, but many educators still struggle with its implementation. In this book, Zaretta Hammond draws on cutting-edge neuroscience research to offer an innovative approach for designing and implementing brain-compatible culturally responsive instruction.
The book includes:
Information on how one's culture programs the brain to process data and affects learning relationships

Ten "key moves" to build students' learner operating systems and prepare them to become independent learners

Prompts for action and valuable self-reflection
With a firm understanding of these techniques and principles, teachers and instructional leaders will confidently reap the benefits of culturally responsive instruction.

Table of Contents
Foreward by Yvette Jackson
---
Acknowledgements
---
About the Author
---
Introduction
---
Part I: Building Awareness and Understanding
---
1. Climbing Out of the Gap
2. What's Culture Go to Do with It?
3. This is Your Brain on Culture
4. Preparing to Be a Culturally Responsive Practitioner
Part II: Building Learning Partnerships
---
5. Building the Foundation of Learning Partnership
6. Establishing Alliance in the Learning Partnership
7. Shifting Academic Mindset in the Learning Partnership
Part III: Building Intellective Capacity
---
8. Information Processing to Build Intellective Capacity
9. Creating a Culturally Responsive Community for Learning
10. Epilogue
References
---
Reviews
This is a carousel with review cards. Use the previous and next buttons to navigate.
"An essential, compelling and practical examination of the relationship between culture and cognition that will forever transform how we think about our role facilitating the learning of other people's children – and our own children! Zaretta Hammond forcefully traverses the socio-political landscape of race and learning, smashing our misconceptions and bias about the educability of black, brown and low-income students; setting us free to take a more thoughtful, deliberate approach to creating classroom practices and environments that result in true learning partnerships with our students. The framework Hammond offers skillfully weaves together cultural knowledge (students' cultural identities and how they see and make meaning of the world) with neuroscience (what we now know about how the brain processes and retains information) – the real artistry of culturally responsive pedagogy.

This book demonstrates high regard for the complexity of teaching and delivers an even higher regard for the promise and academic potential of the students we've made most vulnerable in our school systems if we, as educators, choose to act on what we know. This book should be required reading for every teacher education program in the country!"
LaShawn Routé Chatmon, Executive Director
National Equity Project, Oakland, CA
"All students can and will learn at high levels when provided the type of instruction described in this book

.

This work calls us to action by mandating that we move beyond looking for student outcomes that rely heavily on the regurgitation of memorized facts to applying the information learned to new situations. Each child's life outcomes are dependent on their ability to think critically. Dr. Hammond does just that in this book. She uses her mind well, writes effectively and provides analysis on the connection between brain-based science and culturally responsive instruction. This is a must read for those wishing to have a mindset shift and aptly implement rigorous instructional practices to support all students."
Kendra Ferguson, Chief of Schools
Kipp Bay Area Schools, Oakland, CA
"

Drawing on the research form neuroscience Zaretta Hammond explains what we should have known all along – all children are capable of higher order thinking and capable of producing intellectually advanced work if provided the opportunity to learn by caring and capable adults. Hammond dose more than explain the research. Drawing on years of experience in schools as an educator and trainer, she shows how this can be done even in schools that have grown accustomed to failure. At a time when the nation is searching to find ways to close the racial achievement gap, this book will be an invaluable resource. "
Pedro Noguera, Professor, NYU
Executive Director, Metropolitan Center for Research on Equity and the Transformation of Schools