Hands-on, Practical Guidance for Educators
From math, literacy, equity, multilingual learners, and SEL, to assessment, school counseling, and education leadership, our books are research-based and authored by experts on topics most relevant to what educators are facing today.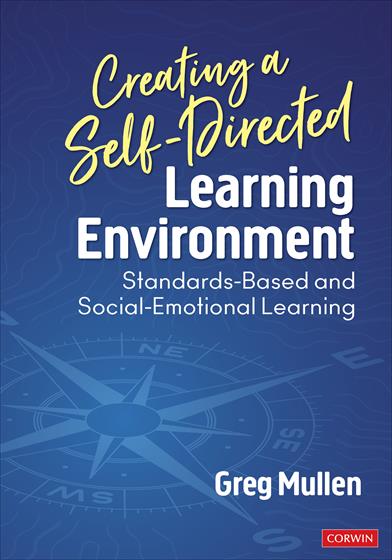 Creating a Self-Directed Learning Environment
Standards-Based and Social-Emotional Learning
This flexible framework, grounded in research, helps schools build on the strengths of existing programs to successfully implement standards-based learning, social-emotional learning, and cognitive development.

Product Details
Grade Level: PreK-12
ISBN:

9781544384245

Published By: Corwin
Year:

2019



Page Count: 184

Publication date:

December 10, 2019
Price: $39.95
Description
Educate the whole child—improve the whole school.

Implementing evidence-based and innovative teaching practices can feel like juggling: If you have standards-based learning in one hand and social-emotional learning in the other, what do you do with cognitive development? This book shows you how to balance all 3, combining these concepts into manageable, realistic plans for success.

In clear, easy-to-follow language, master teacher and educational expert Greg Mullen introduces a flexible, three-tiered, visual framework designed for schoolwide collaboration. He also offers:

• An integrated philosophy focused on self-directed learning and the whole child
• Research sourced from CASEL and state programs and initiatives
• Attention to academic inclusion, behavior intervention, and classroom management
• Numerous illustrations, tables, and graphics
• Tools and supplemental resources for implementation

Make innovation work for your school. With this guide, you and your colleagues will build on your strengths, discover the potential of your existing programs, and implement smart changes that make a real difference for students.
Table of Contents
Acknowledgments
---
About the Author
---
Introduction
---
Exploring the Core
When Everything Was Perfect
Perfect Circles Have No Beginning
PART 1: PRIMARY CONCEPTS
---
Chapter 1: Standards-Based Grading
Teacher Mastery of Standards
Standards and Grading
Defining Proficiency
Adapting Assessments
Reporting Proficiency
Curricula and Resources
Chapter 2: Social-Emotional Learning
Self-Awareness and Management
Social-Awareness and Relationships
Societal Responsibility
Chapter 3: Cognitive and Psychosocial Human Development
Cognitive Human Development
Psychosocial Human Development
Developmental Mindset
Special Education
PART 2: SECONDARY CONCEPTS
---
Chapter 4: Self-Directed Learning
Identifying Growth Versus Proficiency
Make a Plan (SMART Goals)
Resources
Strategies
Product
Chapter 5 (Part 1): Behavioral Coaching
Changing Role of the Classroom Teacher
General Behavior Expectations
Behavioral Coaching [In-Class Approach]
Chapter 5 (Part 2): Behavioral Inclusion and Intervention
Behavioral Inclusion
Behavioral Intervention [School-Wide Approach]
Chapter 6: Academic Inclusion and Intervention
Academic Inclusion
Differentiation for an Inclusive Model
Standards-Based Differentiation
Tiers of Academic Inclusion
Tiers of Developmental Inclusion
Academic Intervention
Conclusion
---
Adopt and Adapt
Quotes to Consider
Sources of Motivation (Resources and Citations)
---
Index
---