Hands-on, Practical Guidance for Educators
From math, literacy, equity, multilingual learners, and SEL, to assessment, school counseling, and education leadership, our books are research-based and authored by experts on topics most relevant to what educators are facing today.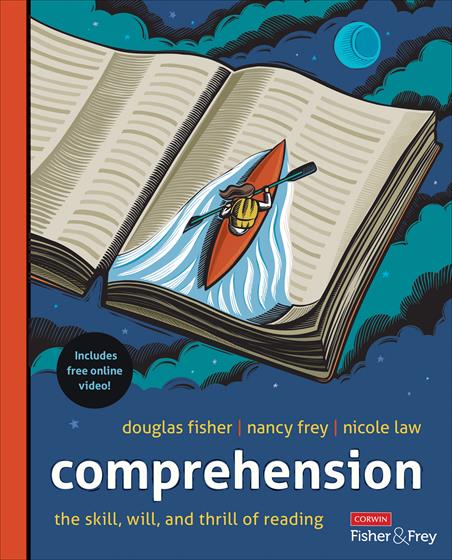 Look Inside
Bestseller!
Comprehension [Grades K-12]
The Skill, Will, and Thrill of Reading
Comprehension is the structured, comprehensive, three-pronged approach—skill, will, and thrill—you need to empower students to comprehend text and take action in the world.
Product Details
Grade Level: PreK-12
ISBN:

9781071812839

Published By: Corwin
Series: Corwin Literacy
Year:

2020



Page Count: 208

Publication date:

September 15, 2020
Price: $40.95
Description
Radically change the way students learn from texts, extending beyond comprehension to critical reasoning and problem solving. 
Is your reading comprehension instruction just a pile of strategies? There is no evidence that teaching one strategy at a time, especially with pieces of text that require that readers use a variety of strategies to successfully negotiate meaning, is effective. And how can we extend comprehension beyond simple meaning?

Bestselling authors Douglas Fisher, Nancy Frey, and Nicole Law propose a new, comprehensive model of reading instruction that goes beyond teaching skills to fostering engagement and motivation. Using a structured, three-pronged approach—skill, will, and thrill—students learn to experience reading as a purposeful act and embrace struggle as a natural part of the reading process. Instruction occurs in three phases:    
Skill

. Holistically developing skills and strategies necessary for students to comprehend text, such as monitoring, predicting, summarizing, questioning, and inferring.

Will

. Creating the mindsets, motivations, and habits, including goal setting and choice, necessary for students to engage fully with texts.

Thrill

. Fostering the thrill of comprehension, so that students share their thinking with others or use their knowledge for something else.
Comprehension
is the structured framework you need to empower students to comprehend text and take action in the world. 
Table of Contents
List of Videos
---
Acknowledgments
---
Introduction
Chapter 1: The Point of Comprehension Is Not Comprehension
But What Is Reading?
Teaching Students to Comprehend
Skilled Readers or Strategic Readers
Constrained and Unconstrained Skills
Is Comprehension Enough?
Chapter 2: Skill in Reading Comprehension
Skill in Reading Comprehension
Background Knowledge in Reading
The Sounds of Language
Phonics: Sound and Print
Fluency in Reading
Vocabulary in Reading
Comprehension Strategy Instruction
Conclusion
Chapter 3: Will in Reading Comprehension
Will in Reading Comprehension
Dispositions That Underpin Learning
Creating the Classroom Conditions for Will to Flourish
Conclusion
Chapter 4: Thrill in Reading Comprehension
Thrill in Reading Comprehension
The Right and the Responsibility of Criticism
Reading Through a Critical Literacy Lens
Goal Setting Through Student-Generated Questions
Taking Action
Chapter 5: Tools for Reading Comprehension Instruction
Texts as Tools for Fostering Comprehension
Text Readability and Text Complexity
The Special Cast of Digital Texts
Texts in Primary Grades
Tasks as Tools for Fostering Comprehension
An Instructional Framework That Works
Conclusion
---
References
---
Index
---