Hands-on, Practical Guidance for Educators
From math, literacy, equity, multilingual learners, and SEL, to assessment, school counseling, and education leadership, our books are research-based and authored by experts on topics most relevant to what educators are facing today.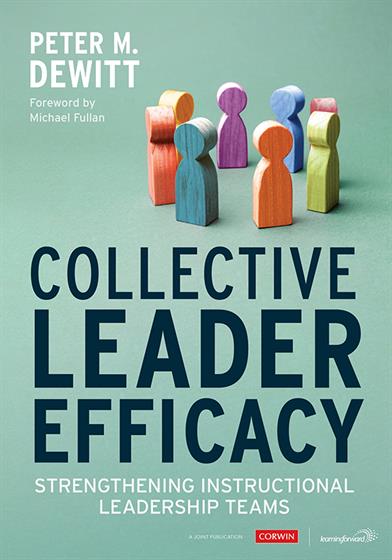 Bestseller!
Collective Leader Efficacy
Strengthening Instructional Leadership Teams
Foreword by Michael Fullan
A Joint Publication with Learning Forward

This research-based, hands-on guidebook introduces eight key drivers to integrating teacher and leader efficacy, along with a process that focuses on the nuances of instruction.
Product Details
Grade Level: PreK-12
ISBN:

9781071813720

Published By: Corwin
Year:

2021



Page Count: 312

Publication date:

October 05, 2021
Price: $39.95
Description
Not just another book on leadership teams
For school teams to succeed, they need leadership, independence, meaningful collaboration, and a shared conviction that they have real power to enact actual change. Educators know this, but they often lack an inquiry process that creates a community of learning leaders that is capable of deep collective impact on student learning and wellbeing.
In this research-based, hands-on guidebook, school leadership coach Peter DeWitt introduces eight key drivers to integrating teacher and leader efficacy (mindset, well-being, context beliefs, working conditions, professional learning, organizational commitment, skills, and confidence) and harnesses it with a process to help you focus on the nuances of instruction and teaming to develop powerful collective leader efficacy.
Readers will find:
Activities and strategies designed to build collective efficacy in instructional teams and foster leadership and interdependence among teachers
Theories of action to focus team efforts and how to create your own
Tools, reflection prompts, and guiding questions to help you define your desired outcomes and the steps necessary to get there
With this book and the research within it, your instructional leadership team will develop a learner's mindset, a collective commitment to improvement, and a shared process for inquiry and continual growth so you can nurture greater impact together.
Table of Contents
Acknowledgments
About the Author
Foreword by Michael Fullan
Vocabulary terms
Introduction
SECTION I: RESEARCH
---
Chapter 1: Collective Leader Efficacy
SECTION II – CONTRIBUTORS FOR COLLECTIVE LEADER EFFICACY
---
Chapter 2: Developing a Leadership Mindset
Chapter 3: Mental Health & Wellbeing
Chapter 4: Context Beliefs
Chapter 5: Working Conditions
Chapter 6: Professional Learning and Development
Chapter 7: Organizational Commitment
Chapter 8: The Skills to Work in Collectives
Chapter 9: The Confidence to work in collectives
SECTION III – DELIBERATE PRACTICE AND PROCESS
---
Chapter 10: What Components Define an Instructional Core?
Chapter 11: Instructional Leadership Team's Cycle of Inquiry
Chapter 12 – Focus for Improvement
Appendix 1 – Instructional Leadership Team: Request for Inclusion on the Team
Appendix 2 – Activity: Cultivating Mindsets of Collaboration
Appendix 3 – Weekly Log: Where Do You Spend Your Time?
Appendix 4 – Learning Walk Form
Appendix 5 – Guiding Questions 1- 4
Appendix 6 – Timetable Checklist
Appendix 7 – Purpose Statements 1-3
Appendix 8 – Inquiry Questions 1-3
Appendix 9 – Theories of Action 1-3
Appendix 10 – Theory of Action Evidence Templates
Appendix 11 – Blank Template Program Logic Model
References