Hands-on, Practical Guidance for Educators
From math, literacy, equity, multilingual learners, and SEL, to assessment, school counseling, and education leadership, our books are research-based and authored by experts on topics most relevant to what educators are facing today.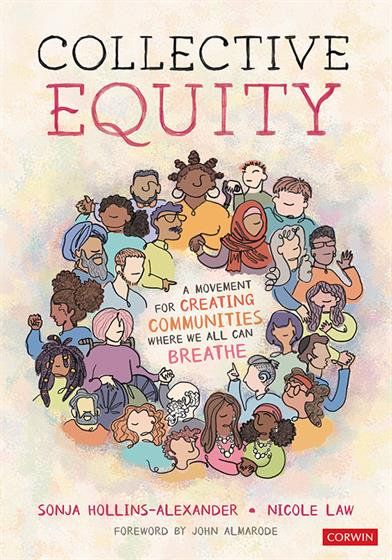 Look Inside
Bestseller!
Collective Equity
A Movement for Creating Communities Where We All Can Breathe
Foreword by John Almarode

Product Details
Grade Level: PreK-12
ISBN:

9781071844748

Published By: Corwin
Year:

2021



Page Count: 216

Publication date:

October 29, 2021
Price: $39.95
Description
It's time for a new beginning
As we transition through very uncertain and challenging times, we have a chance to start again—and do better as a Collective. With newfound acknowledgment of the damage done by structural inequities, systemic racism, and implicit bias, we are ready to create communities that value and support everyone.
In education, that means challenging and dismantling systems that have harmed historically marginalized children and families for generations. Here you'll find a powerful model for using relational trust, cultural humility, and appreciation of diverse perspectives to build learning communities that collectively uplift all students and all members of the learning community. Features include
An original Collective Equity Framework for creating transformative equitable learning environments
Protocols for enacting cultural humility, vulnerability, and mutuality dispositions leveraged to create culturally sustaining learning communities
Strategies and tools for organizational analyses to guide conversations that support the implementation of culturally fortifying practices at organizational, curricular, programmatic, and instructional levels
A behavioral-outcome measurement tool for charting the progress of the members of the Collective towards developing culturally conscious actions and equity focused outcomes.
Vignettes and case studies from district and school leaders reflecting examples of how the collective members of their organizations work towards creating transformative equitable learning environments
Positive outcomes always take work. When we build relational trust, value and validate the dimensions of identities for all members in the learning community as a Collective, we are able to create Equity Pathways and Equity Pavers to chart a new course where we can ALL Breathe and achieve our shared objective: educational equity for all.
Table of Contents
Foreword
---
Acknowledgments
---
Publisher's Acknowledgments
---
About the Authors
---
Introduction
---
Chapter 1: Coming Together
---
Coming Together Through Our Shared Truth
Working Together
Coming Together to Work Together
Connecting Dimensions of Identity
Community Agreements and Equity Fatigue
Coming Together Using a Collective Equity Framework
Equity Pathways and Equity Pavers
Understanding the Three Levels of Culture
From Culturally Conscious to Culturally Humble (An Equity Pathway)
Chapter 2: Cultivating an Environment of Collective Equity
---
From Deficit Thinking to Asset-Based Actions
Shared Truths and Purpose
Vision and Mission Development
Essential Components of Collective Equitable Cultures
Collective Engagement by Design Process
Chapter 3: Enacting Motivation and Relational Trust for the Collective Equity Movement
---
Relational Trust
The Circle of Trust Approach
The Art of the Heart
The Stimuli of Building Relational Trust
Motivation to Nurture the Collective
Can We Breathe?
Chapter 4: Culturally Fortifying Practices
---
From Equity Moves to Culturally Fortifying Transformational Practices
Culturally Fortifying Classroom Strategies
Chapter 5: Equity Dispositions for The Collective
---
Cultural Sustainability
From Systems to Classrooms
Collective Efficacy
Collective Equity Dispositions
Chapter 6: Realizing the Promise of Collective Equity
---
Leading for Collective Equity
Collective Equity Leadership Attributes
Disrupting Systems of Oppression and Inequity
Engaging the Collective
Equity Pathways
Equity Pavers
Final Words From the Authors
---
Glossary
---
References
---