Hands-on, Practical Guidance for Educators
From math, literacy, equity, multilingual learners, and SEL, to assessment, school counseling, and education leadership, our books are research-based and authored by experts on topics most relevant to what educators are facing today.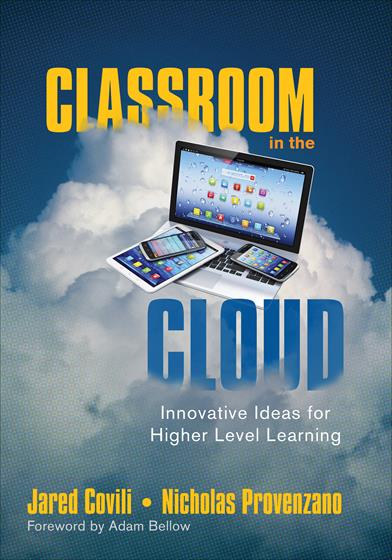 Classroom in the Cloud
Innovative Ideas for Higher Level Learning
This easy-to-use primer includes practical tools for integrating cloud computing into the curriculum, real-life examples, step-by-step directions for classroom activities, and strategies for ensuring safety.
Product Details
Grade Level: PreK-12
ISBN:

9781483319803

Published By: Corwin
Year:

2015



Page Count: 200

Publication date:

November 06, 2015
Price: $39.95
Description
The sky's not the limit anymore—get your head in the cloud!

Making the most of the digital age in education just got easier. With cloud computing, students can connect with teachers, educators can connect with colleagues, and opportunities for meaningful collaboration can grow exponentially.

In this easy-to-use primer, the author of bestseller Going Google teams up with Twitter's The Nerdy Teacher to demonstrate what cloud-based instruction can mean for teachers and students—and how it can work for your school. The book includes
Practical tools for integrating cloud computing into the curriculum
Student and teacher testimonies detailing examples of cloud-based instruction in action
Chapters on storing, communicating, sharing, and creating

Strategies for ensuring safety and security for students and information
"This book provides direct quotes from teachers and students about amazing cloud-based applications. You'll find innovative tools and practices, step-by-step instructions for implementation, and an array of tools for all grade levels and subjects. The classroom may now be in the cloud, but this book will be at my side anytime I need tech tools that are creative, easy-to-use, and fun for teaching and learning."
Mark Barnes, Author of Teaching the iStudent and 5 Skills for the Global Learner
"It's more important today than ever before for educators to look beyond the walls of classrooms and connect with other colleagues in their buildings and across the globe. This book will equip all educators with the tools necessary to find the best tools to enhance and improve their teaching practices."
Steven Anderson, Author, The Relevant Educator and Content Curation, @web20classroom
Key features
The book focuses on practical integration of cloud based technology and tools into the classroom and curriculum
Solid case studies profiling innovative teachers from around the world who implement cloud-based tools with their students. These diverse examples offer teachers a variety of how-to's on which to base their own action plan, and offer them a host of additional resources for further follow-up information gathering.
The authors' expertise in social media and their practical experience implementing cloud-based classroom tools into instruction.
The authors' share research-based ideas that demonstrate the need to implement 21st century tools as part of classroom instruction.
The book covers the four key concerns in cloud computing: Storing, Communicating, Sharing, and Creating in the Cloud. Communicating, Sharing, and Creating are perfect matches for the common core curriculum and for college and career readiness. These chapters will offer useful tips on how both students and teachers can work safely and securely in the cloud.
The book includes classroom activities teachers can use immediately with their students. These activities provide step-by-step instructions for teachers to follow as they implement the lessons. Project ideas cover a variety of subjects (English, Math, Science, Social Studies, etc.) and span different grade levels. The classroom activities will be linked to Common Core State Standards, NETS, and 21st Century learning objectives.
Table of Contents
Foreword by Adam Bellow
---
Preface
---
Acknowledgments
---
About the Authors
---
Introduction: What Is the Cloud Classroom?
---
What Is the Cloud?
How Is the Cloud Changing Schools?
Why Use the Cloud?
Storms in the Cloud
Clouds, Not Factories
How to Use This Book
Innovative Ideas for Higher Level Learning
Chapter 1: Storing in the Cloud
Dropbox
Google Drive
Evernote
Chapter 2: Communicating in the Cloud
Twitter
Remind
Google Hangouts
Chapter 3: Collaborating in the Cloud
Google Docs
Edmodo
Wikispaces
Chapter 4: Creating in the Cloud
Instagram
Yogile
YouTube Editor
Screenr
Chapter 5: Best of the Rest
Assessment
Socrative
Google Forms
Kahoot!
Presentation
Prezi
Google Slides
Potpourri
Animoto
Padlet
Kidlog
Conclusion: Next Steps
---
For Teachers
For Administrators
Closing Thoughts
Resource: If You Like That, Try This
---
References
---
Index
---