Hands-on, Practical Guidance for Educators
From math, literacy, equity, multilingual learners, and SEL, to assessment, school counseling, and education leadership, our books are research-based and authored by experts on topics most relevant to what educators are facing today.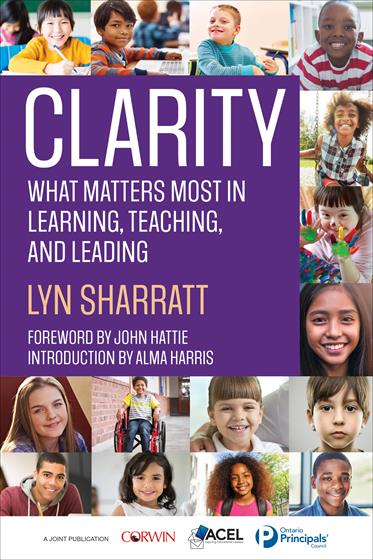 Bestseller!
CLARITY
What Matters MOST in Learning, Teaching, and Leading
Foreword by John Hattie
Copublication with OPC and ACEL

Shared expertise can make every classroom and teacher more effective. This informative book illustrates how educators can come together to bolster achievement in the 21st century.
Product Details
Grade Level: PreK-12
ISBN:

9781506358727

Published By: Corwin
Year:

2018



Page Count: 400

Publication date:

October 22, 2018
Price: $39.95
Description
Shared knowledge between educators breeds shared success in all systems and schools

Comprehensive in scope, CLARITY illustrates how system and school leaders must come together to boost student achievement and build teacher capacity to learn, teach and lead. By emphasizing collaborative processes, Lyn Sharratt's detailed design demonstrates how shared knowledge, equity and expertise can make every classroom more impactful and every teacher more empowered. Readers will uncover these 'Big Ideas':
14 essential Parameters to guide system and school leaders toward building powerful collaborative learning cultures
Case studies, vignettes and firsthand accounts from gifted teachers and leaders bring important theories and practices to life
From all points in the organization, a 'line-of-sight' directly to students' FACES in every classroom to ensure continuous improvement
Data-driven tasks and tools to tackle solutions needed in all facets of education
With more than four decades of research, writing and practical experience in system, school, and classroom improvement, Sharratt provides a 'why-and-how-to guide' to assist educators across the globe as they solve 21st century-created problems and identify the much-needed learning critical to the success of our future citizens.
Key features
Lyn Sharratt consults and speaks globally on appropriate uses of data, collaborative learning and system reform. Lyn has recently worked in Australia and Scotland and is using examples from her international experiences in developing a new book: FOCUS: Five Actions to Develop Achievement for All Students .
Table of Contents
List of Online Resources
---
List of Acronyms
---
Foreword by John Hattie
---
Preface
---
Acknowledgments
---
About the Author
---
In Memoriam
---
Introduction by Alma Harris
---
PART I. LEARNING
---
Chapter 1. CLARITY: The 14 Parameters: A Learning Framework
The Third Teacher: Creating a Collaborative Culture of Learning
Introduction to the 14 Parameters
Achieve CLARITY Using the 14 Parameters
How to Begin Implementing the 14 Parameters
A Deliberate Pause to Create CLARITY
Chapter 2. CLARITY: Knowing the FACES of Learners
Achieving Because They Believe They Can
Parameter #1: Shared Beliefs and Understandings
Parameter #14: Shared Responsibility and Accountability
Putting FACES on the Data
Powerful Questions to Get to Know Learners and Learning
Parents Are Critical Partners in Knowing Each Learner
Parameter #12: Parents and the Community Are Critical Partners in Learning
A Deliberate Pause to Create CLARITY
Chapter 3. CLARITY: Collaborative Inquiry With Teachers and Leaders
Parameter #11: Collaborative Inquiry
The Value of Collaborative Inquiry
When Do We Inquire Collaboratively? Professional Learning Communities at Work
Lead in Order to Learn and Learn in Order to Lead
A Deliberate Pause to Create CLARITY
PART II. TEACHING
---
Chapter 4. CLARITY in Teaching: Assessment
Parameter #3: Quality Assessment Informs Instruction
Formative and Summative Assessment
Debriefing Each Component of the Assessment Waterfall Chart
Learning Walls Capture the Ongoing Assessment Journey
A Deliberate Pause to Create CLARITY
Chapter 5. CLARITY in Teaching: Instruction
Parameter #3: Assessment Informs Instruction and Parameter #13: Cross-Curricular Literacy Connections
Literacy Learning Is the Foundation of All Instruction
Eight Components of High-Impact Literacy Instruction
A Deliberate Pause to Create CLARITY
Chapter 6. CLARITY: Processes That Support Collaborative Inquiry With Students
Parameter #14: Shared Responsibility and Accountability
Collaborative Inquiry With Students
Collaborative Inquiry in the Classroom
Three Approaches to Student-Led Collaborative Inquiry
A Deliberate Pause to Create CLARITY
Chapter 7. CLARITY: Using Data for Prevention and Intervention
Parameter #6: Case Management Approach
Prevention: Data Walls
Intervention: Case Management Meetings
Parameter #5: Early and Ongoing Intervention
A Deliberate Pause to Create CLARITY
PART III. LEADING
---
Chapter 8. CLARITY: The Knowledgeable Other—Leading Alongside
Parameter #2: The Embedded Knowledgeable Other
Six Evidence-Proven Professional Learning Approaches
A Deliberate Pause to Create CLARITY
Chapter 9. CLARITY: Precision in Leadership Practice
Parameter #4: Principals and System Leaders as Lead Learners
The Six Dimensions of Leadership
The New Sixth Leadership Dimension
System Leadership in Action
School Leadership in Action
Principal Learning Teams
Learning Walks and Talks: Leading to Ensure the Growth of All Students
A Deliberate Pause to Create CLARITY
Conclusion
---
CLARITY: Leadership for the Future
The FACES of CLARITY
Afterword by Melanie Greenan
---
Glossary of Terms
---
References and Further Reading
---
Index
---