Hands-on, Practical Guidance for Educators
From math, literacy, equity, multilingual learners, and SEL, to assessment, school counseling, and education leadership, our books are research-based and authored by experts on topics most relevant to what educators are facing today.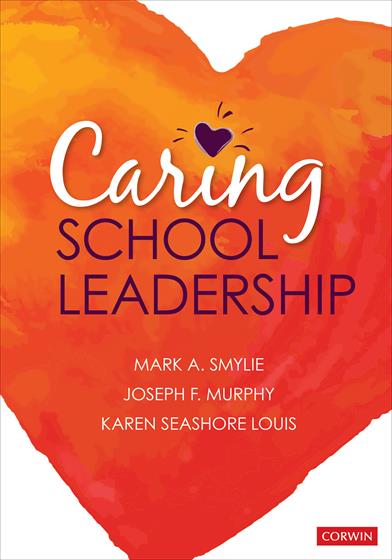 Look Inside
Caring School Leadership
The lessons and principles in this book inform and inspire caring; the matter, the manner, and the motivation of all aspects of school leadership, manifest in many ways.
Product Details
Grade Level: PreK-12
ISBN:

9781544320113

Published By: Corwin
Year:

2020



Page Count: 192

Publication date:

January 27, 2020
Price: $39.95
Description
Principles and possibilities to inform and inspire caring in your leadership practices!
Do you feel like something is missing in today's schools? Do you feel student success is too focused on academic accountability, test scores, and college readiness? Recalibrate your leadership with the help of this book to promote the practice of caring which, with academic rigor, is essential to effective schooling.
Caring School Leadership is a research-based collection of ideas, principles, and values illustrated with numerous examples and stories that will inform, inspire, and guide you. Evaluate your current leadership practice and evolve to lead in the way to which you aspire. In addition to insights and lessons about caring from educators and human service professions like nursing and ministry, readers will be introduced to themes of
· Caring in interpersonal relationships with students
· Cultivating schools as caring environments
· Fostering caring in families and communities
Key features
This book will focus on caring and caring leadership at both interpersonal and organizational levels. There have been very few treatments of caring as applied to school leadership. Most attention has been paid to caring among teachers and students. Moreover, most books in education on caring focus on the interpersonal dimensions of caring, the actions and interactions between the one caring and the one cared for. While the interpersonal is very important in our conceptualization of caring school leadership, this book will argue that caring in leadership cannot be fully understood nor its benefits fully achieved without exploring caring organizationally and without examining the role of leadership in cultivating caring among others and promoting aspects of school organization conducive to caring.
This book is unlike many other books about school leadership practice. Readers will not find in this book "to-do" lists or scripts. Readers will not find compilations of strategies that are universally effective. This book is an exposition of ideas, principles, and values illustrated with examples of how to make school leadership practice more caring. We present caring school leadership as situational, dynamic, relational, and personal. There is no "one size fits all" for caring leadership. We eschew the notion of recipes, of telling readers specifically what to do. Instead, we present principles and possibilities to inform and inspire.


A key feature of this book will be multiple vignettes of practice illustrating actions and interactions of caring and caring leadership in schools. We have collected nearly 40 first-person stories recounting acts of caring and caring school leadership from practicing principals, assistant, and associate principals and teachers. The authors will be collecting more of these stories as they prepare the final manuscript. These stories include both "hits and misses", that is, actions and interactions that achieve the aims of caring and those that fall short.
The authors will include summaries of arguments and take-away points at the end of each chapter. These summaries will be accompanied by study/discussion questions that will aim to engage readers more deeply in the content of each chapter and challenge them to consider this content in relation to their own practice.
Table of Contents
Preface
---
Acknowledgments
---
About the Authors
---
Introduction: Four Stories of Caring School Leadership
---
Ana
Giving and Taking the Chance
Seth
No One Graduates Alone
Chapter 1: Caring: The Heart of Caring School Leadership
A Case for Caring in Schools
What Do We Mean by Caring?
How Does Caring Work?
Cautionary Notes: Problems and Pitfalls of Caring
Questions for Reflection and Discussion
Chapter 2: A Model of Caring School Leadership
Defining Caring School Leadership
A Model
Considerations for the Practice of Caring Leadership
Caring School Leadership and Educational Equity
Questions for Reflection and Discussion
Chapter 3: Being Caring in Relationships with Students
Dynamics of Principal–Student Relationships
What Makes Student–Principal Relationships Caring?
Practices of Presence
Practices of Attentiveness and Inquiry
Interpersonal Communication With Students
Acting on Behalf of Students
Questions for Reflection and Discussion
Chapter 4: Cultivating Schools as Caring Communities
The Meaning of Caring Community
Leadership as Cultivation
Approaches to Cultivating Caring and Community
Developing Capacity for Caring Community
Promoting Enabling Conditions
Engaging Parents and Caregivers
Questions for Reflection and Discussion
Chapter 5: Fostering Caring in Families and Communities Beyond the School
Nature of the Work
Fostering Caring in Families
Fostering Caring in Communities
Insights From Community Organizing and Community Development
Questions for Reflection and Discussion
Chapter 6: Developing Caring School Leadership
What Should Be Developed: A Review
Development Activities and Experiences
Learning From Experience
Avoiding the Problems and Pitfalls of Caring
Caring for Oneself
Questions for Reflection and Discussion
References
---
Index
---