Hands-on, Practical Guidance for Educators
From math, literacy, equity, multilingual learners, and SEL, to assessment, school counseling, and education leadership, our books are research-based and authored by experts on topics most relevant to what educators are facing today.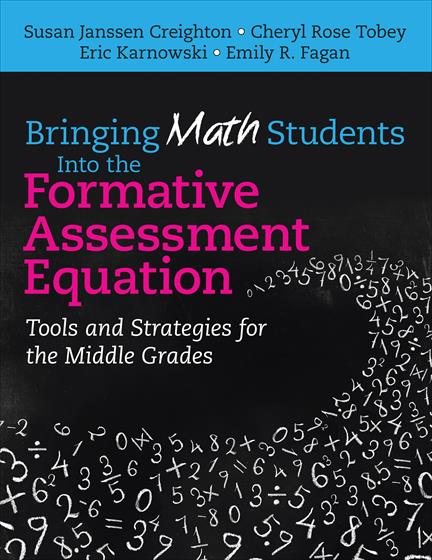 Look Inside
Bringing Math Students Into the Formative Assessment Equation
Tools and Strategies for the Middle Grades
This research-based, teacher-tested guide features a clear and manageable instructional model, strategies for helping students own their success, middle school math examples, and a useful website.
Product Details
Grade Level: PreK-12
ISBN:

9781483350103

Published By: Corwin
Year:

2015



Page Count: 312

Publication date:

January 22, 2015
Price: $38.95
Description
Make formative assessment work for you—and your math students!
Finally, formative assessment that adds up! Bringing Math Students Into the Formative Assessment Equation is the ultimate resource for helping teachers implement formative assessment in the middle school mathematics classroom.
And it's much more than that. With this research-based, teacher-tested guide, you won't just learn effective teaching strategies—you'll turn your students into self-regulated learners. They'll monitor and assess their own progress—and communicate to you about it! Features include:
A clear and manageable six-aspect instructional model

Detailed strategies for helping students own their successes

Real-life examples from middle school mathematics teachers

Useful resources and a companion website to help you implement formative assessment in your classroom
Formative assessment isn't just for teachers anymore. With the help of this essential resource, you'll work together with your students toward a common goal of math success.
"This book is outstanding. I would recommend it to any math educator. The depth of research integrated into practice is extensive and, as a result, it is the most practical book I have come across related to formative assessment and mathematics The self-regulation aspects, as well as the ownership and involvement emphasized in the book, went beyond the traditional cognitive strategies endorsed in most books."
Marc Simmons, Principal
Ilwaco Middle School, Ocean Beach School District, Long Beach, WA
"The ideas in this book are brought to life with examples of teachers and students in the classroom. The teacher voices, comments, and quotes lend credibility and are a big component of the book's strengths as well as the visuals and graphics."
Rita Tellez, Math Coordinator
Ysleta Independent School District, El Paso, TX
Key features
This resource will present a collection of classroom-friendly strategies, resources, tools, instructional routines, and sample lessons, to help teachers learn about and implement formative assessment practices in the mathematics classroom and a website that will include:
· PDF and Word versions of handouts described in the book
· Resources (including masters of original resources created during the project as well as links to other formative assessment available on the web)
· Sample lesson plans
· Interactive learning activities
· Planning tools (PDF templates and interactive web pages)
The website will also include supporting resources for mathematics coordinators and professional development providers, such as articles summarizing our research on teacher learning about formative assessment, sample agendas for learning group meetings, guidelines to use of the video on the website, and links to additional information on formative assessment.
Table of Contents
Chapter 1: Using Formative Assessment to Build Student Engagement in Mathematics Learning
Being a Self-Regulating Learner
Using Formative Assessment Practices to Develop Self-Regulation Skills
Using Formative Assessment in Your Classroom
Teaching Students How to Participate in Formative Assessment
How to Use this Book to Learn What You Want to Learn
Conclusion
Resources
Chapter 2: Using Mathematics Learning Intentions and Success Criteria
What Are Learning Intentions and Success Criteria?
Creating Learning Intentions and Success Criteria for Your Classroom
Conclusion
Resources
Chapter 3: Gathering, Interpreting, and Acting on Evidence
What Is Evidence?
Using Evidence in Your Classroom: The Teacher's Role
The Student's Role and How You Can Develop and Support It
Conclusion
Resources
Chapter 4: Providing and Using Formative Feedback
What Is Formative Feedback?
Using Formative Feedback in Your Classroom
Conclusion
Resources
Chapter 5: Developing Student Ownership and Involvement in Your Students
Student Ownership and Involvement
What Do Students Need to Learn?
Helping Students Develop Ownership and Involvement in Their Mathematics Learning
Self-Regulation: It's Not a Linear Process
Conclusion
Resources
Chapter 6: Using Mathematics Learning Progressions
What Is a Learning Progression?
How Can You Use Learning Progressions in Your Instruction?
Using Learning Progressions to Help Develop Student Ownership and Involvement
Conclusion
Resources
Chapter 7: Establishing a Classroom Environment
Elements of the Classroom Environment
The Social and Cultural Environment: Promoting Intellectual Safety and Curiosity
The Instructional Environment: Framing Instruction to Encourage and Make Visible Students' Thinking and to Optimize Learning
The Physical Environment: Keeping Resources Available
Conclusion
Resources
Chapter 8: Moving Toward Implementation
Implementation Principles for Formative Assessment
Sustaining Your Effort Over the Long Term
Conclusion: Final Words of Encouragement
Resources
Appendix A: Resources
Appendix B: Implementation Indicators for Formative Assessment
Reviews
This is a carousel with review cards. Use the previous and next buttons to navigate.
"This book not only provides the skills for both teachers and students to take part in the formative assessment process, but demonstrates a high level of the thinking required when teachers plan lessons."

Lyneille Meza, Coordinator of Data & Assessment
Denton ISD, Denton, TX
"T

his book would be extremely helpful in helping my students learn to focus 1) consider and articulate the mathematics understanding, 2) shift their focus to making sense of student understanding, and 3) realize that true teaching is then acting on the gap between the understandings the student holds and the full set of understandings that you would like them to hold."



Grace Kelemanik, Consultant & Mathematics Content Teacher Educator
Boston Teacher Residency Program, Boston Public Schools
"This book was outstanding, and I would recommend it to any math educator. The depth of research integrated into practice is extensive and, as a result, is the most practical book I have seen related to either formative assessment or mathematics. The most helpful aspect of the book is the affective nature so often ignored in educational works. The self-regulation aspects, as well as the ownership and involvement emphasized in the book went beyond the traditional cognitive strategies endorsed in most books."

Marc Simmons, Principal
Ilwaco Middle School, Ocean Beach School District, Long Beach, WA
?

"The ideas [in this book] are brought to life with mathematics examples of teachers and students in the classroom. The teacher voices, comments, and quotes lend credibility and are a big component of the book's strengths as well as the visuals and graphics."



Rita Tellez, Math Coordinator
Ysleta Independent School District, El Paso, TX