Hands-on, Practical Guidance for Educators
From math, literacy, equity, multilingual learners, and SEL, to assessment, school counseling, and education leadership, our books are research-based and authored by experts on topics most relevant to what educators are facing today.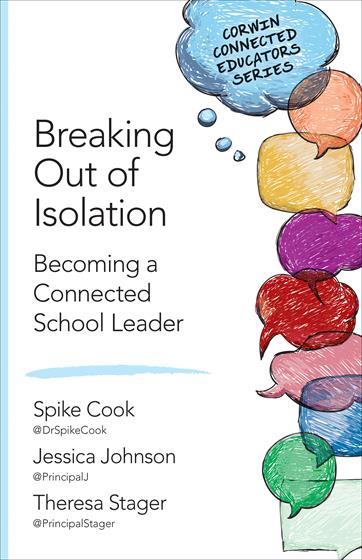 Breaking Out of Isolation
Becoming a Connected School Leader
Powerful vignettes help you easily jumpstart and sustain your Professional Learning Network, connect with staff, and transform your practice with Twitter, Google Hangouts and more!
Product Details
Grade Level: PreK-12
ISBN:

9781483392424

Published By: Corwin
Series: Corwin Connected Educators Series
Year:

2015



Page Count: 80

Publication date:

August 27, 2015
Price: $12.95
Description
Fresh ideas to help you meet the challenges of innovative leadership!
Overcome the hurdles of being a school leader and stay ahead with this helpful guide to battling isolation and getting connected. Through powerful vignettes and strategies, you'll discover how innovation-minded school leaders connect to avoid isolation, lower stress, find support, and share ideas. Grow your professional practice and learn to:
Jumpstart and sustain your Professional Learning Network

Strategically and meaningfully connect with colleagues and staff

Overcome isolation for lasting impact
Includes tips for Twitter, Google Hangouts, Pinterest and more. Get real-world solutions with this easy-to-follow roadmap to transformational change!
The Corwin Connected Educators series is your key to unlocking the greatest resource available to all educators: other educators. Being a Connected Educator is more than a set of actions: it's a belief in the potential of technology to fuel lifelong learning. To explore the other books in this series, visit the Corwin Connected Educators website.

Check out the Connected Educator Series matrix to find out which book is right for you.

"School leadership is a challenge that is made more difficult through isolation, but it doesn't have to be that way. The authors lead you to reflect on what isolates you and share practical ways to help get connected. A must read for connected and soon to be connected leaders!"
Todd Whitaker, Professor of Department of Educational Leadership
Indiana State University

"Filled with real-time examples and reflection questions from three dynamic, active principals who've crafted their own connected and growing practices, this book is a comforting guide for anyone seeking to establish a personal or professional learning network, and lays a Twitter-connected path to the next steps of leadership development."
Kirsten Olson, Ed.D, PCC
Author of The Mindful School Leader and Wounded By School


Key features
School leaders will learn:

How to overcome leadership isolation
How to make meaningful connections with other leaders
How to use online tools for personal and professional learning
Table of Contents
Preface by Peter DeWitt
---
Introduction
---
1. On an Island by Yourself
What is Isolation and How Does It Impact You?
Professional Learning
Pitfalls
Conclusion
Reflection and Action
2. Finding Your PLN
Connection!
Establishing a Personal/Professional Learning Network
It's About Building Relationships
Starting Your Own PLN
Educator Spotlight: Christopher Nesi
Conclusion
Reflection and Action
3. Maintaining Balance
What Connected Educators Have to Say
Why You Might Feel More Isolated
Eduator Spotlight: Shawna Miller
Becoming the Linchpin
Conclusion
Reflection and Action
4. Embracing Isolation and Connection With Mindset
Introduction
What is Mindset?
Isolated by Principle
Connected by Principle
Educator Spotlight: Jay Posick
Conclusion
Reflection and Action
5. Now What, So What, What's Next?
Introduction
Now That You Know What You Know - So What?
How Can Your New Learning Help You Grow as a Leader?
What's Next For You?