Hands-on, Practical Guidance for Educators
From math, literacy, equity, multilingual learners, and SEL, to assessment, school counseling, and education leadership, our books are research-based and authored by experts on topics most relevant to what educators are facing today.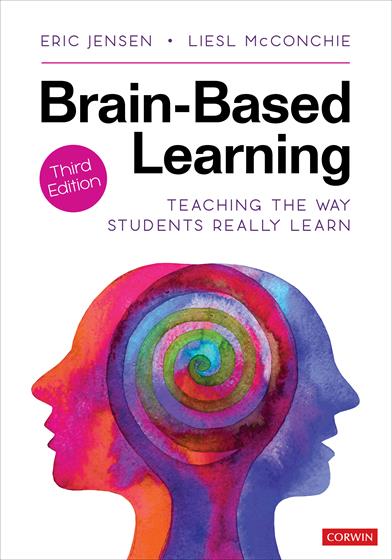 Bestseller!
Brain-Based Learning
Teaching the Way Students Really Learn
Third Edition (Revised Edition)

Brain-based teaching boosts cognitive functioning and fosters the joy of learning. This new edition of the bestseller provides an evidence-based approach that reveals how the brain learns best.
Product Details
Grade Level: PreK-12
ISBN:

9781544364544

Published By: Corwin
Year:

2020



Page Count: 240

Publication date:

April 03, 2020
Price: $40.95
Description
Learn how to teach like a pro and have fun, too!
The more you know about the brains of your students, the better you can be at your profession. Brain-based teaching gives you the tools to boost cognitive functioning, decrease discipline issues, increase graduation rates, and foster the joy of learning. This innovative, new edition of the bestselling Brain-Based Learning by Eric Jensen and master teacher and trainer Liesl McConchie provides an up-to-date, evidence-based learning approach that reveals how the brain naturally learns best in school. Based on findings from neuroscience, biology, and psychology, you will find:
In-depth, relevant insights about the impact of relationships, the senses, movement, and emotions on learning
Savvy strategies for creating a high-quality learning environment, complete with strategies for self-care
Teaching tools to motivate struggling students and help them succeed that can be implemented immediately
This rejuvenated classic with its easy-to-use format remains the guide to transforming your classroom into an academic, social, and emotional success story.
Key features
Offers a set of principles for educators so they can make better decisions about how students learn best in their classrooms and schools.
Provides jargon-free language for understanding the brain and provides learning strategies to optimize learning in the classroom
Discusses the physiological and sensory impact on the brain and why each individual learns differently.
Each chapter includes:

A Chapter outline
Boxed content of the pertinent information in the chapter
Strategies and techniques that can immediately be implemented in the classroom or school.
Table of Contents
List of Illustrations
Preface
Acknowledgments
About the Authors
Introduction
Part I: Fundamentals of Brain-Based Learning
---
Chapter 1: How the Brain Usually Learns
What Is Learning?
Learning's Big Five Players
Four Types of Input: A Deeper Dive
Putting It All Together
Beyond Explicit/Declarative Input
Summary
Chapter 2: Why Each Brain Is Unique
Age
Genetics
Environments
Gender
Luck
Conclusion
Part II: Laying the Foundation for Learning
---
Chapter 3: How Our Senses Impact Learning
Senses Are Signals
Smell
Air Quality
Negative Ionization
Sight
Sound
Touch
Chapter 4: Relationships in the Classroom
The Biology of Relationships
Perceptions Matter
Recognize and Act on Equity
Chapter 5: The Power of Neuroplasticity
The Properties of Neuroplasticity
Why the Brain Needs Plasticity
How to Foster Neuroplasticity
Conclusion
Part III: The Brain's Learning Strengths
---
Chapter 6: How Emotions Impact Learning
Our Basic Emotions
Emotions vs. Moods vs. States
Emotions in the Brain
Creating a Positive Environment With Classroom Traditions
Summary
Chapter 7: Physical Movement and the Brain
Movement and Cognition
Movement and Emotional Self-Regulation
Movement and Health
Conclusion
Chapter 8: Motivation That Works
Understanding Motivation
Understanding Demotivation
Short-Term Motivational Strategies
Long-Term Motivational Strategies
Conclusion
Part IV: Putting This Together in Your Classroom
---
Chapter 9: The Non-Conscious Learning Climate
Safety
Sense of Belonging
Feeling Hopeful and Supported
Conclusion
Chapter 10: Better Classroom Learning—Easy as R-C-C
R: Readiness
C: Coherent Construction
C: Consolidation
Chapter 11: Getting Your Brain to Work With You, Not Against You: Self-Care
Vibrant Health (Physical Well-Being)
Running Your Own Brain (Emotional Well-Being)
Relationships (Social Well-Being)
Conclusion
References
Index