Hands-on, Practical Guidance for Educators
From math, literacy, equity, multilingual learners, and SEL, to assessment, school counseling, and education leadership, our books are research-based and authored by experts on topics most relevant to what educators are facing today.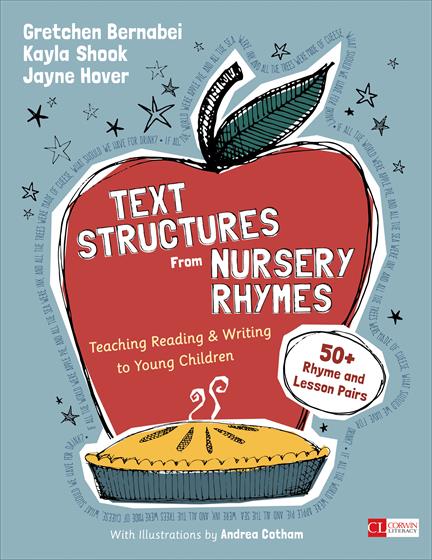 Look Inside
Bestseller!
Text Structures From Nursery Rhymes
Teaching Reading and Writing to Young Children
In 53 lessons centered around classic nursery rhymes, this groundbreaking book offers a straightforward framework for guiding children to write in any style, from narrative to persuasive.
Product Details
Grade Level: PreK-12
ISBN:

9781506387963

Published By: Corwin
Series: Corwin Literacy
Year:

2017



Page Count: 280

Publication date:

September 26, 2017
Price: $39.95
Description
It's one of education's greatest challenges: How do we shape our youngest students, who often are just learning how to hold a pencil, into capable writers within the span of a single school year?

Text Structures from Nursery Rhymes offers the solution: a clear and actionable framework for guiding young students to write successfully in any style, from narrative to descriptive to persuasive.

The key to the strategy lies in using familiar text structures to break down a story into its main components — for example, "Where I was," "Who I saw," and "What I thought" — in order to immediately thrust students into the role of the writer.

This groundbreaking book provides 53 lessons, each centered around a classic nursery rhyme, and all the tools you'll need to
Capitalize on the story's rhythm and rhyme to make an instant connection with your students
Convey the story's text structure using the lesson's whimsical illustrations, providing a visual model that resonates with children
Lead the classroom in creating new stories — in words, pictures, or both — utilizing the text structure you've defined
Put each nursery rhyme to work as a springboard for important language-arts topics
Fine-tune your approach at every step based on your preferred teaching style and students' progress
Put Text Structures from Nursery Rhymes to work in your classroom and discover how text structures, already a remarkable success in later grades, can also have a profound impact on younger students' progress.

Bonus!
Includes eight downloadable paper dolls—1 man, 1 woman, 1 girl, 1 boy, and 4 animals. Your students can use the paper dolls to retell the nursery rhymes, illustrate their own stories based on a nursery rhyme, or even to act out stories from other books in your classroom library.

Table of Contents
Acknowledgments
---
Introduction
---
LESSON 1
Structure: Not What I Thought Would Happen
Nursery Rhyme: A Diller, a Dollar
LESSON 2
Structure: Spotting Someone Famous
Nursery Rhyme: As I Was Going by Charing Cross
LESSON 3
Structure: More Than One
Nursery Rhyme: Baa, Baa, Black Sheep
LESSON 4
Structure: Something I Used to Have
Nursery Rhyme: Betty Pringle
LESSON 5
Structure: Someone Left
Nursery Rhyme: Bobby Shaftoe
LESSON 6
Structure: Big News!
Nursery Rhyme: Brave News Is Come to Town
LESSON 7
Structure: Where Did They Go?
Nursery Rhyme: Bye, Baby Bunting
LESSON 8
Structure: We Don't Have What We Need—Problem/Solution
Nursery Rhyme: Cock a Doodle Do
LESSON 9
Structure: Something Happened
Nursery Rhyme: Fiddle-De-Dee
LESSON 10
Structure: Getting Caught
Nursery Rhyme: Georgie Porgie
LESSON 11
Structure: Travel Map
Nursery Rhyme: Goosey Goosey Gander
LESSON 12
Structure: What Everyone Was Doing at the Time—A Four-Person Snapshot
Nursery Rhyme: Hey Diddle Diddle
LESSON 13
Structure: Jump Scare
Nursery Rhyme: Hickory Dickory Dock
LESSON 14
Structure: What My Pet Might Do
Nursery Rhyme: Higglety Pigglety
LESSON 15
Structure: For Sale
Nursery Rhyme: Hot Cross Buns
LESSON 16
Structure: An Accident
Nursery Rhyme: Humpty Dumpty
LESSON 17
Structure: Someone Borrowed My _________
Nursery Rhyme: I Had a Little Pony
LESSON 18
Structure: What If
Nursery Rhyme: If All the World Were Apple Pie
LESSON 19
Structure: All About Something—A Description
Nursery Rhyme: I'm a Little Teapot
LESSON 20
Structure: Try, Try Again
Nursery Rhyme: The Itsy Bitsy Spider
LESSON 21
Structure: Ouch! That Hurt!
Nursery Rhyme: Jack and Jill
LESSON 22
Structure: Helping Someone
Nursery Rhyme: Jack Be Nimble
LESSON 23
Structure: Win-Win
Nursery Rhyme: Jack Sprat
LESSON 24
Structure: News Report
Nursery Rhyme: Ladybug, Ladybug
LESSON 25
Structure: Something Is Lost—Problem/Solution
Nursery Rhyme: Little Bo Peep
LESSON 26
Structure: What a Mess! Help!
Nursery Rhyme: Little Boy Blue
LESSON 27
Structure: Good Job!
Nursery Rhyme: Little Jack Horner
LESSON 28
Structure: Defining a Feeling
Nursery Rhyme: Little Jumping Joan
LESSON 29
Structure: My Short Story
Nursery Rhyme: Little Miss Muffet
LESSON 30
Structure: Three Questions
Nursery Rhyme: Little Tommy Tucker
LESSON 31
Structure: I Lost Something!
Nursery Rhyme: Lucy Locket
LESSON 32
Structure: Prized Possession
Nursery Rhyme: Mary Had a Little Lamb
LESSON 33
Structure: Polite Q and A
Nursery Rhyme: Mary, Mary, Quite Contrary
LESSON 34
Structure: All About Someone—A Character Analysis
Nursery Rhyme: Old King Cole
LESSON 35
Structure: A Disappointment
Nursery Rhyme: Old Mother Hubbard
LESSON 36
Structure: Making Something
Nursery Rhyme: Pat-a-Cake, Pat-a-Cake
LESSON 37
Structure: Three Ways It Can Be
Nursery Rhyme: Pease Porridge Hot
LESSON 38
Structure: Happy Ending
Nursery Rhyme: Peter, Peter, Pumpkin Eater
LESSON 39
Structure: Change of Plans
Nursery Rhyme: Polly, Put the Kettle On
LESSON 40
Structure: Small Talk
Nursery Rhyme: Pussycat, Pussycat
LESSON 41
Structure: I Don't Want That Right Now
Nursery Rhyme: Rain, Rain, Go Away
LESSON 42
Structure: From Good to Bad
Nursery Rhyme: Rock-a-Bye Baby
LESSON 43
Structure: Who's That?
Nursery Rhyme: Rub-a-Dub-Dub
LESSON 44
Structure: New Job
Nursery Rhyme: Seesaw Margery Daw
LESSON 45
Structure: No, You Can't Have My Things—A Dialogue
Nursery Rhyme: Simple Simon
LESSON 46
Structure: Something Crazy Happened
Nursery Rhyme: Sing a Song of Sixpence
LESSON 47
Structure: Fun Word Story
Nursery Rhyme: There Was a Crooked Man
LESSON 48
Structure: Problem That Can't Be Fixed
Nursery Rhyme: There Was an Old Woman
LESSON 49
Structure: Going Shopping
Nursery Rhyme: To Market, to Market
LESSON 50
Structure: Somebody Broke a Rule
Nursery Rhyme: Tom, Tom, the Piper's Son
LESSON 51
Structure: The Fight
Nursery Rhyme: Tweedle-Dum and Tweedle-Dee
LESSON 52
Structure: Talking to Something—Personification
Nursery Rhyme: Twinkle, Twinkle, Little Star
LESSON 53
Structure: Too Bossy
Nursery Rhyme: Wee Willie Winkie
Appendices
---
1. Complete Collection of 53 Text Structures
2. Text Structures for a Busy Town
3. Text Structures for Caring About Others
4. Text Structures for Feelings
5. Text Structures for Problem Solving
6. Text Structures for Travel
7. Text Structures for Unfairness
8. Text Structures Just for Fun
9. Text Structure Templates
10. Stationery Templates
About the Authors
---