Hands-on, Practical Guidance for Educators
From math, literacy, equity, multilingual learners, and SEL, to assessment, school counseling, and education leadership, our books are research-based and authored by experts on topics most relevant to what educators are facing today.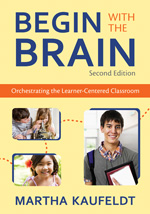 Look Inside
Begin With the Brain
Orchestrating the Learner-Centered Classroom
Second Edition

Based on current neuroscientific research, this revised edition helps teachers apply brain-friendly and learner-centered strategies to create a high-achieving, joyful learning environment.
Product Details
Grade Level: PreK-12, Elementary, Secondary
ISBN:

9781412971584

Published By: Corwin
Year:

2009



Page Count: 256

Publication date:

November 24, 2009
Price: $44.95
Description
"Describes activities at a level of detail that will allow teachers to immediately try them out in their own classrooms. If more classrooms reflected these ideas and used these strategies, education would not only be more effective and powerful, it would be a far more joyful experience for our students."
—Barbara Clark, Professor Emeritus
California State University, Los Angeles
"Teachers who intend to make a marked difference in their students' learning and lives will profit from reading this book. Not only will they find the material useful, they will be gratified and strengthened in their commitment."
—Leah Welte, Teacher
Alpine School District, American Fork, UT
Create a high-achieving, joyful learning environment informed by brain-based research!
In this thoroughly updated bestseller, seasoned educator Martha Kaufeldt helps teachers understand and apply current findings in neuroscience research to all aspects of their classroom practice, from behavior management to curriculum design. Using what we know about how the brain learns optimally, this ready-to-go resource provides practical guidance to new and experienced teachers on how to create a learner-centered classroom, including:
Setting up a classroom
Establishing routines and procedures
Fostering students' intellectual curiosity
Reducing learned helplessness in students
Developing students' respect for one another's cultural and educational backgrounds
Building a classroom community
Complete with updates and explanations of relevant neuroscience research, this field-tested guide will help teachers maximize student learning by making instruction compatible with how the brain learns best.
Key features
The ideas and approaches to classroom instruction and management in this book are:
Linked to current brain research

Respectful of each learner's cultural and educational background

Tested in classrooms

Designed to diminish learned helplessness in students

Meant to be used in creative ways, modified as needed, and not implemented as a magic bullet
Table of Contents
Preface
---
Acknowledgments
---
About the Author
---
Introduction: Brain-Compatible Learning and Learner-Centered Education
---
1. Begin With the Brain: Interpreting Neuroscience Research
2. Welcome Home: Designing the Learning Environment
3. Meeting Students' Basic Needs: Building the Foundation for Learning
4. Routines and Procedures: Organizing Systems for Orderliness
5. Building Community and Managing Conflicts: Orchestrating Positive Social Interactions
6. Making a Connection: Building Curiosity and Ensuring Engagement
7. Meaningful Experiences: Creating 21st-Century Citizens
8. Student Choice in a Learner-Centered Classroom: Orchestrating Opportunities
9. Setting Goals and Using Feedback to Reach Success: Self-Assessment and Learning Celebrations
Epilogue
---
Bibliography
---
Recommended Reading
---
Index
---