Hands-on, Practical Guidance for Educators
From math, literacy, equity, multilingual learners, and SEL, to assessment, school counseling, and education leadership, our books are research-based and authored by experts on topics most relevant to what educators are facing today.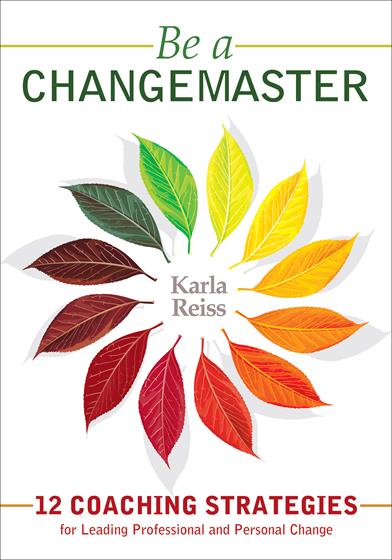 Look Inside
Be a CHANGEMASTER
12 Coaching Strategies for Leading Professional and Personal Change
Using coaching techniques in place of traditional change management theory, this practical guide for leaders at all levels provides 12 strategies for overcoming resistance to change.
Product Details
Grade Level: PreK-12, Elementary, Secondary
ISBN:

9781412997454

Published By: Corwin
Year:

2012



Page Count: 208

Publication date:

February 06, 2012
Price: $41.95
Description
How to use coaching strategies to lead change in any organization

Be a CHANGEMASTER is a practical guide for school and district leaders that provides 12 strategies for overcoming resistance to change. Unlike more theoretical books, this text shows how to adopt a coaching style of leadership as a systemic change strategy.
Numerous examples demonstrate how the strategies used in this book have led to transformational change. These success stories are drawn from the work of professionally certified coaches. Components include
Challenging assumptions to prevent them from becoming reality
Developing a higher purpose to foster happiness and ensure a positive legacy
Confronting negativity by reframing and cultivating optimism
Gathering a group to aggregate energy, creativity, and encouragement
Using imagery and visualization techniques to improve performance
Focusing on the future to overcome the errors of the past and challenges of the present
Coaching is the proven change process, and leaders everywhere need to master the skills and strategies coaches use to transform their organizations efficiently and effectively. This book helps turn executives, managers, and team leaders into motivators and their organizations into winners.
Key features
The book will contain many success stories from the field. Readers can be assured the experiences shared in this book stem from the work of professionally certified coaches. They will inspire school leaders to consider (or reconsider) coaching as what it is . . . a powerful strategy for successfully mastering change. It will also contain tools and template for processing the strategies; at least one for each chapter or strategy.

Each chapter will include:
• examples and stories from the field
• practical tools and templates to extend the learning experience or to use in staff and planning meetings
• keys to success
Table of Contents
Preface
---
Acknowledgments
---
About the Author
---
Introduction
---
1. Challenge Assumptions
Challenge Those Assumptions
How Assumptions Hold Us Back
Assumptions Become Reality
Thinking for Success
Change Your Thoughts at Any Time
How to Challenge and Banish Assumptions
Tips for Success
Summary
2. Have a Higher Purpose
Why Purpose and Happiness Matter
What Is Your Mission?
It's Not About the Soap
What Legacy Will You Leave Behind?
Finding Meaning in Work and Life
Leading Yourself and Others to Discover Their Higher Purpose
Finding Joy
Your Life's Compass: Creating a Personal Mission Statement
A Word About Courage
Tips for Success
Summary
3. Awareness of Limiting Thoughts
What Are Limiting Thoughts?
Managing Limiting Thoughts and Beliefs
The Power of Choice
How to Change Limiting Thoughts to Expanding Thoughts
A Formula for Freedom
Direct Your Brain to Change
Tips for Success
Summary
4. Nix the Negatives and Naysayers
Be Wary of Your Words
How We Connect
Confronting Negatives and Naysayers
Be a Better Listener
Practical Ways to Nix the Negatives
Reframing: A Powerful Skill
When People Won't Budge
Cultivating Optimism
Tips for Success
Summary
5. Gather a Group
Why Gather a Group?
An Inspiring Example
Asking for Help
How to Ask for Help
A Coaching Approach to Leading Groups: "I Have a Group. Now What?"
How to Coach Groups
Two Group Coaching Models
Successful Group Coaching
Benefits of Group Coaching
Challenges
Tips for Success
Summary
6. Emotionally Connect to the Goal
How to Create an Emotional Connection to Your Goal
The Mind, Body, and Goal Connection
Tips for Success
Summary
7. Maintain Momentum
Coaching to Action
Resistance Ahead!
Shifting from Discussion to Action
Choosing Courageous Actions
Maintaining Organization Momentum
Tips for Success
Summary
8. Ask How Can I?
Become a Possibility Thinker
How to Develop a Possibility Thinking Mind-Set
Tips for Success
Summary
9. See Success Smiling
What the Research Says
Imagery and Visualization Techniques
Peak Performance Strategies
How and Why Visualization Is Effective
A Success Story
The Science Behind Imagery
Why Smile?
Why Seeing Success Smiling Works
Tips for Success
Summary
10. Turn Talk to the Future
The Future Is Now
Coach Approach
Attributes of a Future-Focused Leader
Self-Talk and Group Talk
Rationale
Turning Self-Talk to the Future
Turning Talk to the Future With Groups
Tips for Success
Summary
11. Expect and Welcome Discomfort
A Personal Example
Why Discomfort Is Good
Taking Charge of Discomfort
Managing Fear
Tips for Success
Summary
12. Remain Relentlessly Focused
Narrow the Focus
Meditation Helps Focus
Multitasking Is Out: Focus Is In
Why Stop Multitasking?
Saying No
Letting Go
Pay Attention to Your Attention
Tips for Success
Summary
13. Conclusion
Underlying Coaching Concepts
CHANGEMASTER Tools
---
Tool.01 Challenge Assumptions Tool
Tool.02 Have a Higher Purpose Tool 1: My Joyfinder
Tool.03 Have a Higher Purpose Tool 2: A Starter Set of Questions
Tool.04 Have a Higher Purpose Tool 3: Creating a Personal Mission Statement
Tool.05 Examining Limiting Thoughts Tool
Tool.06 Nix the Negatives and Naysayers Tool 1: A to Z Uplifting Words
Tool.07 Nix the Negatives and Naysayers Tool 2: Noticing the Negatives
Tool.08 Gather Your Group Tool
Tool.09 Emotionally Connect to Your Goal Tool 1
Tool.10 Emotionally Connect to Your Goal Tool 2: Words That Evoke Positive Emotions
Tool.11 Maintain Momentum Tool
Tool.12 Ask How Can I? Becoming a Possibility Thinker Tool
Tool.13 See Success Smiling Tool
Tool.14 Turn Talk to the Future Tool
Tool.15 Expect and Welcome Discomfort Tool
Tool.16 Remain Relentlessly Focused Tool
Tool.17 Be a CHANGEMASTER Tool
References
---
Index
---