Hands-on, Practical Guidance for Educators
From math, literacy, equity, multilingual learners, and SEL, to assessment, school counseling, and education leadership, our books are research-based and authored by experts on topics most relevant to what educators are facing today.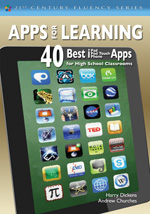 Apps for Learning
40 Best iPad/iPod Touch/iPhone Apps for High School Classrooms
This book offers practical strategies for integrating 40 of the most effective applications—or apps—for the iPad, iPod Touch, and iPhone to cultivate 21st century fluencies.
Product Details
Grade Level: PreK-12, Secondary
ISBN:

9781452225326

Published By: Corwin
Series: The 21st Century Fluency Series
Year:

2011



Page Count: 224

Publication date:

October 20, 2011
Price: $28.95
Description
How to teach "generation app"
This first book in a three-book series offers a wealth of strategies for integrating 40 of the most effective applications—or apps—for the iPad, iPod Touch, and iPhone into K–12 classrooms to cultivate 21st century fluencies. The authors show how to use them to enhance teaching and learning and to address curricular objectives in an engaging, relevant, real-world environment. Written by practitioners for practitioners, key features include:
Apps with an extended shelf life, such as Pages, Keynote, iMovie, and Google Earth
An overview of each app's cost, application type, curriculum area, basic functions and features
Examples for using each tool in practice
Key features
Offers apps that have considerable staying power, (e.g., Pages, Keynote, iMovie, Google Earth) in order to give teachers a resource that will have an extended shelf life.
Includes snapshots of some of the best and most appropriate applications for the iPad, iPod Touch, and iPhone for use in the classroom.
Written by classroom practitioners for classroom practitioners.
Demonstrates ways to harness the power of mobile digital devices for learning, creativity, and discovery in classrooms.
Provides cost, application type, curriculum area (where applicable), basic functions and features for each app.
Includes an example of classroom application in each app module that shows how to use the tool in practice.
Table of Contents
Preface
---
Introduction
---
Apps at a Glance: Quick Reference Chart
---
I. Utility Apps
---
1. Atomic Web Browser
2. Box.net
3. GoodReader
4. Print nShare
II. General Apps
---
5. Adobe Photoshop PSExpress
6. Dragon Dictation
7. eClicker Host/eClicker
8. Evernote
9. Garage Band
10. Google Earth
11. iBooks
12. iMovie
13. iThoughtsHD
14. iTranslate/iTranslate Plus
15. Keynote
16. Keynote Remote
17. Lynkee 2 QR Barcode Reader
18. Note Taker HD
19. Numbers
20. Pages
21. Skype
22. TED
23. Teleprompt+
24. Whiteboard HD
25. Wikihood/Wikihood Plus
III. Specialty Apps
---
26. Algebra Touch
27. Comic Touch/Comic Touch Lite
28. EMD PTE
29. Frog Dissection
30. gFlashPro
31. iMathematics
32. Manual for the United States of America
33. NASA App HD
34. Play2Learn
35. Rory's Story Cube
36. Shmoop
37. Stack the States/Stack the Countries
38. StoryKit
39. VideoScience
40. World Factbook
Index
---
Reviews
This is a carousel with review cards. Use the previous and next buttons to navigate.
"With the push for a technology-centered classroom, it is useful to have a book such as this one to help teachers navigate through the applications available to determine their usefulness in the classroom."
Melody L. Aldrich, Teacher
Poston Butte High School, San Tan Valley, AZ
"The authors clearly describe the apps and highlight connections between classroom instruction and student learning."
Sally Bennett, Curriculum Coordinator
East Poinsett County School District, Lepanto, AR
"The chapters provide comprehensive information on each app including the subject areas, cost (if any), developer address, background information, and how to use the specific app. This is an important contribution to the myriad resources available for teachers who like to use technology in their classroom."
Karen Chenoweth, Assistant Principal
University High School, Orange City, FL
"The authors encourage educators to think outside of personal comfort zones to capitalize on young learners' inquisitiveness."
Judith A. Rogers, Mathematics Specialist
Tucson Unified School District, AZ
"This is a very important resource for teachers. The authors offer many creative uses for these apps, the ideas are easy to implement and are sure to increase student engagement and excitement about learning. An outstanding asset for the teacher who wants to build a foundational toolkit that will support 21st Century learning."
Sara J. Stewart, Instructional Technology Project Facilitator
Clark County School District, NV