Hands-on, Practical Guidance for Educators
From math, literacy, equity, multilingual learners, and SEL, to assessment, school counseling, and education leadership, our books are research-based and authored by experts on topics most relevant to what educators are facing today.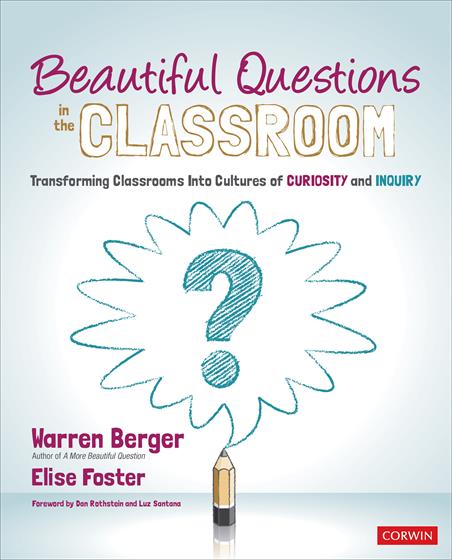 Beautiful Questions in the Classroom
Transforming Classrooms Into Cultures of Curiosity and Inquiry
First Edition
Foreword by Dan Rothstein and Luz Santana, The Right Question Institute

Written to be both inspirational and practical, Beautiful Questions in the Classroom shows educators how they can transform their classrooms into cultures of curiosity.
Product Details
Grade Level: PreK-12
ISBN:

9781544365466

Published By: Corwin
Series: Corwin Teaching Essentials
Year:

2020



Page Count: 208

Publication date:

April 16, 2020
Price: $39.95
Description
"What does it mean to learn? Most of us eventually realize that genuine learning is less about delivering the right answers and more about asking the right questions. In an age of automation, questioning is a uniquely human skill, one we should foster in school and in life. This book is an essential read for educators at every level."
— Daniel H. Pink, author of 'WHEN', 'DRIVE', and 'A Whole New Mind'
"For teachers around the world there is a moral urgency to work with young learners in innovative ways that nurture agency, curiosity, agile thinking and problem solving. The role of questions in this cannot be underestimated."
— Kath Murdoch. Consultant in Education and Author of 'The Power of Inquiry.'

Why does engagement plummet as learners advance in school? Why does the stream of questions from curious toddlers slow to a trickle as they become teenagers? Most importantly, what can teachers and schools do to reverse this trend? Beautiful Questions in the Classroom has the answers. This inspirational book from Warren Berger and Elise Foster will help educators transform their classrooms into cultures of curiosity. The book explores the importance of questioning and how inquiry leads to learning, innovation, and personal growth.

Readers will find:
- Strategies to inspire bigger, more beautiful student questions
- Techniques to help educators ask more beautiful questions
- Real-world examples, case studies, practical ideas, and question stems
- Videos showing strategies at work

Great teachers help students to ask bigger, more beautiful questions. This book will prepare and inspire educators to develop a powerful teaching approach that creates a classroom full of student driven inquiry.
Table of Contents
Publisher's Acknowledgments
---
About the Authors
---
Foreword
---
Introduction
Chapter 1. Why Questioning Matters Now More Than Ever
What This Means for Students and Their Teachers
Critical Thinking Is Even More Critical Now
Questions Give Humans an Edge Over Technology
Producing Future Leaders
Chapter 2. What Discourages Student Questioning?
The Decline of Kids' Questions
The Five Enemies of Classroom Questioning
Chapter 3. Model the Behavior
Become a "Beautiful Questioner"
Start With Why
Become a Student of Your Own Work
Adopt a "Beginner's Mind"
Be Curious in the Classroom
Chapter 4. Create a Culture of Inquiry in the Classroom
Foster an Appreciation of Questioning
Create a Stimulating Environment for Questioning
Make It Safe to Question
Make Questioning a Team Sport
Provide a Basic Questioning "Starter Kit"
Reward and Celebrate Questioning
Chapter 5. Inspire and Activate Student Questions
Provoke Curiosity
See Think Wonder
Release the Questions!
The Question Formulation Technique
The Origins of the QFT
Learning to Use the QFT in Classrooms
The Question Focus
The Question Generation Stage
Chapter 6. Help Students Improve and Take Ownership of Their Questions
Improve the Questions That Have Been Generated
Other Ways to Improve Questions
Evaluate and Prioritize Questions
Reflect on What Has Been Learned
Take Ownership of Questions
Turn Questions Into Projects
Help Students Find Their Own, Personal Big Beautiful Questions
Chapter 7. Be a Questioning Leader (in Your School, Community, and the World)
Ask Questions That Clarify
Ask Questions That Help You Rethink and Reinvent
Ask Questions That Help You Help Others
Ask Questions That Can Help You Enact Change
Taking Action
References
---
Resources
---
Index
---
Reviews
This is a carousel with review cards. Use the previous and next buttons to navigate.
What does it mean to learn? Most of us eventually realize that genuine learning is less about delivering the right answers and more about asking the right questions. That's why BEAUTIFUL QUESTIONS IN THE CLASSROOM is so important. Inquiry develops self-direction and deepens curiosity. And in an age of automation, questioning is a uniquely human skill, one we should foster in school and in life. This book is an essential read for educators at every level.

Daniel H. Pink, Author or When, Drive, and A Whole New Mind
Warren Berger and Elise Foster maintain that the more questions children ask, the better questioners (and ultimately innovators) they become. This inspirational and highly practical book focuses on the why and how of creating "cultures of curiosity and inquiry" in our classrooms, where students (not teachers!) are the ones asking the questions, living the learning, making a difference for themselves, each other and the world.



Debbie Miller, Author of What's the Best That Could Happen? New Possibilities for Teachers & Readers
In this book, the "questionologist" Warren Berger and co-author Elise Foster show us why it's so critical to encourage more student questions in class, particularly in today's world. But they also show how to do that, with practical examples, exercises, and activities. The result is an inspirational call to action for educators everywhere.



Trevor Mackenzie, Author of Inquiry Mindset
Warren Berger and Elise Foster's new book is a vibrant restorative effort, seeking to help us all recover the flood of questions typical of our 4 year-old neighbors. They ask us to think about the debilitating effects on our civic affairs and worklives of the mere trickle of questions asked by those same once curious explorers when they reach high school. The book documents and lays out in crisp, clear prose hopeful interventions that give us confidence that a revolutionary embrace of questioning is within our reach.



Neil Browne, Author of Asking the Right Questions: A Guide to Critical Thinking
I celebrate the teacher who keeps the spark of curiosity alive in their classroom. And to be the change you want to see? No easy thing. Berger is a master "questionologist" and this book is an essential tool.



Michael Bungay Stanier, Author of The Coaching Habit and The Advice Trap
Warren Berger has already shown us brilliantly how questions can indeed 'change the world'. In this book, Berger and Elise Foster provide schools and educators concrete ways to make questions and questioning an essential part of the learning experiences we design every day. In doing so, they offer us simple and elegant ways to change what we do as teachers, administrators, and students thereby improving our schools in fundamental ways.



Dominic A.A. Randolph, Head of School
Riverdale Country School
With engaging prose and compelling insights, Berger and Foster unravel the vexing puzzle of why our kids, who are born curious, grow less curious with each passing year they sit in our classrooms and schools. We know, of course, that curiosity drives all learning—and that at the heart of curiosity is questions. Yet as Berger and Foster demonstrate, the most important questions in the classroom aren't teachers' questions, but rather, students' questions. With its many practical classroom examples and go-to strategies, I'd recommend all teachers have this book on their shelves—so they can return to it time and again to unleash their own curiosity and that of their students.



Bryan Goodwin, President and CEO, McREL International
Author, Building a Curious School: Restore the Joy that Brought You to School and Unstuck: How Curiosity, Peer Coaching, and Teaming Can Change Your School
Who better than a journalist to guide us on the power of asking questions? Berger and Foster pull in expert testimony from various fields to share concrete ways we can help students of all ages lean in to their curiosity through inquiry. This book is not only brimming with evidence-based practices but is beautifully-written and thoughtfully designed for the busy educator. This is my new 'go to' book for guiding students as questioners!



Kimberly L. Mitchell, Founder, Inquiry Partners
Author, Experience Inquiry: 5 Powerful Strategies, 50 Practical Experiences
The title of this brilliant book says it all. By the time you've finished it, you will understand why questioning is so critical in unleashing curiosity and inquiry - and you will have a rich toolkit to help you get there! This is a must read for those seeking to help young minds make sense of an increasingly complex world - by encouraging - and teaching them - to question.
Peter Gamwell, Author, The Wonder Wall
This book, this work, found me at a critical time in my career. I have long sought better ways to engage my kids in their learning. And I believe, now, I have found my next better in this book, a beautiful better that will transform me, my classroom, and ultimately my kids as they pursue their questions, their answers, their learning.



Monte Syrie, Teacher
Cheney High School
I want to read this over and over again! This is a book that EVERY teacher, regardless of their grade level or content area, should read if they want to see student learning transformed in their classrooms with JOY and EXCITEMENT! Questions matter!!



Karen Vogelsang, Tennessee Teacher of the Year
The difference between a good teacher and a great teacher is the questions they ask. Beautiful Questions in the Classroom is a timely reminder that, beyond any content we might teach, the art of question posing is a gift that will serve students for the rest of their lives. This easy to read book provides useful, efficient strategies to cultivate curiosity in our classrooms and beyond.



Erik Burmeister, Superintendent
Menlo Park City Schools
In BEAUTIFUL QUESTIONS IN THE CLASSROOM, Warren Berger and Elise Foster make the case for why questions deeply matter in the learning process. This book offers deep insight and practical applications. I recommend it as a fantastic book study for a staff, a reflective read for individuals, and an important resource to support focused lesson design to teach students how to ask questions that matter to them and to their learning.



Pamela Moran, co-author of Timeless Learning: How Imagination, Observation, and Zero-based Thinking Change Schools
Warren Berger's book, A More Beautiful Question, is one of those books that I regularly pull off the shelf and dive into. It is lovingly marked up with post-its and several of my own questions scribbled in the margins. As an educator passionate about inquiry learning, it was thrilling to read the words of a journalist outside the field of education extolling the virtues of curiosity and wonder and to learn more about the way questions lead to innovation. Berger's work certainly added fuel to my own fire. So it was with great delight that I learned of this new offering: Beautiful Questions in the Classroom. This book is a rich and thorough contribution to the field - and has come at an incredibly important time. As I write, fires raging through my country are among many issues weighing heavily on the minds and hearts of people everywhere. For teachers around the world there is, I believe, a moral urgency to work with young learners in innovative ways that nurture agency, curiosity, agile thinking and problem solving. The role of questions in this cannot be underestimated.

This book not only invites the reader to deepen their understanding of the significance of questions in the classroom; it also provides a wealth of practical and inspiring ideas and strategies expertly sourced from educators. In fact, this is what makes Beautiful Questions in the Classroom such an impressive read. Unlike many books (including my own!) written by educators for educators, Berger's journalistic skills in sourcing, investigating, analysing and curating ideas bring a freshness of perspective and scope to thinking about cultures that support inquiry. This will be another book by Warren Berger to which I return over and over. It's beautiful.




Kath Murdoch, Consultant and Author, The Power of Inquiry
Berger and Foster make a compelling case for bringing curiosity to the forefront of classroom learning. The authors draw from their wide-ranging experience as self-proclaimed questionologists to inspire and inform, challenging teachers and students alike to create Big Beautiful Questions. The reader is left with many questions, including "What might happen if I encouraged every student to express their curiosity every day through more beautiful questions?"



Jackie A. Walsh, Author of Quality Questioning, 2nd Edition