Hands-on, Practical Guidance for Educators
From math, literacy, equity, multilingual learners, and SEL, to assessment, school counseling, and education leadership, our books are research-based and authored by experts on topics most relevant to what educators are facing today.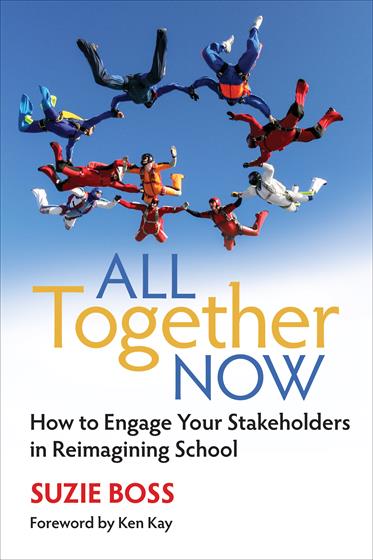 Look Inside
All Together Now
How to Engage Your Stakeholders in Reimagining School
Intended to promote and provoke conversations inside and outside schools, this practical guide inspires educators to embark on the challenging work ahead in re-imagining schools.
Product Details
Grade Level: PreK-12
ISBN:

9781506350127

Published By: Corwin
Year:

2017



Page Count: 224

Publication date:

May 18, 2017
Price: $39.95
Description
A framework to reimagine schools for the 21st century
Education is evolving rapidly. To sustain change, school communities need broad support for shifts in teaching and learning that promise better outcomes for learners. This requires collaborative inquiry and hard conversations involving everyone with a stake in student success. Designed to promote and provoke conversations inside and outside schools, All Together Now will inspire educators and fellow stakeholders to embark on the challenging work ahead.
Readers will find a clear, four-part framework that will help them navigate the journey by understanding
Why they should build common understanding about change
How to move from vision to reality
The What-ifs of troubleshooting strategies
The power of The Future Story to move forward with optimism
With compelling examples from schools on the leading edge of change, this practical guide will take readers from talking about the future of learning to realizing their community's vision.
"School innovation is a subject that should concern all of us - students, educators, parents, community members. Suzie Boss has created a wonderful guide for all of us to think deeply, reflect critically, and act decisively to make schools better for all of us who need them."
Chris Lehmann, Founding Principal and Author of Building School 2.0
Science Leadership Academy


"This is a clear blueprint for real change in modern schools. A variety of frameworks including PBL, design thinking, making, student leadership, and parent empowerment are illustrated with examples from real schools and stellar advice from educators. Educators on the road to remaking their schools into better learning spaces should take this book with them on the journey."
Sylvia Martinez, co-author of Invent To Learn: Making, Tinkering, and Engineering in the Classroom


"There have been many good books on the case for 21st century learning and schools, but only a rare handful on how to engage your stakeholders and community to bring that transformation to your own school or district. Fortunately, education writer and consultant Suzie Boss takes up that challenge and shares the stories of real-world school transformers and school transformations from around the world."
Bob Pearlman, District Consultant
21st Century School, Tucson, AZ

Key features
This book prompts readers to make their own meaning by considering a series of questions about what and how school should be.. Abundant examples and case studies from the frontlines of school change provide inspiration and ideas you can adopt or adapt for your context. Discussion prompts are included to promote and provoke conversations—both inside and outside school—with everyone who has a stake in student success (including students themselves). Working together, through collaborative inquiry and hard conversations, you will arrive at your best answers for how schools should adapt for your context and your children.

Special Features
Throughout the book, special features are included to help guide your inquiry.
· Worth Asking: Each chapter includes questions intended to prompt individual reflection or spark group discussions about featured case studies and other examples of creative community outreach. Most chapters include at least two "Worth Asking" sidebars. Share your responses with a broader community on Twitter by adding the hashtag #alltogethernow.
· Crib Sheet: Short, jargon-free summaries of key terms are included to ensure that everyone is talking the same language about current trends in education. Along with brief definitions, you'll find links for additional resources and hashtags to connect with communities of practice.
· Try This: Watch for practical ideas that are ready to borrow or adapt. "Try This" suggestions challenge readers to apply specific activities or outreach strategies that other schools have found to be beneficial.
* Web Resources
Table of Contents
Part I: THE WHY
---
1.. Are we ready for disruption?
2. How will we engage the willing?
Part II: THE HOW
---
3. How do forward-looking school leaders take charge of change?
4. How will we support teachers as they become 21st century educators?
5. How can we amplify student voice?
6. How will we engage families as partners in school change?
7. Who else will join us?
Part III: THE WHAT-IF
---
8. Addressing Challenges and Building Momentum
Part IV: THE FUTURE STORY
---
9. How will we share our story about the future of learning?
10. What are your next steps?