Hands-on, Practical Guidance for Educators
From math, literacy, equity, multilingual learners, and SEL, to assessment, school counseling, and education leadership, our books are research-based and authored by experts on topics most relevant to what educators are facing today.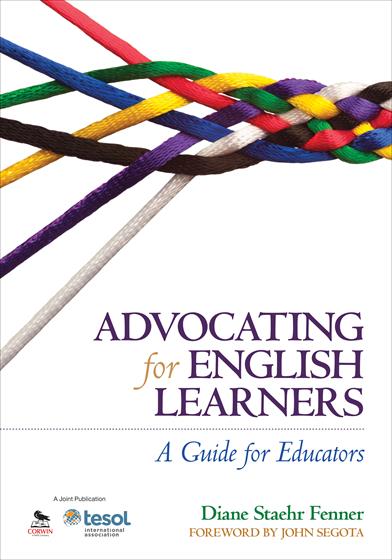 Look Inside
Bestseller!
Advocating for English Learners
A Guide for Educators
Foreword by John Segota
A Joint Publication with TESOL

English Learners (ELs) are the fastest-growing segment of the K–12 population. This book demystifies the techniques educators need to provide a voice for their unique needs.
Product Details
Grade Level: PreK-12, Elementary, Secondary
ISBN:

9781452257693

Published By: Corwin
Year:

2013



Page Count: 264

Publication date:

September 18, 2013
Price: $39.95
Description
Embrace the future by ensuring English Learners have a voice in school.
English Learners (ELs) are the fastest-growing segment of the K–12 population. But ELs and their families—who are in the process of learning English and navigating an often-unfamiliar education system—may not have a powerful enough voice to articulate their needs. Consequently, all teachers and administrators must advocate for this all-important diverse group of students who will become tomorrow's workforce. This book demystifies the techniques of advocacy for ELs, including:

A shared sense of responsibility for EL success—Providing tools that every educator can use to ensure that ELs are effectively served.
An overview for administrators—Influencing policy and fostering a culture that meets EL needs
Advocacy for ELs' success beyond Grade 12—Equipping ELs for life after graduation, from higher education to career decisions
ELs will continue to grow in number, and leaving them and their families voiceless is simply not an option. No educator can miss this essential book.
"In many ways, the history of American Education is the history of a quest for equality. Dr. Staehr Fenner lends a human face to the experience of English Learners and encourages us to think in terms of what attributes ELs bring to their learning experience and how others can benefit from their presence in the classroom. This book is a promising, uplifting, and much-needed call for action!"
— Rosa Aronson, Executive Director
TESOL International Association, Alexandria, VA

Watch the Webinar!

On-line book study–available now!
Author Staehr Fenner's company, SupportEd, has created an on-demand LMS book study for readers of Advocating for English Learners A Guide for Educators. The self-paced book study works around your schedule and when you're done, you'll earn a certificate for 20 hours of PD. SupportEd can also customize the book study for specific district timelines, cohorts and/or needs upon request. Learn more.
Key features
(1) A comprehensive resource which raises educators' awareness of the areas in which ELs need advocacy and offers practical suggestions for EL advocacy
(2) Provides an overview of research that informs EL advocacy in each chapter and tools to apply the research on the ground (3) Focuses on hands-on professional development activities to build a sense of responsibility for ELs' achievement in school and beyond
(4) Includes checklists for schools and districts to use to provide a framework to guide their discussion of ELs' advocacy needs in a number of areas
(5) Contains an abundance of practical examples of EL advocacy in action, taken from a variety of schools and geographical regions
(6) Weaves in voices of EL advocates at the school, district, state, and national levels (including Tim Boals, Catherine Collier, and Margarita Pinkos)
Table of Contents
Preface
---
Acknowledgments
---
About the Author
---
Introduction
---
1. Need for Advocacy for English Learners
2. Creating a Shared Sense of Responsibility for Teaching English Learners
3. How ESL Teachers Can Collaborate to Expand Advocacy Efforts for ELs
4. Advocacy Overview for School and District Administrators
5. Increasing EL Families' Involvement Through Building Their Advocacy Capacity
6. Advocacy Through Effective Instruction of ELs
7. Advocating for ELs in Assessment
8. Advocacy for ELs' Success Beyond Grade 12
Index
---