Hands-on, Practical Guidance for Educators
From math, literacy, equity, multilingual learners, and SEL, to assessment, school counseling, and education leadership, our books are research-based and authored by experts on topics most relevant to what educators are facing today.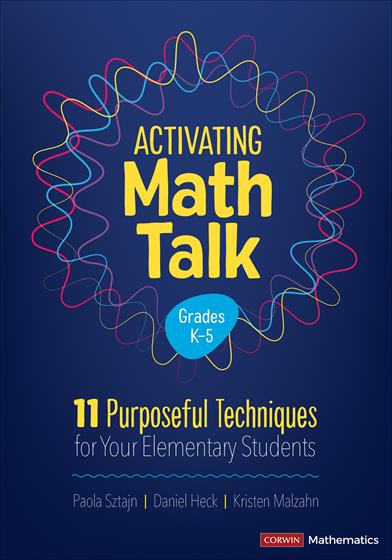 Look Inside
Activating Math Talk
11 Purposeful Techniques for Your Elementary Students
First Edition

This research-based book helps you develop conceptual learning in your classroom by engaging students in high-quality discourse through 11 practical, math-specific, and student-centered techniques.
Product Details
Grade Level: PreK-12
ISBN:

9781544394305

Published By: Corwin
Series: Corwin Mathematics Series
Year:

2020



Page Count: 240

Publication date:

October 07, 2020
Price: $38.95
Description
Check out these podcasts: 

Teaching Math Teaching Podcast Episode 48: Paola Sztajn and Dan Heck: Activating Math Talk
https://www.podomatic.com/podcasts/mathed/episodes/2021-06-15T11_13_31-07_00

Achieve High-Quality Mathematics Discourse With Purposeful Talk Techniques
Many mathematics teachers agree that engaging students in high quality discourse is important for their conceptual learning, but successfully promoting such discourse in elementary classrooms—with attention to the needs of every learner—can be a challenge. Activating Math Talk tackles this challenge by bringing practical, math-specific, productive discourse techniques that are applicable to any lesson or curriculum.
Framed around 11 student-centered discourse techniques, this research-based book connects purposeful instructional techniques to specific lesson goals and includes a focus on supporting emergent multilingual learners. You will be guided through each technique with
Classroom examples of tasks and techniques spanning grades K–5

Reflection moments to help you consider how key ideas relate to your own instruction

Classroom vignettes that illustrate the techniques in action and provide opportunities to analyze and prepare for your own implementation

Group discussion questions for engaging with colleagues in your professional community
Achieving high-quality mathematics discourse is within your reach using the clear-cut techniques that activates your math talk efforts to promote every student's conceptual learning.
Table of Contents
Acknowledgments
---
About the Authors
---
Preface: Setting the Stage
---
Part I: Understanding High Quality Math Discourse for All Students
---
Chapter 1: High Quality Discourse in Math Classrooms
Chapter 2: Engaging Emergent Multilingual Learners in Discourse
Chapter 3: Mathematics Knowledge for Facilitating Discourse
Key Takeaways about High Quality Math Discourse
---
Part II: Activating Math Discourse in the Classroom
---
Chapter 4: Teaching Students to Talk About Math
Chapter 5: Structuring Math Lessons for High Quality Discourse
Key Takeaways about Facilitating Math Discourse in the Classroom
---
Part III: Talk Techniques for the Launch Phase
---
Chapter 6: Story Problem Retelling
Chapter 7: Task Think Aloud
Chapter 8: Math Bet Lines
Key Takeaways about the Launch Phase
---
Part IV: Talk Techniques for the Explore Phase
---
Chapter 9: Think-Pair-Rehearse-Share
Chapter 10: Math Four Square
Chapter 11: Talk Triangle
Chapter 12: Solution Draft & Final Copy
Key Takeaways about the Explore Phase
---
Part V: Talk Techniques for the Discuss Phase
---
Chapter 13: Math Talk Chain
Chapter 14: All Talk Math
Chapter 15: Probing and Pressing Math Questions
Chapter 16: Math Learning Summary
Key Takeaways about the Discuss Phase
---
Part VI: Putting It All Together
---
Chapter 17: Planning and Reflecting to Promote High Quality Discourse
Key Takeaways about Putting It All Together
---
Continuing the Journey Toward High Quality Discourse
---
References
---
Index
---