Hands-on, Practical Guidance for Educators
From math, literacy, equity, multilingual learners, and SEL, to assessment, school counseling, and education leadership, our books are research-based and authored by experts on topics most relevant to what educators are facing today.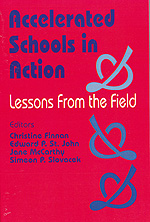 Accelerated Schools in Action
Lessons from the Field
This book provides unique insights into one of the United States' most comprehensive school-restructuring movements, the Accelerated Schools Project. Since its inception in 1986, the Project has aimed to transform school cultures which slow down learning through remediation into cultures which accelerate the learning of all students. The contributors to the book explore the challenges which face those involved in the Project.
Product Details
Grade Level: PreK-12
ISBN:

9780803962439

Published By: Corwin
Year:

1995



Page Count: 344

Publication date:

October 17, 1995
Price: $40.95
Description
Accelerated Schools: The Background; Henry M. Levin 2.
Table of Contents
Preface
PART ONE: INQUIRY INTO ACCELERATED SCHOOLS
---
Introduction
Accelerated Schools
The Background
Growth and Learning
Big Wheels and Little Wheels Interacting
Accelerated Schools as Learning Organizations
The Revitalization of Pioneer Schools
Reflection
Learning to Facilitate, Reflect, and Inquire
PART TWO: BUILDING CAPACITY
---
Introduction
Building Shared Meaning and Commitment during the Courtship Phase
Making Change Our Friend
Building Communities of Inquiry
Linking Teacher Research and School Restructuring
Reflection
Creating an Environment to Sustain School Change
PART THREE: THE ROLE OF THE PRINCIPAL IN ACCELERATED SCHOOLS
---
Introduction
Building Initial Commitment to Accelerate
Principals' Changing Roles
Analysis of Selected Case Studies
Toward a New Leadership Paradigm
Behaviors of Accelerated School Principals
Principals Speak Out on Their Evolving Leadership Roles
Reflection
The Changing Role of Principals in Accelerated Schools
PART FOUR: POWERFUL LEARNING THROUGH CURRICULUM AND INSTRUCTION
---
Introduction
A Teacher's Voice
The First Year of the Accelerated Schools Project
Full Inclusion in Accelerated Schools
Equal Access to Powerful Learning
Teaching All Children to Read
Hoover Elementary School
The Influence of Accelerated Schools Philosophy and Process on Classroom Practices
Reflection
Making Learning Come Alive in Accelerated Schools