Hands-on, Practical Guidance for Educators
From math, literacy, equity, multilingual learners, and SEL, to assessment, school counseling, and education leadership, our books are research-based and authored by experts on topics most relevant to what educators are facing today.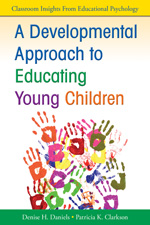 Look Inside
A Developmental Approach to Educating Young Children
Learn how current research and theory from educational psychology can be applied to create child-centered learning environments and developmentally appropriate practices in Grades PreK–3!
Product Details
Grade Level: PreK-12, Elementary
ISBN:

9781412981149

Published By: Corwin
Series: Classroom Insights from Educational Psychology
Year:

2010



Page Count: 208

Publication date:

August 16, 2010
Price: $31.95
Description
"This book helps the practicing educator turn research into seamless classroom practice. The practice exercises can be implemented immediately to help build student success."
—Katina Keener, Science/Social Studies Teacher, T. C. Walker Elementary School, Gloucester, VA
Launch young learners on positive pathways through school!
The early school years provide critical opportunities for children to develop foundational skills and positive attitudes toward learning. This book, the first in the Classroom Insights from Educational Psychology series, gives current and prospective PreK–3 teachers valuable insight into how young children feel, think, and learn.
Denise H. Daniels and Patricia K. Clarkson show how current research and theory from educational psychology can be applied to create a child-centered learning environment and to develop best practices for instruction. Readers will gain a deeper understanding of:
How children develop from the early years to middle childhood
The importance of fostering positive teacher-child, child-child, and caregiver-child relationships
Developmentally appropriate classroom practices that foster learning
Children's experiences with technology and outdoor environments
Vignettes and case studies, practice exercises, suggested games, and reflection questions make A Developmental Approach to Educating Young Children a valuable asset in helping teachers design stimulating learning experiences for young children.


Table of Contents
Acknowledgments
---
About the Authors
---
Preface to the Classroom Insights from Educational Psychology Series
---
Introduction
---
1. Developmental Perspectives and Educational Practice: Viewing Children and Teachers in the Big Picture
2. Early School Adjustment: Fostering Adjustment and Self-Regulation
3. The Primacy of Relationships in the Early School Years: Fostering Relationships
4. Developmentally Appropriate Classroom Practices: Fostering Learning in the Classroom
5. Learning in Digital and Natural Environments: Connecting Learning Out of the Classroom
Conclusion: Guiding Children on Positive Developmental Pathways Through School
---
Resources
---
Resource A. Tools for Reflection and Improvement
Resource B. Professional Organizations and Model Programs
Resource C. Recommended Reading
Resource D. Glossary
References
---
Index
---
Reviews
This is a carousel with review cards. Use the previous and next buttons to navigate.
"This encouraging book presents currently recommended teaching methods based on educational research and philosophy. It should be used in classrooms and teacher preparation programs to operationalize developmentally appropriate practice and to help teachers incorporate such practices into the testing culture that is a reality in today's classrooms."
Carole S. Campbell, Educational Consultant
Higher Ground Educational Consulting
"This book helps the practicing educator turn research into seamless classroom practice. The practice exercises can be implemented immediately to help build student success."
Katina Keener, Science/Social Studies Teacher
T.C. Walker Elementary School, Gloucester, VA
"The practical applications are great!"
Yolanda Abel, Assistant Professor
Johns Hopkins University