Hands-on, Practical Guidance for Educators
From math, literacy, equity, multilingual learners, and SEL, to assessment, school counseling, and education leadership, our books are research-based and authored by experts on topics most relevant to what educators are facing today.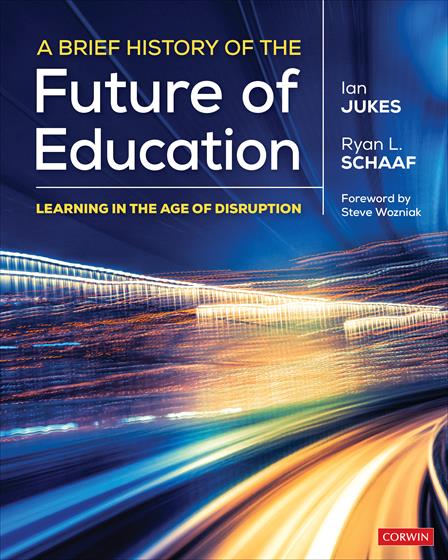 Look Inside
A Brief History of the Future of Education
Learning in the Age of Disruption
Foreword by Steve Wozniak

Get ready to challenge default classroom practices. Master and leverage nine learning attributes of digital generations and ten critical roles educators can embrace to remain relevant.
Product Details
Grade Level: PreK-12
ISBN:

9781544355023

Published By: Corwin
Year:

2019



Page Count: 192

Publication date:

January 16, 2019
Price: $39.95
Description
The Future Tense of Teaching in the Digital Age

The digital environment has radically changed how and what students need and want to learn, but have we radically changed how we deliver education? Are educators shifting and adapting or stuck in the traditional That's the Way We've Always Done It world?

In this book, educators will be challenged to take action and adapt to a split-screen classroom--thinking and acting to accommodate today's learners versus allowing traditional practices by default. Written with a touch of humor and a choose-your-own-adventure approach, the authors built chapters to be skimmed, scoured or searched for interesting, relevant or required material. Readers will be able to jump in where it serves them best.
Consider predictions about what learning will look like in the future.
Understand and learn to leverage nine core learning attributes of digital generations.
Discover ten critical roles educators can embrace to remain relevant in the digital age.
Keep things simple, concentrate on how learners learn, and change your approach from present to future tense.
Key features
Foreword by Steven Wozniak- co-found of Apple
Numerous examples, cases, Questions to Consider and other tools are included throughout this book.
Chapter 4, "The Nine Core Learning Attributes of Digital Generations," investigates just how modern learners, learners who are ever under digital bombardment, prefer to learn and how teaching must account for their deep immersion into the digital landscape. We also offer some helpful instructional strategies, tools, and resources to access these learning tendencies.
Chapter 5, "Looking Back, Moving Forward," provides a workshop-level set of experiences to prepare readers to accept change and open their minds to the future of education.
Table of Contents
Foreword By Steve Wozniak
---
Acknowledgments
---
About the Authors
---
INTRODUCTION
---
Why This Book Is Called A Brief History of the Future of Education
Why Educators Must Adapt
How 20th Century Mindsets Impede Learning
Creating a Movement
How to Approach This Book
1. BEYOND "THAT'S THE WAY WE'VE ALWAYS DONE IT"
A Preamble About Five Monkeys
Why We Do the Things We Do
TTWWADI and School Mindsets
Ways to Demonstrate TTWWADI
Chapter Summary
Questions to Consider
2. WHAT THE FUTURE HOLDS FOR OUR STUDENTS
An Old Mindset for the Modern World
Chapter Summary
Questions to Consider
3. LIFE IN THE AGE OF DISRUPTIVE INNOVATION
How Disruptive Innovation Forces Change
Skill Sets in the New Global Economy
What All This Change Means for Education
Careers in the New Global Economy
The Purpose of Education in Modern Times
Chapter Summary
Questions to Consider
4. THE NINE CORE LEARNING ATTRIBUTES OF DIGITAL GENERATIONS
#1 Digital Learners Prefer Receiving Information From Multiple, Hyperlinked Digital Sources
#2 Digital Learners Prefer Parallel Processing and Multitasking
#3 Digital Learners Prefer Processing Pictures, Sounds, Color, and Video Before They Process Text
#4 Digital Learners Prefer to Network and Collaborate Simultaneously With Many Others
#5 Digital Learners Unconsciously Read Text on a Page or Screen in a Fast Pattern
#6 Digital Learners Prefer Just-in-Time Learning
#7 Digital Learners Are Looking for Instant Gratification and Immediate Rewards, as Well as Simultaneously Deferred Gratification and Delayed Rewards
#8 Digital Learners Are Transfluent Between Digital and Real Worlds
#9 Digital Learners Prefer Learning That Is Simultaneously Relevant, Active, Instantly Useful, and Fun
Instruction for the Digital Generations
Chapter Summary
Questions to Consider
5. HOW TO LOOK BACK TO MOVE FORWARD
Examine the Past to Look to the Future
Consider the Default Future Versus Taking Action
The Biggest Challenges for the Future of Education
Chapter Summary
Questions to Consider
6 LEARNING IN THE YEAR 2038
A Day in the Life of Alice
Eleven Predictions of Learning in the Year 2038
Chapter Summary
Questions to Consider
7 NEW SKILLS FOR MODERN TIMES
How We Have It All
The Eight Essential Skills of Modern Learning
The Path Forward
Chapter Summary
Questions to Consider
8 NEW ROLES FOR EDUCATORS
Role #1: Educators Must Be Future-Focused
Role #2: Educators Must Be Lifelong Learners
Role #3: Educators Must Be Learning Facilitators, Not Sages on the Stage
Role #4: Educators Must Be Expert Generalists, Not Specialists
Role #5: Educators Must Embrace Discovery Learning
Role #6: Educators Must Enhance Instruction With Real-World Meaning
Role #7: Educators Must Broaden the Perspective of the Curriculum
Role #8: Educators Must Be Evaluators of the Level of Thought
Role #9: Educators Must Teach to the Whole Mind
Role #10: Educators Must Use Technology as a Learning Tool
Role #11: Educators Must Be Holistic Evaluators
Chapter Summary
Questions to Consider
Epilogue
---
Where We Begin
The Committed Sardine
Questions to Consider
References and Resources
---
Index
---
Reviews
This is a carousel with review cards. Use the previous and next buttons to navigate.
This book is exactly what we need so we can prepare the next generation of learners. There is nothing "wrong" with our education system; it's exactly what we needed to prepare students for success in the 20th century. Ian and Ryan make the case for what's changed, where the gaps are, what's being done to address the gaps, and what we all need to do now so that today's kids, our students, are well equipped to thrive in the world they'll inherit.
Mitch Weisburgh, Founder
Academic Business Advisors & Games4Ed
A Brief History of the Future of Education is a must-read for anyone concerned with the ways in which all generations engage with the world and each other. The authors are former teachers who have studied and traversed the educational technology journey of the last 15 to 20 years. They understand what is happening in the workforce and how it will affect the definition of school as we know it. The historical perspective provides insight into the decisions that were made in education in the past. A deeper understanding of how schooling has evolved over time serves as a catalyst for thinking more deeply about how we might redesign education. This book provides a vision for education in the future.



Dr. Wendy Drexler, Faculty Lead
Ditital Age Learning & Educational Technology Program, Johns Hopkins University