Hands-on, Practical Guidance for Educators
From math, literacy, equity, multilingual learners, and SEL, to assessment, school counseling, and education leadership, our books are research-based and authored by experts on topics most relevant to what educators are facing today.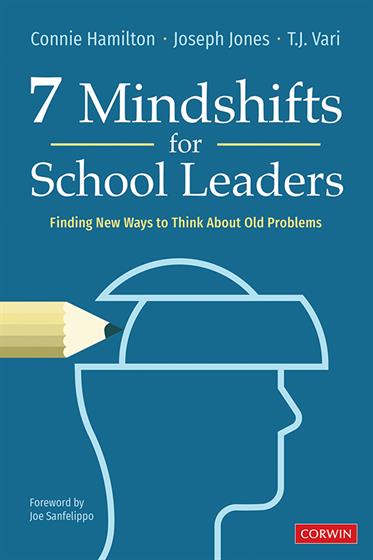 7 Mindshifts for School Leaders
Finding New Ways to Think About Old Problems
First Edition
Foreword by Joe Sanfelippo

Chart an innovative course of school improvement through seven adaptable mindshift models, plus stories highlighting successful implementation and discussions to help match mindshifts to problems.
Product Details
Grade Level: PreK-12
ISBN:

9781071871065

Published By: Corwin
Year:

2022



Page Count: 232

Publication date:

October 13, 2022
Price: $26.95
Description
With the right approach, no problem is unsolvable.
How do you approach and solve problems in education that have been around so long that they just feel…normal? Perpetual issues—numeracy, reading ability, equity, grading, and teacher retention—are often continually managed, but not solved like the crises they are for future sustainability.
This innovative guide introduces seven mindshifts that will help you engage with your community, access diverse resources, embrace radical new ideas, create equity, and chart a course of school improvement to solve those "unsolvable issues" so that your students and teachers learn and grow. Features include
Seven adaptable models—one per mindshift—for finding your own solutions to perennial problems
Stories highlighting the successful implementation of each mindshift
Discussions to help you match mindshifts to particular problems
Technical tips and reflection questions
Persistent problems in education can only be solved if we approach them as the crises that they are. This book gives you the tools you need to become a new kind of school leader—one empowered to not just deal with the outcomes of perennial complex issues, but extinguish them altogether so that your students can thrive.
Key features
Seven mindshifts that offer a fresh perspective and novel approaches to finding solutions to perennial problems in education
Seven models – one for each mindshift. These models will help school leaders move faster and more successfully toward their own solutions to persistent problems
Stories outside of education that highlight the successful implementation of each mindshift
Discussions of how each mindshift might be applied to a particular perennial problem in education
Each chapter includes a Technical Tip to help school leaders get started in applying the mindshift to their school leadership role
End of chapter reflection questions
A concluding chapter that illustrates what it might look like if a school leader applied all 7 mindshifts in one school setting
Table of Contents
Foreword by Joe Sanfelippo
---
Preface: From Flawed Thinking to New Mental Shifts
---
Introduction: Finding New Ways to Think About Old Problems
---
Mental Shift #1: Leading with a Crisis Mindset
---
Mental Shift #2: Leading with a Battleground Mentality
---
Mental Shift #3: Leading With a Beginner's Mind
---
Mental Shift #4: Leading with an Octopus Approach
---
Mental Shift #5: Leading with a Disciplined Tunnel Vision
---
Mental Shift #6: Leading with a Yes, And Attitude
---
Mental Shift #7: Leading with a Go With What Is Known Response
---
Conclusion: Leading to Maximize Disruption
---