Hands-on, Practical Guidance for Educators
From math, literacy, equity, multilingual learners, and SEL, to assessment, school counseling, and education leadership, our books are research-based and authored by experts on topics most relevant to what educators are facing today.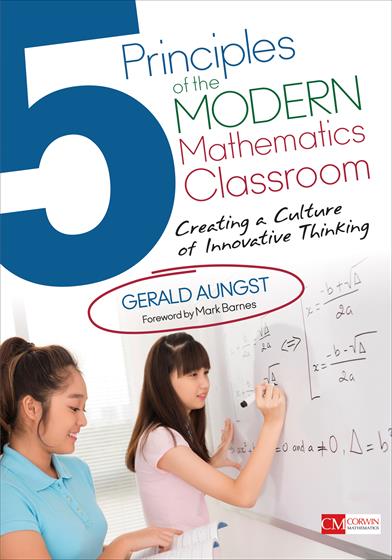 Look Inside
5 Principles of the Modern Mathematics Classroom
Creating a Culture of Innovative Thinking
Students learn best from real-world challenges, not prescribed problems, says Aungst. Five Principles shows how to create a collaborative culture of learning in your classroom.
Product Details
Grade Level: PreK-12
ISBN:

9781483391427

Published By: Corwin
Series: Corwin Mathematics Series
Year:

2015



Page Count: 200

Publication date:

October 29, 2015
Price: $32.95
Description
Students pursue problems they're curious about, not problems they're told to solve.

Creating a math classroom filled with confident problem solvers starts by introducing challenges discovered in the real world, not by presenting a sequence of prescribed problems, says Gerald Aungst.

In this groundbreaking book, he offers a thoughtful approach for instilling a culture of learning in your classroom through five powerful, yet straightforward principles: Conjecture, Collaboration, Communication, Chaos, and Celebration.

Aungst shows you how to
Embrace collaboration and purposeful chaos to help students engage in productive struggle, using non-routine and unsolved problems
Put each chapter's principles into practice through a variety of strategies, activities, and by incorporating technology tools
Introduce substantive, lasting cultural changes in your classroom through a manageable, gradual shift in processes and behaviors
Five Principles of the Modern Mathematics Classroom offers new ideas for inspiring math students by building a more engaging and collaborative learning environment.
"Bravo! This book brings a conceptual framework for K-12 mathematics to life. As a parent and as the executive director of Edutopia, I commend Aungst for sharing his 5 principles. This is a perfect blend of inspiring and practical. Highly recommended!"
Cindy Johanson, Executive Director, Edutopia
George Lucas Educational Foundation
"Aungst ignites the magic of mathematics by reminding us what makes mathematicians so passionate about their subject matter. Grounded in research, his work takes us on a journey into classrooms so that we may take away tips to put into practice today."
Erin Klein, Teacher, Speaker, and Author of Redesigning Learning Spaces


Take a look at Gerald describe why you need this book!
Key features
Introduces a way to teach math that will inspire students and which is in line with the Common Core State Standards for Math.

Filled with practical tips for teachers that will infuse the magic of math into the culture of the classroom.

Offers guidance to teachers so that they can nurture students into becoming confident and life-long problem solvers.

Includes classroom routines and techniques that teachers can implement to support the five principles:

Conjecture, Communication, Collaboration, Chaos, and Celebration

.

Includes real classroom vignettes to illustrate the routines

Each chapter highlights how digital technology can be utilized to facilitate the learning and teaching of math

Each chapter will provide specific strategies targeted to five grade bands: K-3, 2-5, 4-7, 6-9, 8-12, ensuring that teachers at all levels will find useful tools and strategies for their students.

Provides guidance for assessing the current state of a given classroom culture, designing a plan for implementing the framework, and for creating the support system which will enable teachers to sustain the changes they want to see in their classrooms.
Table of Contents
Foreword by Mark Barnes
---
Preface
---
Acknowledgements
---
About the Author
---
Chapter 1. Math for the 21st Century and Beyond
Mathematics as Literacy
Mathematics as an Innovation Incubator
Goals of This Book
What Else to Expect
For PLC and Study Groups
Chapter 2. Classroom Environment: A Medium for Change
Why Classroom Culture?
Depth and Rigor
A Focus on the Practices
The 5 Principles of the Modern Mathematics Classroom
For PLC and Study Groups
Chapter 3. Conjecture
The Power of Mysteries
The Curious Brain
Problem Solving Is a Cycle, Not a Recipe
Grades K–3
Grades 2–5
Grades 4–7
Grades 6–9
Grades 8–12
Technology Integration for Conjecture: Case Studies
For PLC and Study Groups
Chapter 4. Communication
The Mysterious Mathemagical Mind Trick
First and Foremost, Communicate
Six Levels of Mastery
Grades K–3
Grades 2–5
Grades 4–7
Grades 6–9
Grades 8–12
Technology Integration for Communication: Case Study
For PLC and Study Groups
Chapter 5. Collaboration
But, Isn't That Cheating?
Recognizing, Defining, and Representing Problems
Grades K–3
Grades 2–5
Grades 4–7
Grades 8–12
Grades 6–9
Technology Integration for Collaboration: Case Study
For PLC and Study Groups
Chapter 6. Chaos
Features of Effective Math Instruction
Disorganized Chaos
Productive Struggle
Grades K–3
Grades 2–5
Grades 4–7
Grades 6–9
Grades 8–12
Technology Integration for Chaos: Case Studies
For PLC and Study Groups
Chapter 7. Celebration
Today, We Celebrate
Cautions About Celebration
Grades K–3
Grades 2–5
Grades 4–7
Grades 6–9
Grades 8–12
Digital Tools and Resources for Celebration
Technology Integration for Celebration: Case Study
For PLC and Study Groups
Chapter 8. Becoming a Problem-Solving Classroom
Transformation Is Possible
Self-Assessment
Goal-Setting and Planning
Maintaining Your Momentum
Appendix: Digital Tools
---
References
---
Index
---