Hands-on, Practical Guidance for Educators
From math, literacy, equity, multilingual learners, and SEL, to assessment, school counseling, and education leadership, our books are research-based and authored by experts on topics most relevant to what educators are facing today.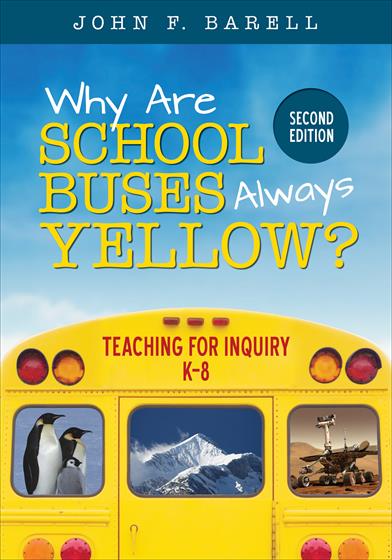 Look Inside
Updated Edition of Bestseller
Why Are School Buses Always Yellow?
Teaching for Inquiry, K-8
Second Edition

This new edition, aligned with Common Core and Next Generation Science Standards, features K–8 examples, information on technology, and new and updated activities, templates, and tools.
Product Details
Grade Level: PreK-12
ISBN:

9781506323657

Published By: Corwin
Series: Corwin Teaching Essentials
Year:

2016



Page Count: 288

Publication date:

March 18, 2016
Price: $34.95
Description
Turn natural curiosity into deep, lasting learnings!

Inquiry is what drives us all toward new knowledge, but how do we transform children's natural ability to notice and wonder into the full learning cycle of observing, thinking, and critically questioning?

Through this new edition of the bestselling Why Are School Buses Always Yellow? you'll find simple, yet systematic ways to develop authentic student inquiry that fosters deep learning. This new edition features:
Updates based on the latest research around inquiry-based teaching
Emphasis on turning inquiry into critical thinking, assessing students' inquiry, and involving families in the inquiry process
Examples for K–8 across subject areas
New emphasis on critical thinking about technologies
New and updated activities, checklists, templates, and implementation tools

Alignment with Common Core and Next Generation Science Standards
With this invaluable resource, help students transform their playful wonderings into deeper questions about content—and develop the higher-level thinking skills they need for success in school and in life.

"Educators often talk about developing lifelong learners - our team has had great success using Why Are School Buses Always Yellow? to catalyze professional conversations about how we can better cultivate curiosity through an inquiry approach. I strongly recommend this [new edition] for those who are interested in unlocking the uniquely creative capacity of our youngest learners."
Devin Vodicka, Superintendent
Vista Unified School District, Vista, CA
Key features
Provides processes and prompts to empower children to frame good questions about content and search for answers
Incorporates evaluation of Internet sources and other information
Shows examples across K-8 levels in all subject areas
Highlights inquiry entry points using objects, literature, lived experiences, media accounts—any kind of object and situation students experience
Incorporates examples from schools across the country
New to the second edition:
Updated to reflect the newest research.
New stories and examples, broadened to grades K through 8.
Discussion and alignment of the inquiry process with Common Core State Standards and Next Generation Science Standards.
New chapter on how to use technology to pursue inquiry and also build professional practice
Each chapters has new "Try this!" activities, new graphics, and updated checklists, templates, reflection questions with room for notetaking, a glossary of key terms, and other implementation tools
Table of Contents
Introduction
---
Chapter 1. "What's Wondering Got to Do With It?": An Overview of Inquiry
Chapter 2. "This Is Better Than Recess!": Why Inquiry Is Important
Chapter 3. "How Do We Begin?": Modeling Our Inquisitiveness
Chapter 4. "How Do We Build Inquiry Into Our Classrooms?": Initiating Inquiry With Problematic Scenarios
Chapter 5. "When Is It Chaos?": Developing and Refining Units of Instruction
Chapter 6. "Why Are Mountains Necessary?": The Nature of Good Questions
Chapter 7. "How Do We Know They Understand?": Performing Our Understandings
Chapter 8. "How Do We Integrate Technology?": From Crystal Radios to "Explain Everything"
Chapter 9. "How Do We Involve Families in Our Inquiries?": Encouraging All to Help
Chapter 10. "We Don't Learn That Way": Inquiry and Students With Special Needs
Chapter 11. "How Do We Effect Change in Our Classrooms?": Positive Professional Development
Conclusion
---
Appendix: Templates
---
Glossary
---
References
---
Index
---