Hands-on, Practical Guidance for Educators
From math, literacy, equity, multilingual learners, and SEL, to assessment, school counseling, and education leadership, our books are research-based and authored by experts on topics most relevant to what educators are facing today.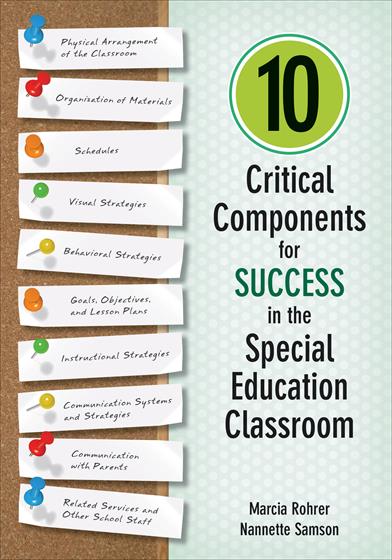 Look Inside
Bestseller!
10 Critical Components for Success in the Special Education Classroom
Effectively manage your classroom with this must-have guide to building structure, consistency and accountability for measureable, year-round success. Includes real-world examples and free tools to use and share.
Product Details
Grade Level: PreK-12
ISBN:

9781483339160

Published By: Corwin
Year:

2014



Page Count: 232

Publication date:

March 17, 2014
Price: $39.95
Description
Your blueprint for building structure, consistency, and accountability year-round!
Often teachers of all experience levels struggle to effectively manage special education classrooms. In this must-have guide, Rohrer and Sampson provide a solid, workable action plan to ensure measurable success for even your most challenging student.
Discover a variety of research-based instructional strategies to:
Support all students, including those with autism and severe learning disabilities
Organize your classroom, materials, and staff and student schedules for optimal teaching and learning
Execute well-planned standards-based lessons, annual IEP's, PLAALP's, behavioral interventions, and visual supports
Develop communication and social skills within a language-rich environment
Foster parent communication and staff collaboration
Packed with real-world examples, free tools to use and share, a list of resources and a helpful glossary, this dynamic resource will inspire you, develop your teacher toolbox, and ensure your students are on the path to achievement!


"10 Critical Components for Success in the Special Education Classroom offers practical and easy-to-use ideas for organizing your physical classroom space, materials, student and staff schedules. Readers will also receive well thought out strategies that will definitely aid in the ultimate end result—student success!"
—Avis Canty, Special Education Teacher
Tanglewood Middle School, Greenville, SC
"The path to success for students with autism and intellectual disabilities starts here, when their teachers implement the essential critical components outlined in this book."
—Renee Bernhardt, Learning Support for Special Education and RTI
Cherokee County School District, Canton, GA
Key features
Sets the stage for each student to achieve, increase positive behaviors, establish effective communication with parents, and enhance teacher effectiveness for all students.
Each chapter contains numerous educational best practices around the component discussed.
The practices, ideas, and suggestions also benefit students in resource and inclusion settings.
Table of Contents
Preface
---
Acknowledgments
---
About the Authors
---
Introduction
---
1. Physical Arrangement of the Classroom
Rationale
Benefits of a Well-Designed Classroom
Well-Defined Areas Clarify Student Expectations
The 10-Minute Rule
Arranging Your Classroom
Required Areas
Home Base
Group Instruction Area
Teacher Work Area
Transition Area
Student Schedule Area
Work Station
Technology Area
Additional Areas
Arts and Crafts, Eating, and Cooking Areas
Personal Hygiene
Sensory Area
Recreation and Leisure Activity Area
Getting Started
Summary
Real-Life Applications
2. Organization of Materials
Rationale
Organizing Classroom Materials
What supplies will you need?
What stays and what goes?
Where will materials be located?
Group by academic subject
Group by frequency of use
Safety considerations
Organizing Student's Materials
Summary
Real Life Applications
3. Schedules
Rationale
The Three Types of Schedules
Building a Foundation for Your Schedules
Daily Classroom Schedule
Creating Your Classroom Schedule
Posting the Classroom Schedule
Using the Daily Classroom Schedule
Staff Assignment Schedule
Individual Student Schedules
The Importance of Symbolic Communication Forms
Creating Student Schedules
Student Schedule Formats and Locations
Teaching Students to Use Schedules
Summary
Real-Life Applications
4. Visual Strategies
Rationale
What Are Visual Strategies?
The Importance and Benefits of Visual Strategies
Creating Visual Strategies
Consider the Student's Communication Level
Using Visual Strategies
As Reminders
Schedules
Calendars
Behavioral Cues
Communication Supports
Summary
Real-Life Expectations
5. Behavioral Strategies
Rationale
Determing the Need for Behavioral Inteventions
Conducting a Functional Behavior Assessment
Define the Behavior
Gather Information About the Behavior
Review Records
Conduct Interviews
Collect Baseline Data
Look for Patterns of Behavior
Make a Hypothesis about the Function of the Behavior
Identifying Behavioral Goals and Objectives
Developing a Behavioral Intevention Plan
Defining Consequences
Meaningful Reinforcers
Edibles as Reinforcers
Nonedibles as Reinforcers
Punishment
Strategies to Change Behavior
Implementing the Behavioral Intervention Plan
Summary
Real-Life Applications
6. Goals, Objectives, and Lesson Plans
Rationale
Legal Foundation
Annual Goals and Objectives
Develop a Present Level of Academic Achievement
The Need for Data Collection
Methods for Collecting Data
Special Factors and the Individualized Education Program
Write the Annual Goals and Objectives
Lesson Plans
Lesson Plan Elements
Monitoring Student Progress: Your Grading System
Summary
Real-Life Applications
7. Instructional Strategies
Rationale
Instructional Considerations
Age-Appropriate Materials and Activities
Variety Increases Interest
Sensory Needs
Instructional Methods and Strategies
Direct Instruction
Applied Behavior Analysis
Grouping Students
Social Stories
Having a Substitute Teacher
Work Stations
Station Rotation
Community-Based Instruction
Summary
Real-Life Applications
8. Communication Systems and Strategies
Rationale
The Speech and Language Pathologist
Communication Throughout the Day
Teaching Social Skills
The Use of Schedules and Communication
Communication and Assistive Technology
Communication and Behavior
Summary
Real-Life Applications
9. Communication with Parents
Rationale
Setting Up a System for Parent Communication
Student-Generated Daily Communication to Parents
Keeping Communication Meaningful and Helpful
Documentation
Parental Involvement
Summary
Real-Life Applications
10. Related Services and Other School Staff
Rationale
Important Information About Related Services
Related Services Defined
Who Qualifies for Related Services?
Direct Versus Indirect Services
Service Delivery Models
Other School Staff
Summary
Real-Life Applications
Putting It All Together
---
Resources
---
Glossary and Acronym Guide
---
Forms
---
Index
---