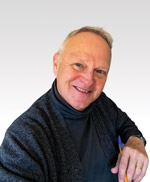 Lester Laminack
Lester Laminack, Professor Emeritus, Western Carolina University in Cullowhee, North Carolina is now a full-time writer and consultant working with schools throughout the United States and abroad. He is the author of over 25 books for teachers and children. His academic publications include Climb Inside a Poem (Heinemann) Cracking Open the Author's Craft (Scholastic), Bullying Hurts: Teaching Kindness Through Read Aloud and Guided Conversations (Heinemann), The Writing Teacher's Troubleshooting Guide (Heinemann), Writers ARE Readers: Flipping Reading Strategies into Writing Instruction (Heinemann), The Ultimate Read Aloud Collection Fiction and Nonfiction (Scholastic).
Lester is also the author of several children's books including: The Sunsets of Miss Olivia Wiggins, Trevor's Wiggly-Wobbly Tooth, Saturdays and Tea Cakes, Jake's 100th Day of School, Snow Day!, Three Hens and a Peacock (2012 Children's Choice K-2 Book of the Year Award), and The King of Bees all published by Peachtree Publishers. His new book, Three Hens, a Peacock, and the Enormous Egg is expected in February 2023, and A Cat Like That is expected in Summer 2024.
His newest work is Reading to Make a Difference (Heinemann) and The Ultimate Read Aloud Guide 2nd. Edition (Scholastic) and The Ultimate Read Aloud Collection Fiction and Nonfiction (Scholastic). Lester is available for professional development and school author visits. You can contact him via his website www.LesterLaminack.com and follow him on Facebook or on Twitter @Lester_Laminack
---
Related Titles
This is a carousel with related book cards. Use the previous and next buttons to navigate.