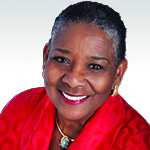 Kikanza Nuri-Robins
Kikanza Nuri-Robins helps people to close the gap between what they say they are and what they actually do. Whether she is in a corporate boardroom, the fireside room of a retreat center, or a convention center auditorium, Kikanza uses her skills and insights to help people and organizations that are in transition – or ought to be. She shares her observations and recommendations with clarity and candor, while gently encouraging them to face the difficult situations that challenge their skill sets and their values. She leads people to this growing edge with unswerving focus, an understanding heart, and laughter that rises from the seat of her soul.
Since 1978, Kikanza has worked as an organizational development consultant in a variety of settings includ­ing education, health care, criminal justice, and religion, focusing on leadership development, change management, and cultural proficiency. Her clients range from school districts, to university faculty, to government offices and non-profit organizations. The connecting thread is her passion for working with people who want to making a difference for others.
Kikanza studied at Occidental College, the University of Southern California, and the San Francisco Theological Seminary. She is the author of many articles and five books, including: Cultural Proficiency and Culturally Proficient Responses to the LGBT Communities. Kikanza lives in Los Angeles where she spends her discretionary time as a textile artist.
---
Expertise
Change

Leadership

Diversity & Inclusion
---
Workshops
Introduction to the Tools of Cultural Proficiency:

This session is for participants new to the Cultural Proficiency Framework. They will learn about the Four Tools of Cultural Proficiency: the Barriers, the Guiding Principles, the Continuum, and the Essential Elements. As a result of this session, participants will be better informed to assess their progress and the progress of their organizations as they move toward creating welcoming, diverse and inclusive communities.

Going Deeper with the Tools of Cultural Proficiency:

Participants will use the Four Tools of Cultural Proficiency: the Barriers, the Guiding Principles, the Continuum, and the Essential Elements to plan for, assess and expand their work in creating welcoming, diverse and inclusive organizational cultures. Participants will be taught to use rubrics based on the essential elements to enhance their professional development programs.

Making Room at the Table: Moving from Diversity to Inclusion:

In this session participants will explore how they use their influence to create inclusive learning communities, and will identify actions they can take when institutional and societal barriers marginalize people who are a part of the educational

system.

Culturally Proficient Organizations - Lessons from Leaders:

Cultural Proficiency is represented in the policies and practices of an organization and the values and behaviors of the individuals in that organization. When leaders make a commitment to changing into a culturally proficient organization, it often takes 3-5 years to manifest sustainable, systemic change. This session will present the ten lessons shared by our many clients for leading an organization on a journey toward cultural proficiency.

Barriers to Culturally Proficient Instruction:

One of the principles of cultural proficiency is that people who are not part of the dominant culture have to at least be bi-cultural. In this session participants will explore the inherent barriers to cultural proficiency that are present in a diverse school environment, and identify how educators can capitalize on this dynamic.

Culturally Proficient Instruction:

You Get as Good as you Give: Expectations for student success are communicated in the way the adults build relationships with their students, and in the classroom cultures they create. Participants will learn strategies for effectively communicating to their students: "I see you; I care; and I want to know your story." These strategies open educators to discovering, with their students, what is the academic best, and how to achieve it.

Power - Making a Difference with your Personal Styles of Influence: Most people are afraid of power and how it can be used effectively as a management tool. As a result they fail to take advantage of all the personal strengths that are available to them. In this session, participants will identify power styles and determine how they are best used, and discuss the impact of an appropriate use of power on communication and change.
From Acceptance to Action to Advocacy - Working for the LGBT Community: The issues related to the LGBTQ community as educators, students and parents are many and complex. In this session participants will clarify important terms and concepts, and identify strategies for proactively responding to cultural incompetence toward the LGBT community.
Cultural Proficiency - An Assets Based Approach to the Conditions of Poverty: Discover what happens to your perspectives and your instructional strategies when you view conditions of poverty as assets. In this session participants will explore their own experiences of privilege and want and will learn to recognize symptoms of poverty that can be used as educational assets.
Guerilla Tactics for Change - Responding to Push Back: Leading change can be difficult when people resist or are unaware of the need to adapt. Cultural differences determine how problems are defined and solved. In this session, participants will learn strategies for introducing and supporting needed change in an environment that does not wholeheartedly support in.
Code Switch - Strategies for People who Don't Fit In: People who are not a part of the dominant culture have to at least be bicultural. Most diversity sessions focus on changing the environment by stopping the perpetrators of inequities. This session focuses on those people who are oppressed by unhealthy systems or who have not learned how to appropriately code switch. Participants will learn what code switching is and how people who are marginalized by the dominant culture can survive and grow.
Working with Kids who Don't Fit In: While districts across the country are developing anti-bullying programs, it is important to remember that children and youth who are marginalized need help in adjusting to and growing in environments that have been uncomfortable, or blatantly hostile to them. This session provides participants tools and strategies for helping young people who have trouble fitting in, as well as strategies for creating a safe and inclusive environment for all.
Working with Young Men of Color: Academic and social achievement elude a disproportionately high number of Black, Latino and Asian Pacific Islander young men. The challenges they face include growing up fatherless, dropping out of school, going to jail and getting killed. These young men are marginalized in society and are targeted again in schools. This session will help participants to identify factors in the classroom or school environment that create an unhealthy, unwelcoming environment for young men of color. Participants will learn how to read the signs sent by these young men that will open the doors to reaching them and helping them succeed.
Race, Class, Culture and You: Barriers to cultural proficiency include systems of privilege and oppression, and a sense of entitlement. During this session, participants will clarify the meaning of key terminology in the conversation about race. They will also identify the nature of their privilege in American culture and discern how that privilege undermines or supports their cultural proficiency.
What People Are Saying
"Two months after your workshop people still make reference to it. You really left an impression and things are getting better.Thank you."

-Faculty Member, University of Maryland

"Kikanza has a very warm and charismatic presence that enables her to engage even the most reserved participants. The topic was not an easy one, however, she was comfortable, confident and well-informed, allowing her to field questions and offer workable suggestions for various scenarios that may have or could potentially occur in the workplace. Thank you for facilitating another successful program."

-HR Professional

"Kikanza helps us face conflict in a healthy way. She knows when to hold a group's toes to the fire. She's the best consultant I've ever worked with."

"She has a great ability to help organizations even with major differences to move toward consensus. Dr. Robins is dynamite!"

"I enjoyed the creative ways Kikanza got information from us and kept us interested."

"Kikanza Nuri Robins has changed my life. Now I really know what I am doing."

"Kikanza is truly a master trainer."
---
Related Titles
This is a carousel with related book cards. Use the previous and next buttons to navigate.