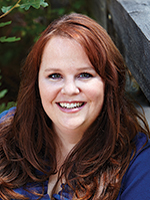 Kara Vandas
Kara Vandas is an educator with an enduring passion for empowering learners. She began her career in education at an alternative school for youth at-risk. Kara spent several more years in the classroom in public education as a middle and high school educator and then transitioned to coaching and professional learning positions that allowed her to support teachers and leaders. Her current role as an author and consultant takes her around the world to partner with schools and school districts. She also presents nationally and internationally at conferences, with a focus on learner agency and efficacy.
Kara is the co-author of Partnering with Students: Building Ownership of Learning and holds a Master's degree of Education in Curriculum and Instruction from Regis University. She has worked in K-12 education for nearly 20 years with a focus in instruction, curriculum design, using data to drive instruction, science education, learning environments, formative assessment, Visible Learning, and more. She also volunteers as a board member at her child's local school, where she and her family live in Castle Rock, Colorado. She loves the outdoors and spends much of her free time with family and friends.
---
Expertise
Visible Learning

Standards

Assessment

Evaluation

Data (Adult and Student)

Collaboration

Impact Teams
---
Workshops
Common Formative Assessments 2.0:

The Common Formative Assessments 2.0 series of services provide educators with the skills to collaboratively create, with a grade-level or course-level team, unit-based assessments for learning to assess student understanding of the particular learning intentions (standards for outcomes) and success criteria currently in focus within a curricular unit of study.

Instructional Coaching:

Take a partnering approach to professional learning, allowing for coach and teacher collaboration in choosing and implementing the most effective, research-based instructional strategies. The unwavering focus on creating better communication by respecting the professionalism and autonomy of teachers sets this coaching program apart from the rest. Through collaboration, observation, and evaluation, coaches and teachers work together to create better communication—and better instruction—leading to a change that is meaningful and sustainable.

High-Impact Instruction:

These workshops reveal proven teaching practices that have the greatest effect on student learning, and show that small changes can make a big impact on moving towards better instruction in every classroom, every day. Teaching requires simle, adaptive solutions, and the flexibility to adjust to the complexities involved. Participants will develop an in-depth understanding of The Big Four high-yield teaching strategies and walk away ready to implement each one.

The Visible Learningplus Collaborative Impact Program:

Supports systems in creating the conditions to bring about ongoing and sustainable improvement in achievement for all students. The customized program aligns system leaders, school leaders, and teachers with a proven process to build capacity for change over 3-5 impact cycles.

The Visible Learningplus Foundation Series:

Begin your Visible Learning journey by building foundational knowledge of the Visible Learning research. Teachers and schools will be introduced to tools for gathering evidence in their schools and classrooms and to create a plan for making learning visible for all students.

The Visible Learningplus The Inside Series:

Once school teams have developed an action plan through the Foundation Series, educators can dive deeper into various strands of Visible Learning

plus

with the Inside Series. In these individual seminars, you can focus on the areas of greatest need for your school based on your implementation plan.

Partnering With Students Workshop: This 2-day workshop is a comprehensive solutions approach designed to empower teachers and students to share in the ownership of learning, significantly improving student engagement, confidence, and learning achievement. Teachers, school leaders, and students collaboratively develop a plan of action for successful student learning and goal realization.
---
What People are Saying...
"Kara was very prepared and met all objectives by the end of training. Our teachers have already started to work with Learner Dispositions in their Data Teams and school wide! We are very pleased with our PD from Kara and loved how she facilitated training."
-David Hernandez, Federal/State Facilitator, Montebello Unified School District, CA
"Kara continues to model flexibility in responsiveness to meeting our unique timing and implementation guidelines. Her ability to form relationships, incite reflection, and engage teams in professional learning has led to increased collective efficacy and student learning"
-Dr. Terrance Mootz, Associate Superintendent, J. Sterling Morton High School District, Cicero, IL
---
Certified In
CFA 2.0

Visible Learning

Jim Knight
---
Related Titles
This is a carousel with related book cards. Use the previous and next buttons to navigate.