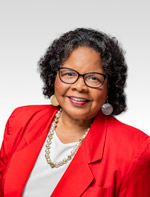 Gwendolyn Y. Turner
As an educator who has worked in numerous educational settings: classroom teacher, substitute teacher, reading specialist, adult educator, administrator, educational consultant, teacher educator, college professor, and researcher, I have learned to respect both the teaching and learning process. One can expect culturally, linguistically, and academically diverse students in any educational setting. My career as an educator started in a rural area and later with migrant populations, in which very few opportunities for economic advancement were available for families. These families taught me the importance of resiliency and the timeliness of quality, relevant educational experiences that allowed students to acquire tools such as problem-solving, reasoning, and critical thinking. Tools that could be used in both academic and general life settings. We did not have time to waste on meaningless or irrelevant learning activities because a quality educational experience would be a ticket to greater life opportunities. When I started working with educators and visiting classrooms in Bolivia and Brazil, I realized that quality education does not just prepare students to complete school assignments but prepares them for all of their life experiences as adults, parents, employees, and citizens. In America, we take education for granted, but my experiences in schools and classrooms in South Africa and Thailand reinforced my belief that education changes lives. We serve students best when we honor their voices, acknowledge their identities, and value their life experiences. Students who receive a quality education have many more life opportunities than those who receive an inferior education. Too often we provide the best educational resources, activities, and experiences for those students who are already advantaged. Equity is a lens that educators can use to ensure all students reach their full potential. I believe in respecting the teaching and learning process. I believe that a quality education improves the quality of one's life. Lastly, I believe that as an educator, I can help students improve their life trajectory.
As I worked in suburban and urban educational settings, I realized that students enter a classroom expecting to learn, to be engaged, and to have their opinions matter and their voices heard. My beliefs, practices, and actions can profoundly impact the learning success of students regardless of their academic abilities, cultural background, or linguistic ability. We are not helping students complete assignments for class; we are assisting students in the tools they need for success in their lives. This is why I have embraced educational equity throughout my career. I believe that educational equity provides opportunities for all students to soar academically.
Our work as educators is to help students acquire the tools they need for both careers and life. Therefore, it is imperative that we provide instruction that meets students' academic and social needs. Respecting the rights of students to experience rich, meaningful learning experiences has been the cornerstone of my work as an educator. This is a lesson that I have embraced in my work in this country and as a visiting instructor in Bolivia, Brazil, Thailand, and South Africa. I believe that students want to learn and experience success while learning. All students deserve intellectually challenging, relevant, and engaging learning activities in a supportive environment. Education is still the key that unlocks opportunities for students now and in their futures.
---
Related Titles
This is a carousel with related book cards. Use the previous and next buttons to navigate.