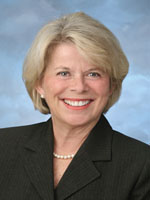 Gwen E. Gross
Prior to joining the 26,000-student Irvine Unified School District in Orange County, California, Gwen E. Gross served as superintendent in Manhattan Beach Unified School District, Beverly Hills Unified, Ojai Unified, and at the then one-school Hermosa Beach City School District. In addition to her 17 years as a superintendent, she has been an elementary and middle grades teacher, principal, director of operations, and faculty member at universities in the Midwest and on the West Coast. She was named as one of the "Top 100 Educators in North America" and was honored as the "2005 Superintendent of the Year" by Pepperdine University, where she has served as an adjunct professor of education leadership for 10 years.
Gross is active in many community and professional organizations, holding leadership positions in many of them, particularly with the Association of California School Administrators (ACSA), where she has chaired the New Superintendents' Annual Symposium, the 2007 superintendent symposium, served as the vice chair of the State Superintendents' Committee, and has been named a Tri-County Superintendent of the Year. Together with several other superintendents, Gross coauthored Eight at the Top: A View Inside Public Education and Effective Superintendent-School Board Practices. She was a bimonthly columnist for the Beach Reporter newspaper serving Los Angeles County's South Bay area and she has developed a series of creative communication documents for distribution to the many constituencies served by public schools.
Gross is received her BA from University of Wisconsin, MA from University of Akron, and PhD from Kent State University, and a postdoctoral certificate from Harvard University.
---
Related Titles